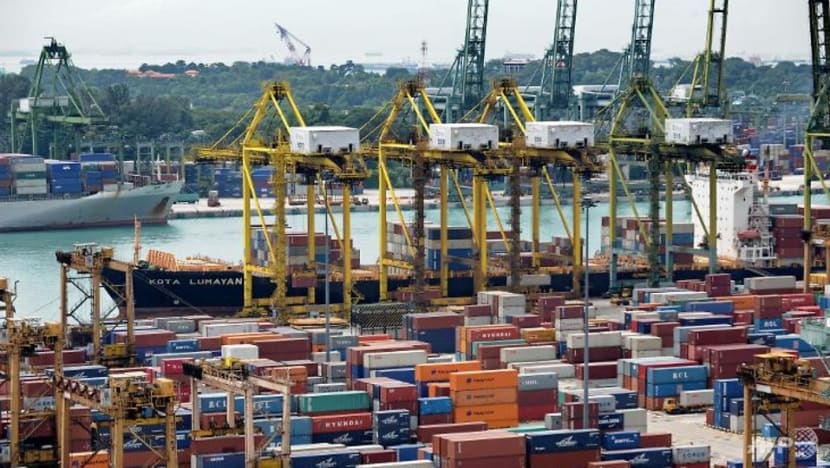 SINGAPORE: Singapore's non-oil domestic exports (NODX) rose unexpectedly by 9.7 per cent year-on-year in April, defying market consensus for a contraction, after shipments were bolstered by a surge in demand for pharmaceuticals and processed food.
This marks a third straight month of expansion, but is down from the 17.6 per cent growth that was seen in March, according to official data released on Monday (May 18).
A Reuters poll had predicted a 5 per cent decline.
April's expansion was led by gains in pharmaceutical exports, which rose 174.3 per cent from a year ago, while electronics declined.
OCBC's head of research and strategy Selena Ling attributed the lift in pharmaceutical exports to the COVID-19 pandemic, with medical supplies being in high demand globally.
According to DBS senior economist Irvin Seah, while the pharmaceutical industry has benefited from the pandemic, it has little spillover effect on the rest of the economy, apart from its contribution to the headline GDP growth.
Moreover, he said, the pharmaceutical sector is known to be exceptionally volatile and also benefited from a low base in same period last year.
"While it may be tempting to conclude that the worst could be over, we need to take the latest set of figures with a pinch of salt," said
UOB economist Barnabas Gan said that the low base effect for pharmaceutical exports is expected to continue for most of the year.
"Should we retain the argument that a low base print in the previous year had a hand in supporting pharmaceutical exports, a temporal decline in pharmaceutical export in May 2020 may be seen, after which low base effects coupled with an increased demand for medical goods during the COVID-19 pandemic may be the lynchpin of growth for Singapore's non-electronic NODX," he said.
On a month-on-month seasonally adjusted basis, NODX fell 5.8 per cent in April, reversing the previous month's 12.8 per cent expansion. 
Aside from pharmaceuticals, exports of food preparations and non-monetary gold were also major contributors to the growth in non-electronic NODX.
"Non-monetary gold exports are likely aided by bouts of risk aversion arising from COVID-19, US-China bilateral tensions and central bankers' caution over the economic outlook," said OCBC's Ms Ling.
"With the disruptions and subsequent restocking of the global food supply chains due to Covid-19 lockdowns and containment measures, food preparations have also picked up," she added.
For electronics, shipments of personal computers fell 44.3 per cent, followed by disk drives at 32.9 per cent and diodes and transistors, which slipped 13.2 per cent.
Total trade decreased over the year in April - a decline of 12.8 per cent, a further drop from the 0.2 per cent fall in March.
Total exports fell 12.7 per cent, similar to the 13 per cent decline in imports.  
Shipment to Singapore's top 10 markets grew in April, though exports to China, Hong Kong, Malaysia, Indonesia and Thailand declined; growth was mainly due to the US, the European Union and Japan.