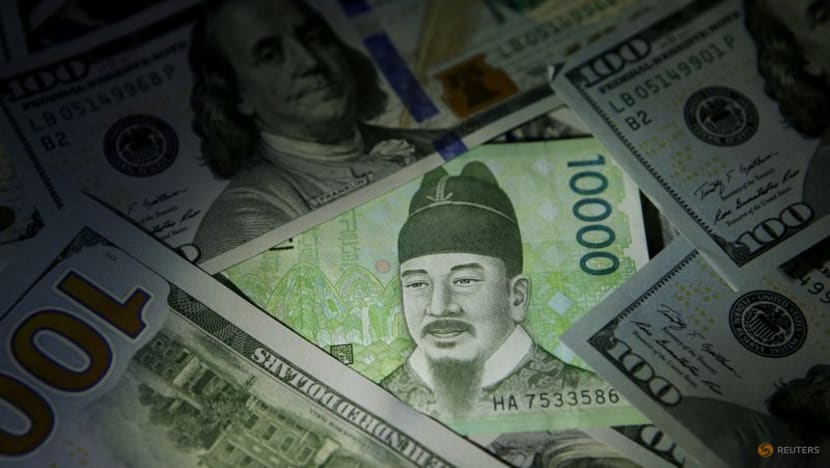 SEOUL: South Korea's won fell below the psychological threshold of 1,300 per US dollar for the first time in 13 years, amid global economic recession worries and the dollar's strength, but traders said market sentiment was relatively calm.
The won weakened as much as 0.42 per cent in onshore spot trade on Thursday to touch the lowest since July 14, 2009, at 1,302.8 per dollar.
The 1,300-mark, a level seen during the 2008-2009 global financial crisis and 1997-1998 Asian financial crisis, has been considered for years as a sign of major economic risks.
However, domestic foreign exchange dealers said it was different this time, as changing supply-demand landscapes in recent years, such as increasing overseas investment, should also be a factor influencing the price in addition to the dollar's strength at two-decade highs.
The won has weakened more than 8 per cent this year, following an 8.6 per cent drop in 2021 that was the fastest annual fall since 2008.
Last year, South Korea's National Pension Service increased its holdings of overseas stocks and bonds by 82.9 trillion won (US$63.85 billion), or 35 per cent, in line with its long-term plan to boost overseas investment for the fund's profitability and sustainability.
Retail investors also purchased a net US$21.9 billion worth of overseas stocks in 2021, after US$19.7 billion in 2020 on increased interest in stock investment. They have bought a net $12.4 billion so far this year.
Meanwhile, in the country's local stock market, foreigners have sold a net 15.9 trillion won (US$12.25 billion) worth of shares so far this year, following a total 50 trillion won (US$38.51 billion) sell-off in the previous two years.
South Korea has posted an accumulative US$7.83 billion trade deficit from January until May this year, and if the trend continues, Asia's fourth-largest economy will log the first annual deficit since 2008.
"The market atmosphere is very calm and definitely different from the past," an FX dealer said. "It is just another number now, and there is no signal felt of any risk at all."