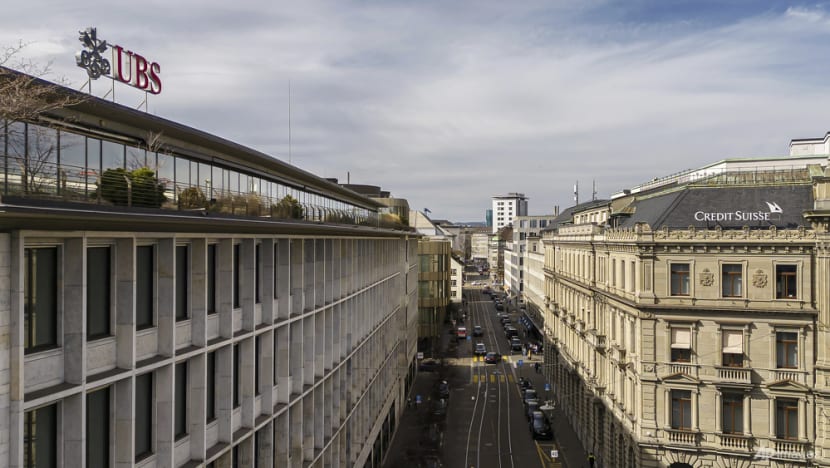 UBS is close to finalising a deal to buy rival Swiss bank Credit Suisse, a source familiar with the matter said on Sunday (Mar 19).
The deal is valued at more than US$2 billion, after UBS increased its offer, the Financial Times earlier reported. The Credit Suisse chair declined to comment when reached on his cell phone.
The Swiss National Bank has agreed to offer a US$100 billion liquidity line to Credit Suisse as part of the deal, the FT added, citing two people familiar with the matter. UBS will pay more than 0.50 francs (US$0.5401) a share in its own stock, far below Credit Suisse's closing price of 1.86 francs on Friday, it reported, citing sources.
A news conference was set for 7.20pm GMT.
According to the report, UBS has agreed to a softening of a material adverse change clause that would void the deal if its credit default spreads jump.
Credit Suisse and UBS declined to comment.
Officials have been racing to rescue the 167-year-old bank, among the world's largest wealth managers, after a brutal week that saw the second- and third-largest US bank failures in history. As one of 30 global banks seen as systemically important, any deal for Credit Suisse could ripple through global financial markets.
At least two major banks in Europe are examining scenarios of contagion possibly spreading in the region's banking sector and looking to the Federal Reserve and the European Central Bank to step in with stronger signals of support, two senior executives with knowledge of the discussions told Reuters.
A person with knowledge of the talks earlier told Reuters that UBS sought US$6 billion from the Swiss government as part of a possible purchase of its rival. The guarantees would cover the cost of winding down parts of Credit Suisse and potential litigation charges.
One source previously said the talks were encountering significant obstacles, and 10,000 jobs may have to be cut if the two banks combined. The Swiss Bank Employees Association on Sunday called for the immediate creation of a task force to deal with the risk to jobs.
Swiss broadcaster SRF and other media reported that the government would hold an "important" press conference later on Sunday. They did not give any more details.
Credit Suisse shares lost a quarter of their value last week. The bank was forced to tap US$54 billion in central bank funding as it tries to recover from scandals that undermined the confidence of investors and clients.
BONDHOLDER LOSSES
A final decision on imposing losses on bondholders has not been taken, and the terms could still change, according to sources. Losses imposed on bondholders may need to be larger if Credit Suisse were wound down rather than if it were taken over by UBS, one of the sources said.
Despite that prospect, bond investors are hopeful a takeover by UBS would mean their Additional Tier 1 bonds are converted into UBS stock and more of their money protected, two bondholders told Reuters.
"If Credit Suisse fails, that would pose a significant systemic issue for bondholders as it would be hard for them to stomach the failure of a bank when it's not sitting on unrealized investment losses like in the US," said Jerome Legras, head of research at Axiom Alternative Investments, an investor in Credit Suisse's AT1 debt.
French finance minister Bruno Le Maire on Sunday called for a "quick, massive and credible" solution for Credit Suisse.
The fraught weekend negotiations follow a brutal week for banking stocks and efforts in Europe and the United States to support the sector since the collapse of US lenders Silicon Valley Bank and Signature Bank.
The US Federal Deposit Insurance Corp (FDIC) is now leaning towards a breakup of Silicon Valley Bank after failing to line up a buyer for the company, Bloomberg News reported on Sunday citing people familiar with the matter.
US President Joe Biden's administration moved to backstop consumer deposits while the Swiss central bank lent billions to Credit Suisse to stabilise its balance sheet.
The plan could see Credit Suisse's Swiss business spun off, while Bloomberg reported that the takeover talks were throwing into doubt plans to hive off its investment bank under the First Boston brand.
US authorities are working with their Swiss counterparts to help broker a deal, Bloomberg reported, while Sky News said the Bank of England has indicated to international counterparts and to UBS that it would back the proposed takeover of Credit Suisse, which counts Britain as a key market.
FORCEFUL RESPONSE
Credit Suisse shares lost a quarter of their value in the last week. The bank was forced to tap US$54 billion in central bank funding as it tries to recover from a scandals that have undermined the confidence of investors and clients.
"The last days of Credit Suisse" proclaimed the front page of Swiss newspaper NZZ am Sonntag over an illustration of the bank's headquarters in flames.
The failure of California-based Silicon Valley Bank brought into focus how a campaign of interest rate hikes by the US Federal Reserve and other central banks - including the European Central Bank on Thursday - was pressuring the banking sector.
SVB and Signature's collapses are the largest bank failures in US history behind the demise of Washington Mutual during the global financial crisis in 2008.
The S&P Banks index has fallen 22 per cent in its largest two-week slide since the pandemic shook markets in March 2020.
US banks have sought a record US$153 billion in emergency liquidity from the Federal Reserve in recent days and big lenders threw a US$30 billion lifeline to smaller lender First Republic.
In Washington, the focus has turned to greater oversight to ensure banks and their executives are held accountable with Biden calling on Congress to give regulators greater power over the sector.
The swift and dramatic events may mean big banks get bigger, smaller banks may struggle to keep up and more regional lenders may close down.
"People are actually moving their money around, all these banks are going to look fundamentally different in three months, six months," said Keith Noreika, vice president of Patomak Global Partners and a Republican former US comptroller of the currency.