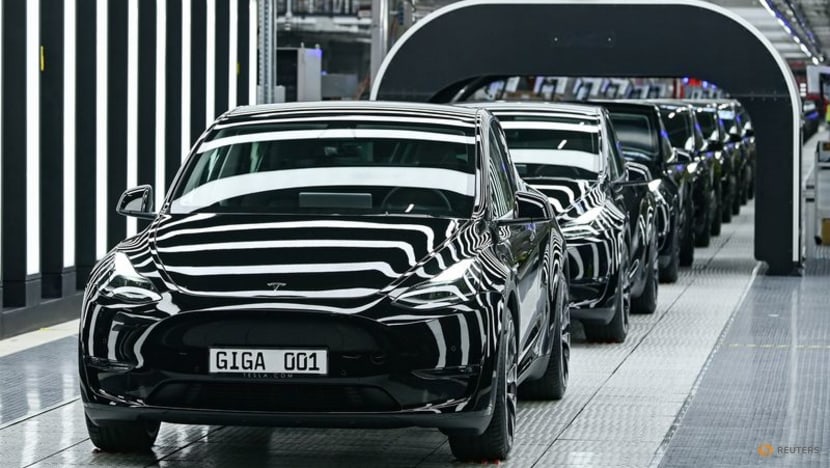 SHANGHAI: Tesla cut car prices in China for the second time in less than three months on Friday (Jan 6), deepening its discounts in the world's largest auto market as competition picks up and the demand outlook darkens.
The latest cut, along with a reduction in October as well as various incentives that amount to as much as 10,000 yuan extended to Chinese buyers over the past three months, amount to a 13 per cent to 24 per cent reduction in Tesla's prices from September, according to Reuters calculations.
On Friday, the US automaker slashed prices for all versions of its Model 3 and Model Y vehicles in China by between 6 per cent to 13.5 per cent, according to Reuters calculations based on the prices shown on the website. The starting price for Model 3, for instance, was cut to 229,900 yuan (US$33,427) from 265,900 yuan.
The move comes after industry association data showed December deliveries of Tesla's China-made cars fell to 55,796, the lowest in five months, as it reduced output and lowered prices to deal with rising inventories.
It also takes place just days after Beijing wound down a subsidy program that helped build the world's largest electric vehicle market. Softening demand has forced Tesla and its rivals to absorb the brunt of that decision to maintain sales.
The US electric vehicle maker is also facing intensifying competition from Chinese rivals. The Model 3 and Y have been the only models it delivers in China, though on Friday it announced prices for the Model S and Model X in China.
BYD, which has a much larger variety of offerings that comprise both plug-in and pure electric vehicles, saw its retail sales in China double in December while Tesla's fell 42 per cent, according to data from China Merchants Bank International.
The China prices of the Model 3 and Model Y cars are now 24 per cent to 32 per cent lower than in the United States, Tesla's largest market, Reuters calculations showed, due to reasons including different material and labour costs.
Tesla will sell the Model S Plaid and Model X Plaid in China from 1,009,900 yuan and 1,039,900 yuan, respectively, nearly 10 per cent higher than its US prices, its website showed.
Tesla said previously that it would start delivering the two high-end models, imported from the United States and subject to China's 15 per cent tariff, in the first half of the year to its Chinese customers.