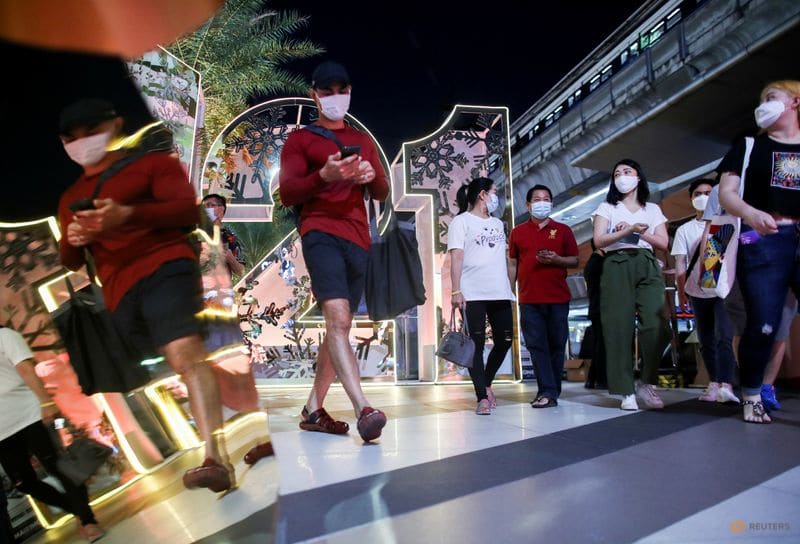 BANGKOK : Thai consumer confidence dropped to a record low in August, hurt by stricter coronavirus containment measures that slowed economic activity, a survey showed on Thursday.
The restrictions were imposed in July and August but have been eased https://www.reuters.com/article/idUSL1N2Q006L from this month as the Southeast Asian country tries to support a struggling economy.
The Thai Chamber of Commerce's consumer confidence index fell to 39.6 in August from 40.9 in July, also dented by political uncertainty amid growing anti-government protests.
However, consumers hoped the economy would recover in future after the easing of outbreak curbs, university president Thanavath Phonvichai told a briefing.
"We have seen no direction of whether confidence will improve, but people have more hope for the future," he said, adding more vaccines expected later this year together with a decline in infections were positive factors.
The economy should show signs of recovery after the relaxation of restrictions, helping bolster consumer confidence, Thanavath said.
Southeast Asia's second-largest economy is now expected to expand 0per cent to 2per cent this year, better than a previous forecast of 0per cent growth to a 2per cent contraction, Thanavath said.
The economy shrank 6.1per cent last year, its deepest slump in over two decades, with tourism devastated by the pandemic.
Earlier on Thursday, Deputy Prime Minister Supattanapong Punmeechaow said the economy should grow https://www.nasdaq.com/articles/thai-economy-should-grow-in-2021-as-virus-curbs-ease-deputy-pm-2021-09-09 this year and picking up pace in 2022.
(Reporting by Kitphong Thaichareon and Satawasin Staporncharnchai; Writing by Orathai Sriring; Editing by Martin Petty)