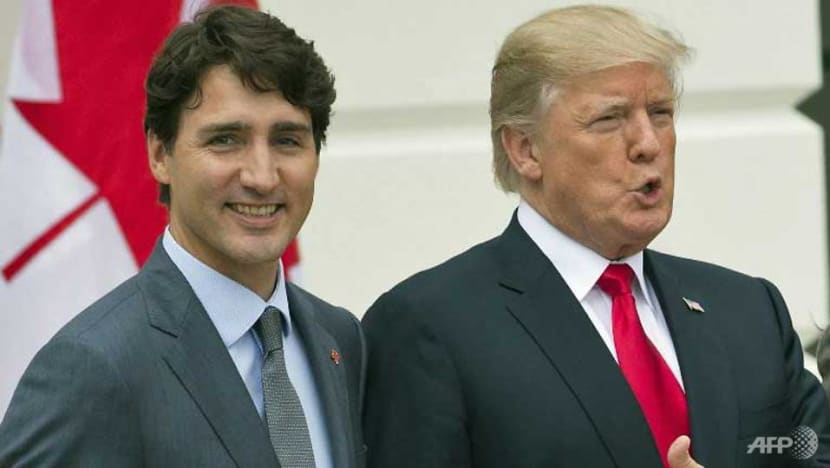 WASHINGTON: As Washington and Ottawa resumed trade talks on Tuesday (Aug 28), Canadian Prime Minister Justin Trudeau said he would only sign a new trade pact that was good for his country.
Canadian Foreign Minister Chrystia Freeland was upbeat in Washington after meeting US Trade Representative Robert Lighthizer, saying that "detailed" discussions to salvage the North American Free Trade Agreement as a three-nation deal would begin the following day.
After months of intense talks, the United States and Mexico announced an agreement Monday to thoroughly overhaul the 25-year-old free trade pact, but President Donald Trump suggested he could cut out Ottawa.
"We will engage in a positive way and look forward to ultimately signing a deal as long as it's good for Canada and good for middle class Canadians," Trudeau told reporters on Tuesday.
Mexico's President Enrique Pena Nieto and President-elect Andres Manuel Lopez Obrador both said NAFTA should remain a trilateral deal.
The outlines of a NAFTA 2.0 are now on paper, including new provisions on auto trade with higher percentage of locally-produced components, tougher worker protections and a provision to review the deal every six years.
But sticking points remain with Canada, including its dairy market and how to handle some disputes among NAFTA partners.
Freeland told reporters that "tough decisions" taken by Mexico, which agreed to wage hikes for some auto workers and tougher labor protections, among other matters, had eased matters for Canada and the United States.
Mexico's effort "clears the way for us to have some significant, substantive, and, I think, productive conversations with the US this week," Freeland said.
Canadian and Mexican officials were also due to meet on Tuesday evening, Freeland said.
Negotiators have worked for a year to update and rewrite NAFTA but in the last five weeks Washington and Mexico City held talks to resolve their bilateral issues, especially on the auto industry rules, without Ottawa.
Trump stressed Monday that he could go ahead without Ottawa in the new agreement, adding that he would take a tough line with Canada on autos and dairy tariffs -- long a source of tension between the neighboring countries.
But Trudeau vowed not to give in to Washington's demands to dismantle Canada's supply-managed dairy market.
"My position on defending supply management has not changed. We will defend supply management," Trudeau said.
TIME PRESSURE
White House economic adviser Larry Kudlow hammered the point on Tuesday, saying the United States would not accept continued steep tariffs on dairy exports, which can reach as high as 300 per cent.
"There's a word that Canada has trouble with - it's M-I-L-K," Kudlow said on Fox News.
The Canadian government effectively sets production quotas and the price of milk, which raises prices to consumers but provides farmers with a stable income.
The system has been in place since the 1970s and has survived several attempts to undo it.
Trudeau faces political pressure with elections due in a year, which could make him wary of being seen as capitulating to Trump, especially on dairy.
However, US Treasury Secretary Steven Mnuchin said the administration was keen to get Canada on board quickly.
"The US market and Canadian markets are very intertwined," Mnuchin said on CNBC. "It's important for them to get this deal and it's important for us to get this deal."
There is some urgency as the United States seems eager to have the issue resolved before the November midterm elections and Pena Nieto wants to sign it before handing the reins over to Lopez Obrador on Dec 1.
Mexican officials have insisted all along that NAFTA must be a trilateral deal and they have remained in Washington to participate in the talks.
Lighthizer said the administration would notify Congress by Friday of the new agreement, which would allow the required 90 days' notice to get the pact signed by Dec 1.
However, legislators and former US trade officials say the White House does not have the authority to replace NAFTA with a two-nation trade agreement, and must have the text of the treaty ready by Sep 30.
NOT A SUNSET CLAUSE
Canada also objects to the US call to eliminate bi-national panels to resolve trade disputes among NAFTA partners under Chapter 19, which appears to have been dropped in the deal with Mexico. Canada has used the provision to challenge US anti-dumping and countervailing duties.
But Washington backed away from a strenuously-opposed provision to require the three nations to renegotiate the trade pact after five years. Instead, the agreement with Mexico extends NAFTA for 16 years but with a review every six years.
A key element of the US-Mexico talks was the agreement on content requirements for autos produced in the region in order to qualify for duty-free NAFTA treatment, which Mexico agreed to increase to 75 per cent from 62.5 per cent.
The two sides also agreed that 40-45 per cent of vehicles must be made at "high wage" factories where workers receive US$16 an hour, something that could deter off-shoring US auto manufacturing to Mexico.