Two companies awarded Great Place to Learn certification
Two companies have received the Great Place to Learn certification this year - the first time the accreditation is being awarded.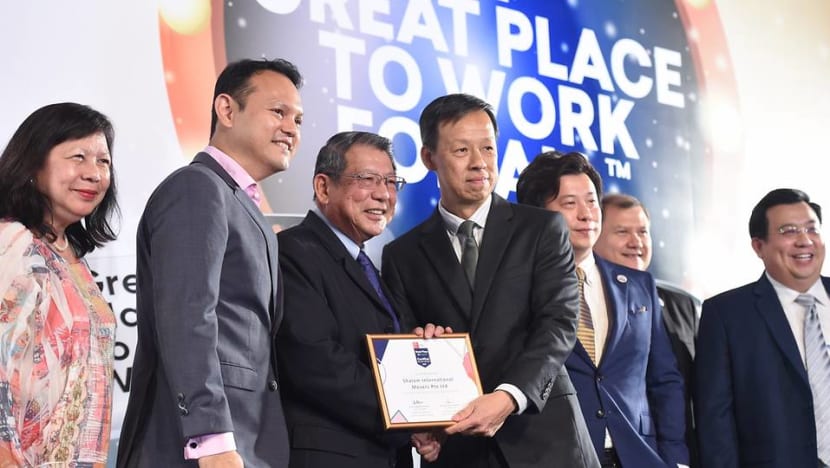 SINGAPORE: Two companies in Singapore received on Wednesday (Nov 7) the Great Place to Learn certification, which was awarded for the first time this year.

Logistics company Shalom International Movers and lighting accessories retailer Signify were recognised by consulting firm Great Place to Work Institute Singapore (GPTW) after at least seven in 10 employees said in a survey that the company they work for is a "great place" for learning and development.

GPTW, which has been in Singapore for four years, studies and assesses workplace culture and recognises outstanding workplaces in 45 countries worldwide.

Shalom International Movers was also one of 13 companies to receive the Great Place to Work certification. 
It was ranked seventh out of 10 in the medium and large-sized enterprises category, which was topped by Salesforce for the fourth consecutive year.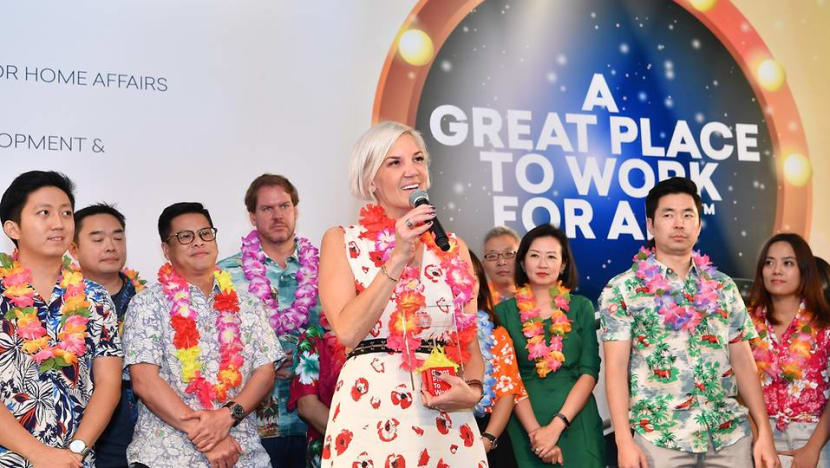 Tech company Intuit was ranked first in the small enterprises category. Other companies awarded include DHL Express, Mastercard, Cisco and Royal Plaza on Scotts.

Shalom International Movers' practices have led to more than 25 per cent of its staff staying on for more than 10 years - in an industry that typically sees a high turnover rate.
Among these are the efforts it has put into making sure its movers are accredited for their skills.
It tied up with the Institute of Technical Education (ITE) in 2014 to put its movers through certification courses, after it noticed that the skills they acquired on the job were not formally recognised.

Mr Gideon Lam, CEO of Shalom International Movers said: "Everything we do, our men must have pride."
"These organisations create and sustain high-trust, high-performing workplace cultures. They show us that an inclusive, encouraging workplace is possible, regardless of company size and industry," said Mr Zaqy Mohamed, Minister of State for Manpower, during the Singapore's Best Workplaces Awards ceremony.
"Their efforts are especially laudable given the many challenges our modern workforce and businesses face today."
TRUST AND RESPECT MAKE A GREAT PLACE TO WORK

Working with the Singapore Management University, GPTW conducted surveys at more than 800 organisations with over 400,000 employees across the region, which contributed to research showing a strong link between high levels of "psychological safety" and a strong teamwork culture.

Ninety-two per cent of employees who thought of their company as a great workplace also rated the organisation high in psychological safety.

This refers to an environment where employees can speak their minds freely and make honest mistakes without fear, according to the GPTW study.
In short, it's an environment where employees feel comfortable being themselves, said Professor of strategic management Richard Smith.

"Studies have shown that a sense of psychological safety drives people to contribute more, take more risks and perform better as a team," said Prof Smith.
"This study also observed that psychological safety has 10 times the impact on teamwork, relative to other organisational climate factors combined – which include remuneration, recognition and development opportunities."

Some elements that are key to this are the behavioural integrity of a company's leaders, organisational practices that are supportive of employees, and healthy relationship networks.

For Singapore, relationship networks in the form of collective approval and acceptance had the largest impact on perceptions of the degree of one's psychological safety.