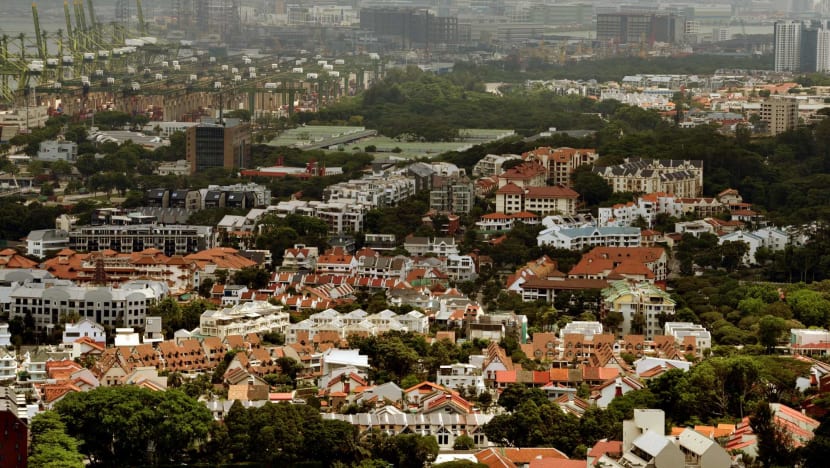 SINGAPORE: Private home prices in Singapore in the first quarter fell 1.2 per cent from the previous quarter amid the COVID-19 outbreak, according to flash estimates released by the Urban Redevelopment Authority (URA) on Wednesday (Apr 1).
This reverses the 0.5 per cent increase seen in the October to December period, and is also the first quarterly decline after three consecutive quarterly increases.
The private residential property index decreased by 1.8 points from 153.6 points in the fourth quarter of 2019 to 151.8 points in the first quarter of 2020.
Prices of non-landed private residential properties in the Core Central Region decreased by 1.5 per cent, compared to the 2.8 per cent decrease in the previous quarter. 
Those for the Rest of Central Region decreased by 0.5 per cent, compared to the 1.3 per cent decrease in the previous quarter. 
Prices in Outside Central Region decreased by 1 per cent, compared to the 2.8 per cent increase in the previous quarter
As for landed properties, prices decreased by 1.7 per cent, reversing the 3.6 per cent increase in the previous quarter.
The flash estimates come in "well within expectations" given the escalating COVID-19 situation, said property analyst Ong Kah Seng.
Those who bought property during the first quarter were mainly "opportunistic, savvy buyers" who grabbed a choice unit at attractive prices, he said.
When the official first-quarter results are released at the end of the month, the analyst said prices could dip marginally and are expected to continue to fall marginally in the second quarter, as Singapore's economy worsens.
"Going forward, developers will continually adopt competitive pricing strategies and be even more pragmatic (including releasing as many choice units instead of holding to them for future phases), as COVID-19's conditions worsen from March as a pandemic," he added. "These are necessary to chalk up sales volume to quickly break even from (a) project."
Although safe distancing measures could mean fewer interested buyers show up to view project show flats, visitors who do view a project by appointment are "actually more genuinely interested buyers", said the analyst.
"The potential to close deals is actually higher."
Ms Christine Sun, head of research and consultancy at OrangeTee & Tie, said that she too does not expect "dramatic price corrections" in the coming months.
"Many property measures have already been put in place over the past years to ensure financial prudence among buyers. The possibility of many homeowners slashing prices or defaulting on housing loans is not high," she said.
The flash estimates are compiled based on transaction prices given in contracts submitted for stamp duty payment and data on units sold by developers up until mid-March. 
The statistics will be updated on Apr 24 when URA releases its full set of real estate statistics for the first quarter of 2020.