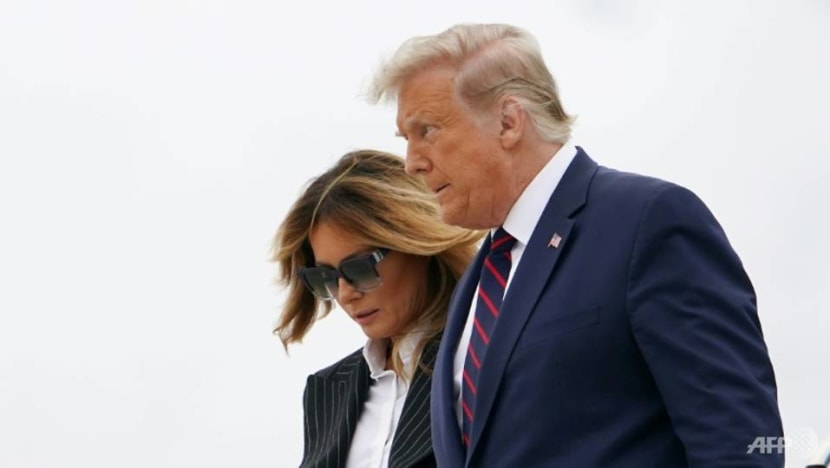 LONDON: Global equities dropped Friday (Oct 2) after US President Donald Trump revealed that he and his wife had tested positive for COVID-19, sparking fresh political chaos in the world's biggest economy just one month before Americans go to the polls.

Trump's tweet that he and first lady Melania had caught the disease rankled global financial markets and sent investors scurrying to the perceived safety of the dollar, yen and gold.

Analysts said the news had the potential to hurt Trump's campaigning ability at a time when equity markets were already nervous after a chaotic presidential debate between Trump and Democratic challenger Joe Biden heightened fears of a messy transfer of power.
"If Trump's symptoms are mild and he stages a quick recovery, his support could increase," said Ayako Sera, market strategist at Sumitomo Mitsui Trust Bank in Tokyo.

"However, this does damage Trump's ability to campaign and time is running out before the election. Whether it's Trump or Biden, the biggest problem is uncertainty. As long as we're uncertain about who will win the election, it is difficult for markets to truly settle."
Japan's Nikkei closed down 0.7 per cent as trading resumed following Thursday's market shutdown caused by a technical fault - and amid holiday closures in many key Asian hubs.
Oil prices tanked 4 per cent, extending Thursday's heady losses that were also rooted in the market being awash in crude amid timid demand.
Europe's main bourses were down 0.5 per cent, having clawed back some of their starker morning falls, but the futures markets were pointing to 1.5 per cent to 2 per cent losses for Wall Street's S&P 500 and Nasdaq.
How long the risk-averse moves will last depends on the extent of the infection within the White House, said Francois Savary, chief investment officer at Swiss wealth manager Prime Partners.
"We may have to wait until the end of the weekend for more clarity on the situation," he said.
"It will weigh on the market today and early next week but will not induce a long-lasting correction if the infection is contained to Trump," he added.
The United States has never delayed a presidential election, not even during the Civil War or Great Depression, and only moved it for administrative reasons twice - both within the first 60 years of the country's founding.
When it comes to stock market shocks, the assassination of President John F Kennedy on Nov 22, 1963, saw the S&P 500 plunge nearly 3 per cent and Wall Street shut down the New York Stock Exchange at 2:07 pm EST. But the losses were confined to a single day and the market recovered within two days.
The news from the White House also triggered a rise in the dollar as well the safe-haven Japanese yen which saw its biggest jump in more than a month, reaching 104.95 at 0553 GMT.
Download our app or subscribe to our Telegram channel for the latest updates on the coronavirus outbreak: https://cna.asia/telegram