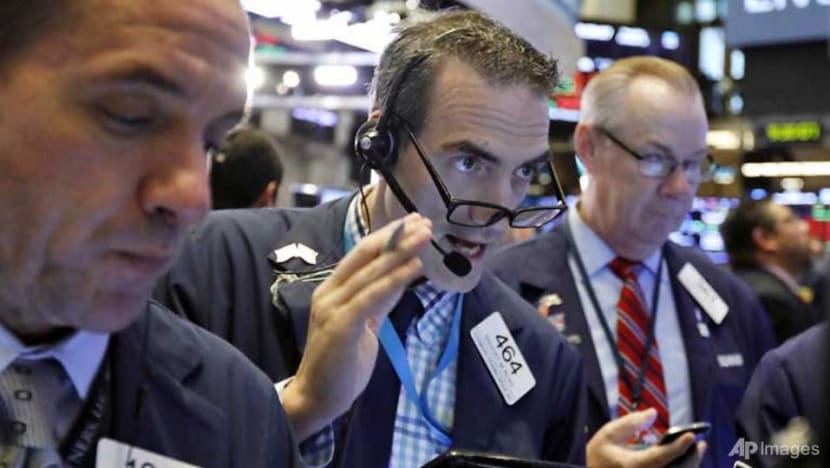 NEW YORK: US stocks tumbled for a second straight session on Thursday (Oct 11) as volatility reigned on Wall Street amid worries about higher interest rates and trade wars.
The Dow Jones Industrial Average slumped 545.91 points (2.13 per cent) to 25,052.83, bringing its losses for the week to more than five per cent.
The broad-based S&P 500 also dropped 57.31 points (2.06 per cent) to 2,728.37, while the tech-rich Nasdaq Composite Index fell 92.99 points (1.25 per cent) to 7,329.06.
The declines - which brought the major indices to their lowest levels in months - came as US President Donald Trump repeatedly castigated the Federal Reserve for lifting interest rates, sparking worry that the US central bank's independence from politics could be compromised.
Some market watchers had predicted a bounce on Thursday after Wednesday's pullback, Wall Street's worst day since February.
Wall Street opened with modest gains after modest US inflation data. But it did not take long for volatility to return with a vengeance as major indices hit session lows in the final 90 minutes of the day before coming back slightly.
Big losers in the Dow included JPMorgan Chase, Exxon Mobil, McDonald's, Pfizer and Procter & Gamble. All fell at least three per cent.
Some technology companies emerged relatively unscathed, with Facebook and Activision Blizzard advancing and Microsoft and Google parent Alphabet falling only modestly.
"When we have a recalibration in values, it's not surprising that it takes more than one day," said Art Hogan, chief market strategist at B. Riley FBR. "In these kinds of moves, it usually takes three days to wash out."
Most market viewers saw last week's surge in the yield of the 10-year US Treasury bond as the catalyst for the two-day rout, an unexpectedly fast move higher that raised worries about a sudden acceleration of inflation and more aggressive Federal Reserve interest rate hikes.
The upcoming third-quarter earnings season has been seen as a potential antidote to the unease. Earnings season begins in earnest on Friday with results from JPMorgan Chase and other large banks.
But Hogan said earnings were also a source of worry because they could showcase the consequences of Trump's trade wars for US companies, from raising costs of raw materials to forcing enterprises to change supply chains.
"The larger concerns we have are about what companies have to say about the US and China," Hogan said. "I think there's less of a belief that we're getting close to a resolution with China."