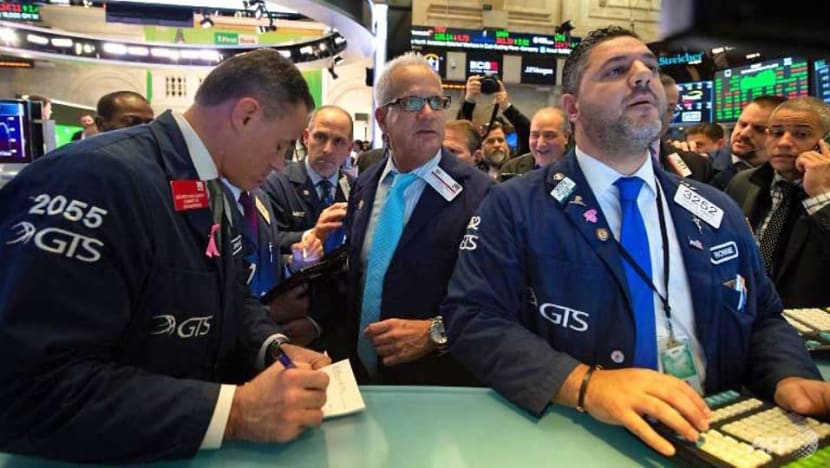 NEW YORK: Wall Street stocks finished mostly higher on Monday (Nov 5) as investors appeared unconcerned by an expected split outcome in US elections, with Democrats likely to take the lower house of Congress.
The Dow Jones Industrial Average ended with a gain of 190.87 points (0.76 per cent) at 25,461.70 on the eve of the key midterm vote.
The broad-based S&P 500 advanced 15.25 points (0.56 per cent) to finish at 2,738.31, while the tech-rich Nasdaq Composite Index declined 28.14 points (0.38 per cent) to 7,328.85.
As the midterm election campaigns headed into the final hours, most experts expected the Democrats would win the House of Representatives, while President Donald Trump's Republican party would hold onto control of the Senate.
"There is the assumption of the markets that Democrats will take the House and Republicans will maintain control of the Senate," said Sam Stovall of CFRA Research. "It does not worry them."
Analysts do not expect that outcome to undo Trump's tax cuts or regulatory rollbacks but the White House would face much more scrutiny as far as congressional investigations.
Several larger technology companies tumbled, including Amazon, down 2.3 per cent, Apple, down 2.8 per cent, and Google-parent Alphabet, down 1.7 per cent.
But gains in other sectors suggested investors were reallocating funds to sectors that have underperformed this year.
Petroleum-linked shares were strong after the US re-imposed sanctions on Iran, even as the Washington granted waivers to eight countries, including China and Japan, sparing them from the ban on Iranian crude purchases.
Chevron jumped 3.7 per cent, Apache 4.7 per cent and Halliburton 2.5 per cent.
The health and financial sectors also performed well.
Dow member IBM jumped 3.8 per cent after Chief Executive Ginni Rometty and some other top company officials bought shares.
Besides Tuesday's elections, key events this week include a two-day Federal Reserve monetary policy meeting concluding on Thursday. 
Analysts expect no change this week as far as interest rates but the Fed's statement will be scrutinised as to whether it confirms expectations for another interest rate hike in December.