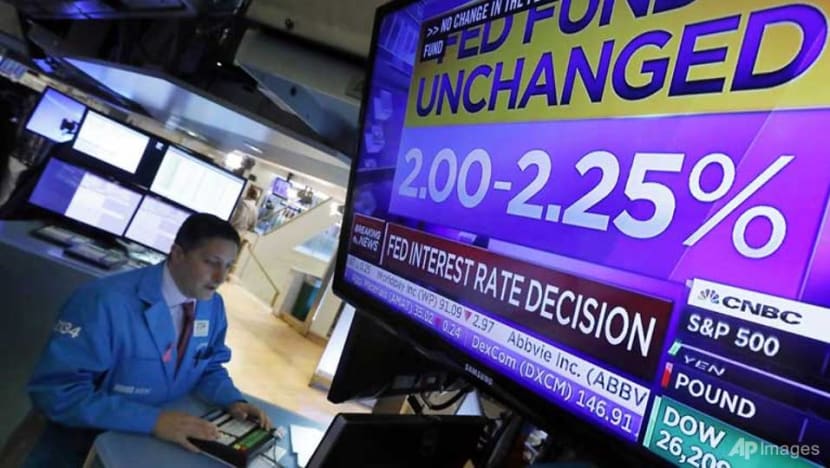 NEW YORK: US stocks ended split on Thursday (Nov 8), eating into gains from Wednesday's post-election relief rally while the Federal Reserve left interest rates unchanged.
Oil prices also closed in a bear market, down more than 20 per cent from a peak last month, which weighed on petroleum industry stocks.
The benchmark Dow Jones Industrial Average, which had bounced in and out of the red during the day, rose 10.92 points (0.04 per cent) to 26,191.22.
The broader S&P 500 fell 7.06 points (0.25 per cent) to finish the day at 2,806.83, while the tech-heavy Nasdaq sank 39.87 points (0.53 per cent) to 7,530.89.
Wall Street had gained about two per cent the day before as investors absorbed the split decision from this week's key congressional elections - which analysts say means there is little chance of major a rollback of business-friendly tax cuts and regulations.
"A lot of traders have taken a step back following the post-election surge," said Ken Berman of Gorilla Trades.
Art Hogan of B Riley FBR told AFP investors might have been disappointed the Fed's commentary had still pointed to further "gradual" interest rate hikes.
Markets expect the Fed to raise the key rate for the fourth time this year at the December meeting, but moves in 2019 remain in doubt.
Dow members Exxon and Chevron fell 1.6 per cent and 1.2 per cent, respectively, dragged lower by the weakening oil prices.
Meanwhile Disney closed down 0.8 per cent, shortly before reporting a surge in income driven by a jump in revenues at its movie studios.
Drop Box fell 1.2 per cent ahead of its earnings release.