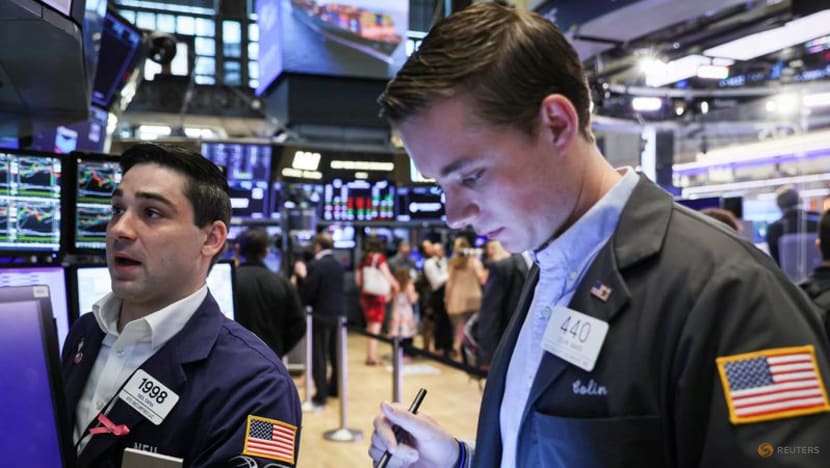 NEW YORK: Wall Street's main indexes rose and European shares logged their largest one-day gain in two months on Friday (May 26) as talks on raising the United States debt ceiling progressed.
Treasury yields climbed as investors rethought how long interest rates were likely to keep rising.
Democratic and Republican negotiators were still struggling to reach a deal to raise the US government's debt ceiling with the deadline looming.
The MSCI world equity index, which tracks shares in 49 nations, gained 1.09 per cent but was still down 0.51 per cent on the week.
US data showed stronger-than-expected consumer spending in April. The increase in personal consumption expenditures (PCE) raised expectations that the Federal Reserve will hike interest rates again in either June or July.
US President Joe Biden and top congressional Republican Kevin McCarthy appeared to be closing in on an agreement ahead of a Jun 1 deadline that would raise the government's US$31.4 trillion debt ceiling for two years.
A top Republican, however, said there were disagreements over some benefit programs for low-income Americans.
Meanwhile, after the market close Treasury Secretary Janet Yellen extended the deadline for raising the debt limit to Jun 5.
The dollar eased against a basket of currencies, but was still on track for a third straight weekly gain as markets bet on higher-for-longer interest rates.
Gold advanced from two-month lows, and oil prices rose.
Eurozone government bond yields were higher as robust economic data and hawkish remarks by central bank officials triggered some upward repricing in market bets on eurozone interest rates.
"This week has been a bit of a wake-up call to rate expectations. There is a realisation that inflation is going to be stickier for a lot longer," said Mike Hewson, chief markets strategist at CMC Markets.
The Dow Jones Industrial Average rose 1 per cent to 33,093.34, the S&P 500 gained 1.3 per cent to 4,205.45 and the Nasdaq Composite climbed 2.19 per cent to 12,975.69.
Chip stocks surged for a second day on optimism about artificial intelligence. Marvell Technology finished up more than 30 per cent after it forecast its annual artificial intelligence (AI) revenue would double.
Shares of the world's most valuable chipmaker, Nvidia, added 2.54 per cent after vaulting to a record high on Thursday following a bumper forecast.
The pan-European STOXX 600 index closed 1.2 per cent higher, bouncing back from Thursday's eight-week low. Swedish gaming company Embracer jumped 13.1 per cent to top the index, and Faurecia added 7.5 per cent after Jefferies upgraded the French car parts maker to "buy".
Italy hopes to close 2023 with economic growth of between 1.2 per cent and 1.4 per cent, higher than the official target set at 1 per cent in April, Economy Minister Giancarlo Giorgetti said.
The yield on two-year Treasury notes, which rises with traders' expectations of higher federal fund rates, rose to 4.5598 per cent from 4.51 per cent previously.
CHINA RECOVERY QUESTIONED
In Asia, Japan's Nikkei rose 0.4 per cent with revenue and production upgrades for Nvidia boosting Japanese firms with exposure.
The cost of insuring exposure to US government debt dropped on Friday.
China's yuan slid along with Chinese stocks as the shine comes off expectations of a booming post-pandemic recovery, sending steel prices in the country to a three-year low.
"The US debt issues are not the only 'ceiling' that we are dealing with, as a slowdown in Chinese economic data suggests that a ceiling for growth may be forming as well," said RBC technical strategist George Davis.
Brent crude settled 69 cents, or 0.9 per cent, higher at US$76.95 a barrel and US crude closed up 84 cents, or 1.2 per cent, to US$72.67 as traders juggled conflicting messages on supply from key producers ahead of the next OPEC+ policy meeting.
Spot gold prices rose 0.33 per cent to US$1,946.69 an ounce, and gold futures edged up 0.03 per cent to settle at US$1,944.30.