Wireless headphones may be all the rage, but wired ones are here to stay: Sennheiser CEO
Mr Daniel Sennheiser, third-generation co-CEO of the German audio stalwart, says the market is moving towards a future dominated by wireless cans built with smart functions but Sennheiser will still cater to the "audiophile" demographic who put a premium on their sound systems.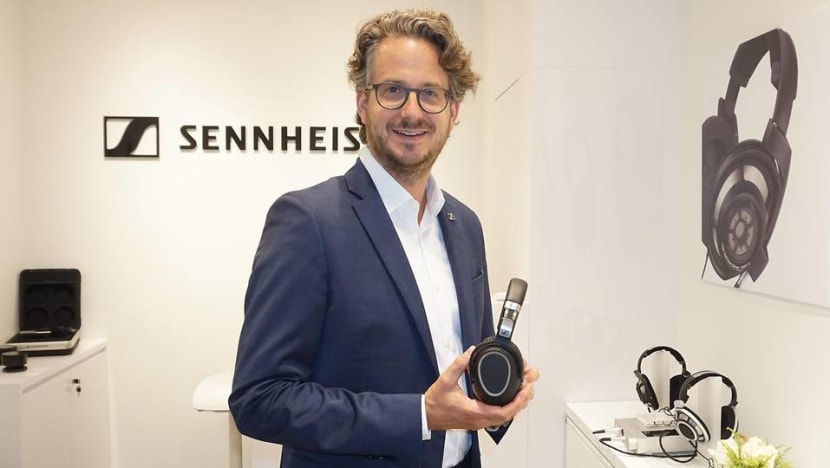 SINGAPORE: Why did German audio technology house Sennheiser decide to commit six years of some of its employees' time to engineer and develop a headphone system back in 2015 that costs a princely 55,000 euros (S$85,700)?

"I agree, it is very niche-y," CEO Daniel Sennheiser said in an interview with Channel NewsAsia on Thursday (Nov 29).

"(The HE 1) is not a consumer-centric product; it's a Sennheiser-centric product," the 45-year-old explained. "Once in a while, we just want to prove to ourselves that we can build the best headphones in the world."

For the curious, the CEO said "several hundreds" of the systems have been sold to date, and it receives "more orders than it can fulfil".

Mr Daniel, together with his brother Andreas, is the third-generation of Sennheisers to run the company, after his father made way for them in July 2013.

A WIRELESS FUTURE

From his lofty vantage point, the Sennheiser executive shared two trends happening in today's consumer market: One is that "everything is going wireless", in that headphones are shedding their umbilical cords to devices like smartphones, tablets and laptops.

In fact, the company is seeing Asia as the fastest growing region for this phenomenon, with South Korea and Singapore "far ahead" in adopting this technological trend, followed strongly by consumers in China and Japan, Mr Daniel revealed.

The other is that audio makers are increasingly building in "smart" functions into their headsets, such as voice controls to operate digital assistants like Siri or Google Assistant, he added.

Asked to elaborate on the wireless phenomenon, accelerated in part by handset makers like Apple killing the 3.5mm headphone jack back in 2016, Mr Daniel explained that for activities and devices that require portability, the wireless headphones will increasingly be a viable product.

However, as with any device that uses wireless transmission, audio files sent over the airwaves will have to go through compression and this will invariably impact the sound quality, he explained.
This, he added, is why there will always be "audiophiles" who demand wired cans to achieve high sound quality, and are willing to spend the money to get that experience. Those who put a premium on sound quality are usually those consuming audio from a non-mobile device and fixed location, such as a home theatre system or hi-fi equipment.

Audiophiles constitute less than 10 per cent of its overall user base, but "there will always be space for wired products", Mr Daniel pronounced.

Besides audio equipment in both consumer and professional arenas, Sennheiser is also pushing to grow its footprint in the business communications space. It is focusing on its expertise - audio technology - and working with existing market players like Cisco Systems and Avaya to bring its products to market, the CEO explained.
Business communications is the smallest vertical within the business, but it is the "fastest growing" although he did not substantiate further. 
SINGAPORE TEAM PLAYS KEY DEVELOPMENT ROLE

Mr Daniel, who was in town to officially open Sennheiser's new office housed in Infinite Studios, also shared that its Singapore operations continue to play a key role - not just in sales and other backend functions, but also product development - since it first opened its regional headquarters here in 1992.

Elaborating, the CEO said the development unit here contributed to the "day-to-day engineering work" for the Momentum True Wireless earbuds that was unveiled at this year's IFA consumer electronics trade show.

And it will continue to play a pivotal role in supporting the company's growth in the region, even though markets like China and India have established themselves as separate entities in recent years, he said. 
There are currently 100 employees here as part of the overall 3,000-strong team at the family-run private company.

"We've been here in Singapore for 25 years now … and I believe we will be here for another 25," the CEO said.