'I can do it at home, the smell won't linger': Do youths who vape know what they're inhaling?
One youngster started vaping through her brother; another through his father. In the first of a two-parter, the programme Talking Point finds out how youths get their supplies and what chemicals may be causing them harm.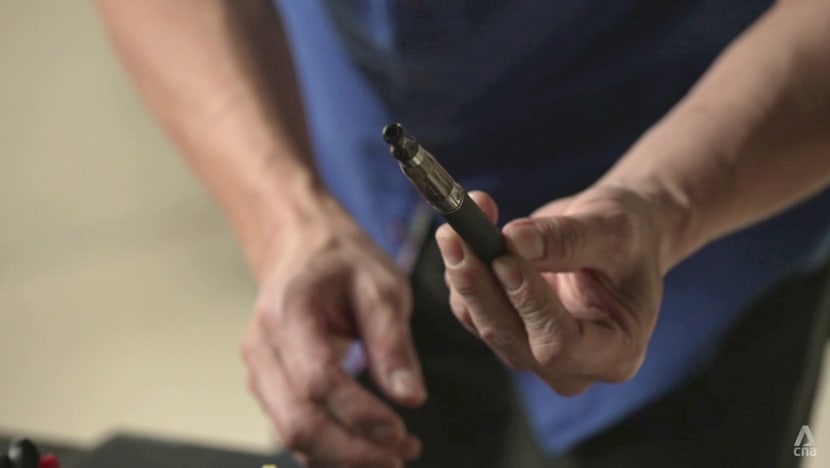 SINGAPORE: Her brother was a smoker in secondary school. When he began vaping and was buying his own e-vaporiser two years ago, he asked Michelle (not her real name) if she wanted to join in because "there was a minimum order".
Aged 16 at the time, Michelle agreed.
For Kelly (not her real name) — who picked up smoking at age 16 but tried to hide the smell of cigarettes from her parents — vaping became her puff of choice after she had tried a friend's vape at school and found that it didn't have "the smell".
"When I vape, it smells nice. The taste is palatable. It doesn't make me feel like I want to gag. And (then there's) the convenience — I can just do it at home, and the smell won't linger," she said.
These days, Michelle gets her supply through groups on Telegram, while Kelly places her order through friends. "I … have them do the work, then I just collect (it) from them," Kelly said.
The "work" of getting vape supplies via Telegram goes like this: After an order is placed, someone usually delivers it on the same day at a prearranged location.
"Sometimes people who aren't scared to take a gamble (arrange for delivery) to their house," said Michelle.
She has picked up orders from people in cars and on motorbikes, and "you can tell that the person you're talking to … on Telegram isn't the same person who delivers to you".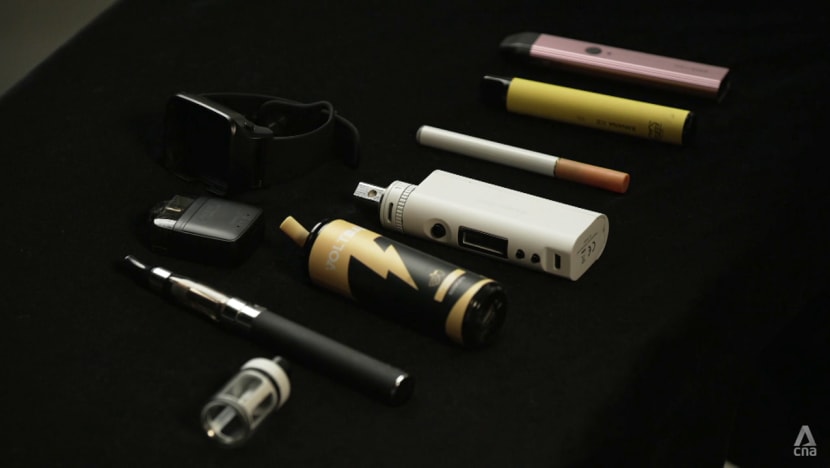 It feels like a big, lucrative operation with runners, added the teenager.
Buyers, too, try to scale up their orders to get bigger discounts and would rally their friends to "buy together", she said. "I usually buy seven boxes at one go (for) about S$100, and that lasts me three months."
Each box typically contains three refill pods, and the teens interviewed by the programme Talking Point say it can take three days to a month to finish a pod, depending on how much one vapes. A pod left untouched for too long, however, begins to taste burnt.
The youths — all aged 18 — know vaping is illegal in Singapore. The possession, use and purchase of vapes have been banned since February 2018, and anyone convicted can be fined up to S$2,000.
But it is relatively easy to get hold of a vape, said the teens featured in Talking Point's deep dive on this trend in their age group.
"It's easier to get a vape than for me to go out and buy cigarettes, because I'm still underage," said Kelly. At convenience stores, there are closed-circuit television cameras, she added.
Vaping is also cheaper than smoking cigarettes, pointed out the youths and health and smoking-cessation experts.
A packet of cigarettes costs about S$12 to S$14, said Health Promotion Board student health adviser Karen Lim, whereas a vape refill pod could cost about S$12 per box of three, although there is a price range.
WATCH: We got hooked on vaping in school — it was too easy: Teen vapers tell all (9:19)
"One pod can last them for quite long. So compared to cigarette smoking, this is much cheaper," she noted.
Lim, who is based in an institution of higher learning, said the proportion of youth vapers and of smokers she sees are roughly equal.
The pandemic and circuit-breaker measures may have contributed to some youths turning to vaping, she added.
"These youth smokers are unable to go out to smoke, unable to get their cigarette supply, so they (go) online to get their e-cigarettes or vapes. As long as (you) have money, an (online) account, an address, your product will be delivered."
There are no reliable statistics, however, on the percentage of youths who vape.
Research firm Milieu Insight's recent cigarette consumption study of 6,510 Singaporeans and permanent residents aged 18 or over indicates that 11 per cent of them are regular smokers.
Another 2.1 per cent said they are occasional smokers who smoke, on average, fewer than three sticks a day and 10 sticks a week.
In the same study conducted in June, 4 per cent of respondents said they use e-cigarettes and/or heated tobacco products. About two-thirds of this group are "dual users" who also smoke cigarettes.
"IT DOESN'T FEEL THAT BAD"
Last year, 4,697 people were caught using and possessing vapes, up from 1,266 people in 2020. About one in three people caught last year were under the age of 18. Between January and August this year, 3,912 people were caught.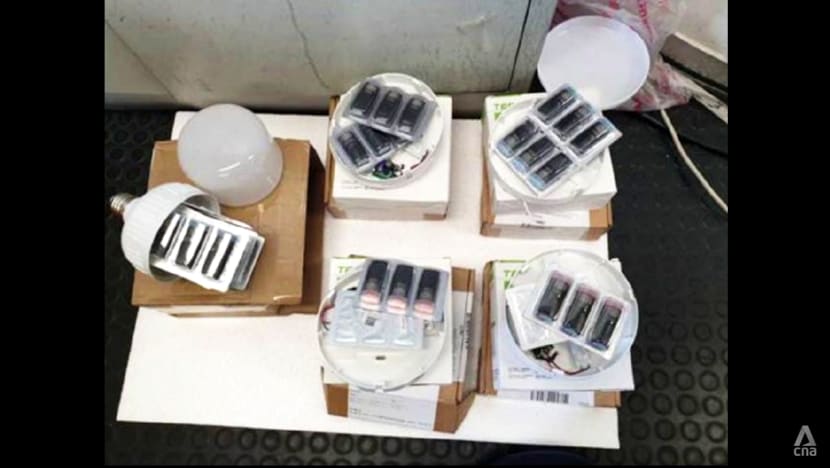 Between 2018 and this August, 428 persons were caught selling vapes, and 91 were prosecuted, according to the Health Sciences Authority (HSA).
The fear of getting caught is there, said Tim, another teen who spoke on condition of anonymity. "The thing is, with so many people doing it, it doesn't feel that bad," he said. "For now … I'm not (so afraid as) to stop."
Tim and Kelly said their parents knew about their habit. In fact, Tim's father was the one who bought him a vape to try to wean him off cigarettes, which he began smoking in Secondary 2.
The boy's father bought the vape, plus another for himself, around three years ago on a family trip to Johor Baru. "I still smoke cigarettes and vape, but my dad only vapes now," Tim said.
Kelly, meanwhile, said her mother detected a smell — a "fruity" one but emanating nonetheless from her room — since e-liquids, or vape juices, can come in flavours such as grape and strawberry. Her parents also saw the vape lying on her bed.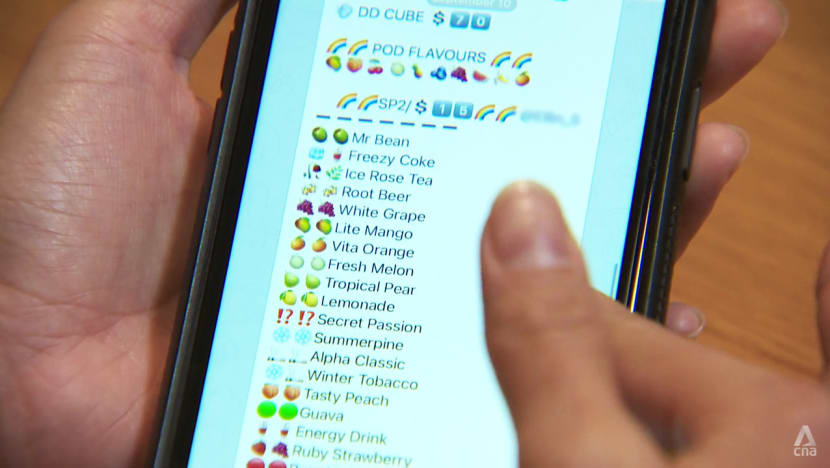 As for Michelle, she said her father saw her device when he entered her room once. He "whacked" her, and vaping is something she tries to hide these days to avoid "unnecessary trouble".
A CONCOCTION OF CHEMICALS
On the health effects, the three teens are aware that vaping may not be less harmful than smoking, which is associated with a host of diseases, including cancer, heart disease and stroke.
"(But) we don't know what's going into the (vape) juice," said Kelly.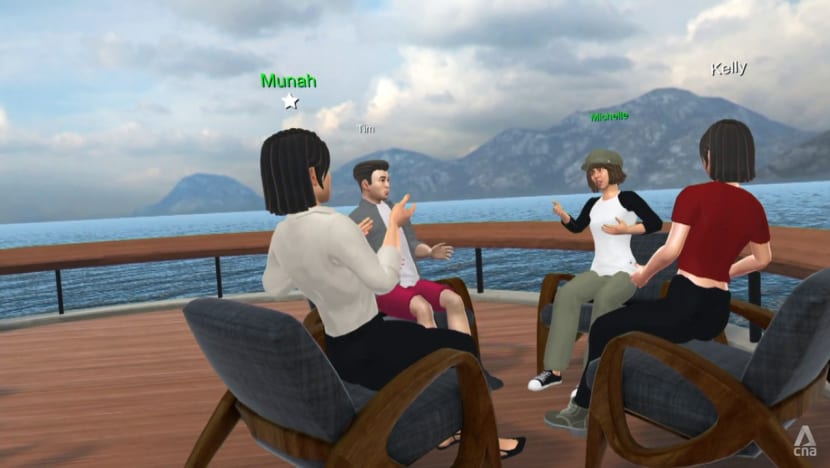 Nicotine is the main chemical added to e-liquids, said Cheah Nuan Ping, the director of the HSA's cigarette testing laboratory. The vape heats and vaporises the liquids, which are then inhaled.
Other substances include glycerol and propylene glycol, which deliver the nicotine in aerosol form to users. These are chemicals commonly used in the formulation of food, cosmetic and pharmaceutical products, and are safe for ingestion, said Cheah.
"But there's very limited information available on their toxicity to the lungs," she noted.
There are agents such as menthol and benzoic acid, which help to reduce the bitterness of nicotine.
Lead and formaldehyde have also been found. "Lead somehow leached out during the heating process, and we found (it) in both the liquid and the aerosol," said Cheah.
Formaldehyde is a chemical suspected of causing cancer, and she called it the "most significant chemical that we found in the aerosol". It was produced from heat and the reaction between chemicals like glycerol, propylene glycol, menthol and benzoic acid.
There are "many other chemicals", including volatile ones, in vape aerosols that the HSA and its international counterparts are in the process of figuring out, she added.
In the past few years, a new medical term has emerged: E-cigarette or vaping product use-associated lung injury, or Evali. Its commonest symptoms are cough, chest pain and progressive shortness of breath, cited thoracic surgeon Aneez D B Ahmed of Mount Elizabeth Novena Hospital.
Some vape pods contain tetrahydrocannabinol, the main psychoactive compound in marijuana, or cannabis. When the liquid is vaporised and inhaled, "the concentration of cannabis delivered is very high", said Aneez.
He noted a spate of deaths in the United States linked to vaping. Experts there have identified vitamin E acetate, an additive found in vapes containing cannabis, as the culprit in most cases.
NICOTINE REPLACEMENT A BETTER TOOL?
Vaping started out as a smoking cessation tool in some countries. And just this week, a study commissioned by the United Kingdom government suggested that vaping is far less risky than smoking and helps people quit tobacco.
But studies have also shown that most people have kept on vaping, as vapes contain nicotine, said consultant respiratory physician and intensivist Alvin Ng Choon Yong of The Respiratory Practice.
"(Among) those who use nicotine replacement therapy, only about 8 per cent of them are still using nicotine replacement after a year," he pointed out. Such products, which include gum, patches and inhalers, have been known to work, he added.
"So why not use those products rather than something that's seen to be fashionable?"
WATCH: Why teens vape — are vapes really healthier than cigarettes? (22:05)
He thinks "a lot of" young people in Singapore would take up vaping "more readily" if it were not banned.
Tim holds a different view: That legalising vaping would make it harder to access for younger children.
"They already can access it now when it's illegal," he said. "Legalising it will be the next best thing, and then finding a way to tax it to make it more expensive so it's less accessible to younger kids."
Asked what would make him stop vaping, Tim — who puffs when he wakes up and after every meal and has even vaped in class by exhaling into his bag or shirt — said: "When it's not fun, then I'd stop.
"I don't think I want to wait till I have a health issue … But who knows?"
It is still uncommon to hear about people dying from vaping because it has "become a new thing" only recently, he added. "We're, like, the trial generation."
Watch this episode of Talking Point here. The programme airs on Channel 5 every Thursday at 9.30pm.
You may also wish to read: