Are breakfast buns healthy? 5 things to know about them
At the foot of your HDB block, in a mall, at a bus interchange — we can find breakfast buns almost anywhere. But are they healthy? The programme Talking Point gets the skinny on five popular buns.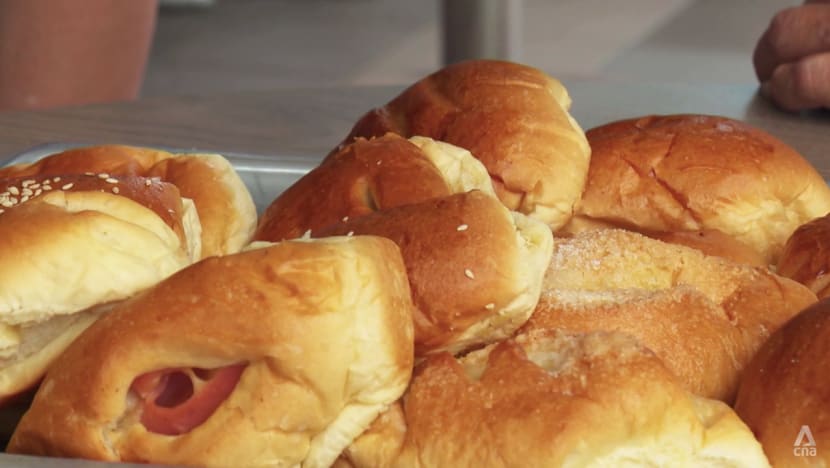 SINGAPORE: Jeremy Loh's all-time favourite bun is "really, really addictive". 
"That little cream they put (on top of) the bun … is really the secret weapon," said the self-proclaimed bun fanatic. Loh is referring to none other than the floss bun. 
He eats buns almost every day and can spend up to S$120 a month on the bread rolls with choice toppings or fillings.
Loh is not alone in his enthusiasm. When CNA Insider did a callout on Instagram asking viewers what their favourite buns were, we received more than 130 responses that ranged from the traditional kaya and red bean buns to the more novel nacho cheese potato buns and garlic cream buns. 
But the one that came out tops was Loh's go-to, followed by the red bean bun, hotdog bun, cheese bun and coffee bun. 
"Bakeries are found everywhere in the neighbourhood so after work or during lunch break, I can go out and (buy buns)," said Loh, 25, a student who works part-time. "The most I've had (at a go) would be four. If it's those mini buns, I think I could eat maybe six or seven."
The owner of a bakery that's been around since the 1970s puts it matter-of-factly.
"If you don't eat buns, what do you eat? Eat noodles, eat rice?" said Sim Bak Sun from Serangoon Garden Bakery & Confectionery. He estimates that the stall sells a few thousand trays of about 10 buns each day. 
"It's simpler to eat buns and it's economical," Sim added.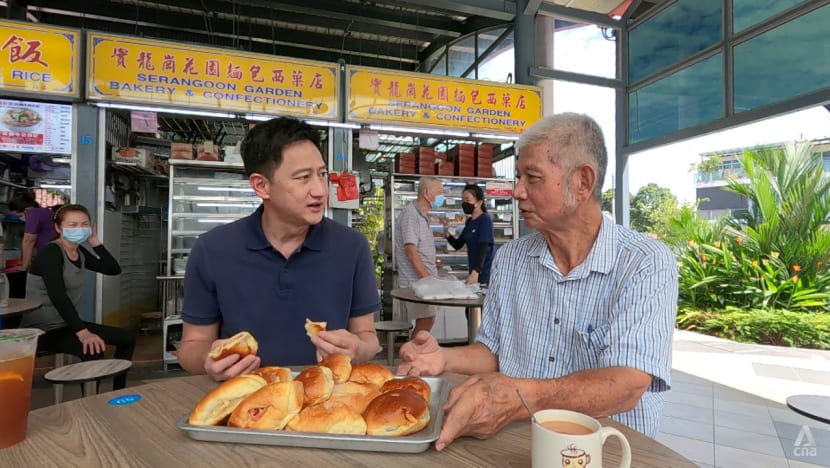 But are they healthy? How much is too much? The programme Talking Point investigated and came up with five things to know. 
1. ONE FLOSS BUN EQUALS TWO PLAIN PRATAS
Unfortunately, the crowd-favourite floss bun is also the most calorie-laden. Each contains an average of 333 kilo calories or what we commonly know as, simply, calories. This is equivalent to the calories found in two pieces of plain roti prata.
In fact, four floss buns would exceed half of host Steven Chia's recommended daily calorie intake. 
The buns were tested for calorie and sugar content based on 80g of each flavour. It is the typical size of a bun, according to specialist testing and technical services firm Stats Asia Pacific. A mix of buns from heartland bakeries, popular chains and more upscale places were used. 
WATCH: What's Really In Your Breakfast Buns? (23:01)
Most people Chia polled had guessed that hotdog buns are the most unhealthy, but lab results showed otherwise. The hotdog bun had the lowest calorie and sugar content among the five flavours tested. It contains about 217 calories, equivalent to about two-and-a-half fried eggs.
Still, hotdogs are highly processed and contain sodium, noted Sport Singapore dietician Liyan Huang. "I wouldn't eat it every day."
The cheese bun has about 253 calories, while the red bean bun has about 259 calories - equivalent to about three slices of fried bacon. The coffee bun has about 313 calories, which is roughly equivalent to a bowl of prawn noodle soup.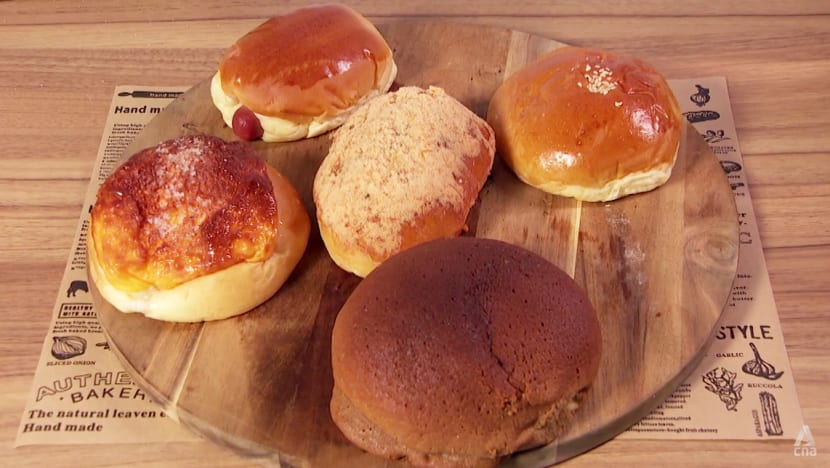 Listen: Can one doctor, one patient work?
When it came to sugar content, the red bean bun emerged tops with an average of 18g per bun. That's about 1.5 tablespoons of sugar and equivalent to drinking half a can of cola. It was followed by the coffee, floss and cheese buns.   
The test results did not indicate that buns from the more expensive brands were healthier.
2. HOW LONG CAN YOU KEEP YOUR BUNS?
Biochemist Alvin Loo recommends storing buns in the fridge and consuming them within the next two or three days, especially if, like him, you typically buy buns at a discount the night before.
Fillings that are very high in moisture or contain milk are "more likely to spoil", said Loo from the food science and technology department at the National University of Singapore. 
Buns with egg mayonnaise, for instance, are "very nutritious" for microorganisms. "If you are not keeping them chilled, you should be consuming them within four hours."
Those with fillings that are high in sugar, like chocolate or red bean, can be kept for longer as the sugar helps to "delay the spoilage", added Loo. 
3. IS A SOFT BUN NECESSARILY SAFE TO EAT? 
If a bun is kept for too long and becomes stale, it becomes harder, said Loo. But when a day-old bun and a five-day-old bun were tested for firmness, there was little difference. 
The former required 0.08kg to compress, while the latter needed 0.12kg. This is because bakeries in Singapore may use "permitted additives" like enzymes or dough conditioners to keep the buns softer for longer periods of time, said Loo. 
The presence of mould is a better indicator of whether your buns are safe to eat, he added.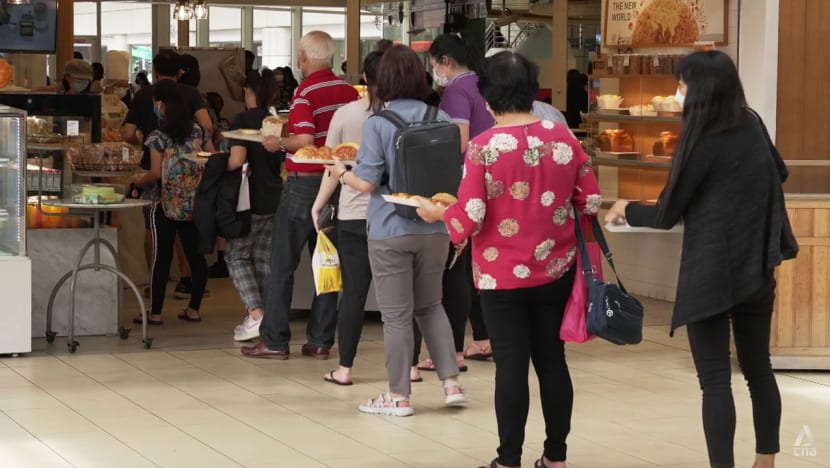 4. HOW MUCH IS TOO MUCH?
While buns are undoubtedly a convenient and popular breakfast option, Huang, the dietician, cautioned that they shouldn't replace a proper lunch.
Some of these buns, she said, don't give enough protein and fibre. "Not to mention, these buns are really high in carbohydrates and most people probably won't stop at one."
In fact, scarfing down three coffee buns is akin to eating nine slices of bread, Huang said. "Will you eat nine slices of bread at one go? Chances are, no. So, then, why do you want to eat three coffee buns at one go?"
5. HOW TO HAVE YOUR BUN AND EAT IT (HEALTHILY)
There are certainly healthier choices such as wholegrain or quinoa buns, said Huang. 
However, she noted that meals should be assessed "as a package". 
"For example, we always say white bread is bad. But if we pair this with a good-quality protein like eggs, then … an egg sandwich for breakfast is not all that bad," said Huang. 
On the other hand, if one is already having a floss bun, pairing it with a kopi sweetened with condensed milk would mean a "very high calorie" breakfast.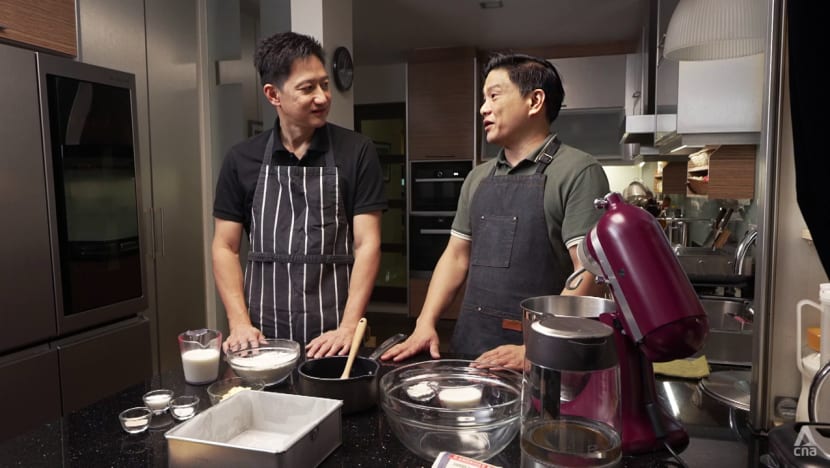 Bread lovers could also consider making their own, as food blogger Leslie Tay does. Showing Chia how he makes plain soft buns, Tay did dough conditioning the "natural way" by cooking the milk and flour before baking. This helps to preserve the softness of the bread, said Tay.
"Whenever you buy buns from outside, you'll never know whether (the bakeries) are using dough conditioners," he said. Bakeries may also use more sugar, while he prefers a more modest amount for his loaves. 
"When you make your own bread, it's always nice and fresh. And of course, you know exactly what goes into it," said Tay. 
Watch this episode of Talking Point here. The programme airs on Channel 5 every Thursday at 9.30pm.