'My heart cries': Muslim migrant workers ache for family, but find support from bosses this Ramadan
At the Paya Lebar Quarter construction site where these men work, extra measures are taken to safeguard their well-being. But nothing can shield them from the yearning they feel for families in Bangladesh.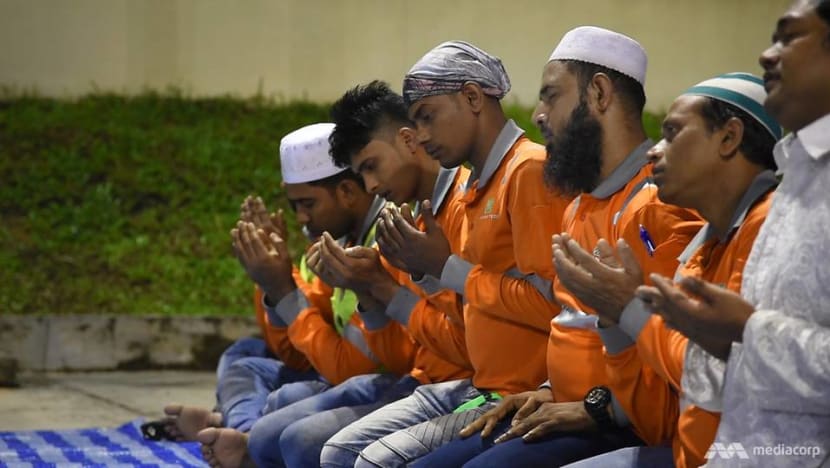 SINGAPORE: When Kadir Mohammad Abdul first arrived in Singapore seven years ago, he spent his nights crying. Then 26, the young father would call his family in Bangladesh in the evening, but make no mention of his misery to his parents, wife or children. 
Though once the calls ended, tears flowed.
"Why did I come to Singapore?" was the question he repeatedly asked himself. Like the thousands of migrant labourers who come to Singapore each year, life as a construction worker in the city state was not what he had expected it to be.
Before he left home, friends and relatives who had worked in Singapore told of a dream city where the roads were clean, people were friendly, and everyone followed the law. 
Above all, they spoke of a better life with better-paying jobs.
Although all of those things turned out to be somewhat true, it was what they had failed to bring up that was Kadir's grievance.
"Singapore really is a dream country. But for workers, it is different," he said. "Workers wake up at 6am to go to work. Come back at 11pm (after working overtime). After showering, praying and makan, it's midnight. It means six hours of rest. 
"That's why we are not feeling the dream."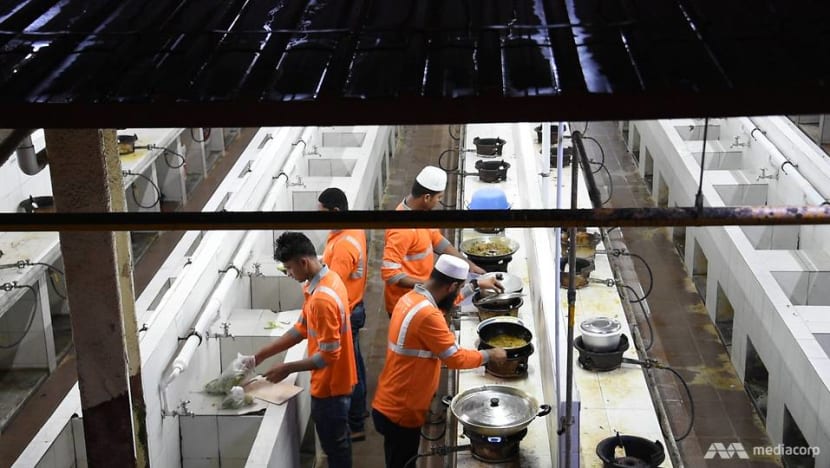 SIX RAMADANS AWAY FROM HOME
Other than the long hours and physical demands, Kadir - who has a master's degree in Islamic Studies - also feared going to work because he could not understand some supervisors who, as a result of miscommunication, often got mad at him for not following instructions.
"My previous company was a Chinese company," he explained. "I spoke English and Bengali, they didn't understand. When they talked in Chinese, I didn't understand. Supervisors sometimes got very angry. My life was very difficult."
Language complications are commonly faced by many newly-arrived migrant workers. To end his misery, Kadir harboured thoughts of going home, even though he knew it wasn't really an option.
Farming jobs in Comilla where he came from would not earn him enough to support a growing family. And on top of that, he had debts to clear.
To secure a job in Singapore, workers like Kadir who had no referral have to go through recruitment agencies in Bangladesh that typically charge between S$5,000 and S$10,000 in fees. To pay those agents, workers borrow large sums from banks or acquaintances. Their earnings from the first year or two in Singapore go towards repaying those loans.
Fortunately for Kadir, the situation at work improved as he learnt the ropes. He even approached a manager who could speak English and suggested: "My understanding is a big problem. You can teach me how to say things in Mandarin. Then I can translate for you (to other workers)."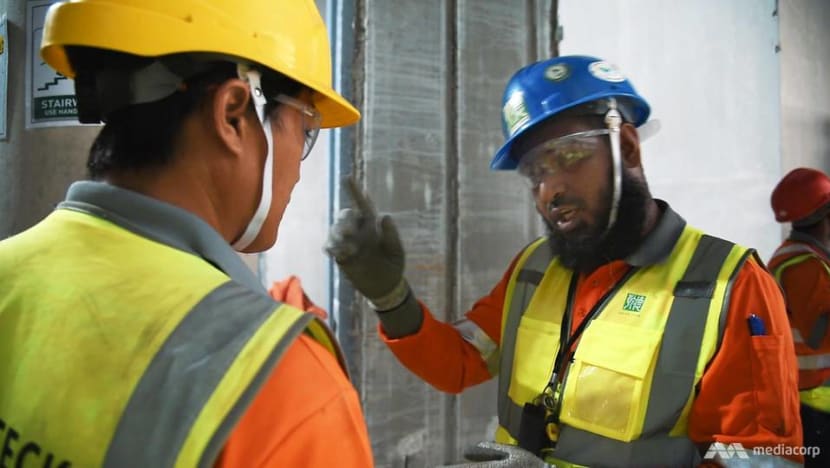 Kadir's newfound confidence and industry gradually earned him the trust of his managers and coworkers. He rose through the ranks and is now a senior worker.
But there is one thing he still constantly yearns for: His family.
When he left home in 2012, his son was only three years old and his daughter, one. His wife gave birth to their third child six months after he moved to Singapore. Now, his children are aged 10, eight and six.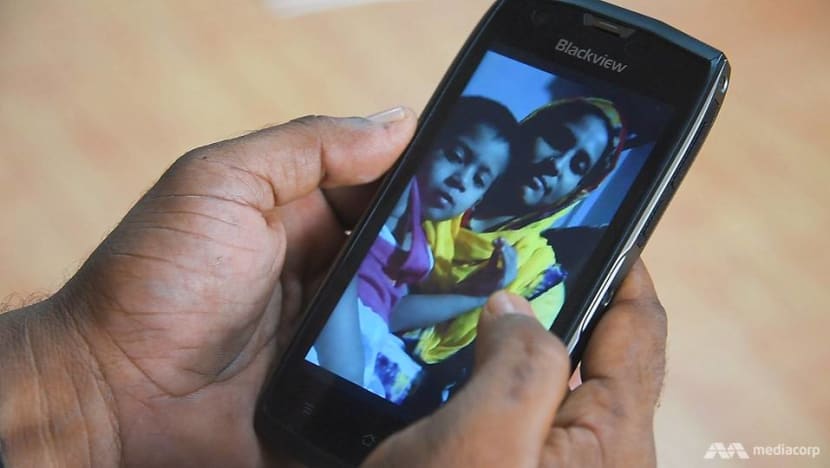 Daily calls home make him miss them more. And these feelings of homesickness only intensify during occasions like Ramadan and Hari Raya Puasa.
It has been six long years since he last celebrated Ramadan with his family. This Eid al-Fitr, he will once again remain in Singapore, away from his wife and children.
WATCH: Of sacrifices, faith and brotherhood (7:55)
FAMILY OF BROTHERS
At the intersection of Bukit Timah Expressway and Mandai Road, not far from Mandai Hill Army Camp and the Singapore Zoo, is Mandai Lodge 1. This gated dormitory is where Kadir and almost 2,000 other construction workers retire after a long day at work.
Each dorm room houses 12 workers. These men from Bangladesh, India and China share facilities such as TV rooms, a laundry room, a gym and a basketball court. There is also a canteen, a grocery store and a barbershop.
But at the heart of their communal experience is the two-storey cookhouse. Rows of gas stoves and sinks cater to the cooking needs of all the hungry labourers. 
This is where most days start and end for Kadir and his coworkers, especially during Ramadan.
They typically have breakfast here at around 6am, their meals usually consisting of rice and fish or chicken curry. By 6.30am, they would be on the company shuttle to the work site. 
Their labour ends at 7pm or 10pm, depending on whether there is urgent work to be done. And when they return to the dormitory, they cook.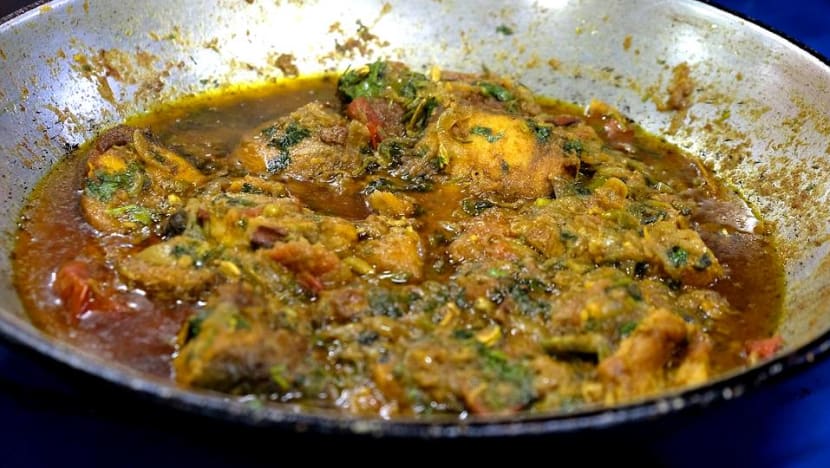 Kadir moved to Mandai Lodge 1 last year after he joined Chian Teck Realty, a local SME. At 33, he is the big brother to a small group of mostly younger Bangladeshi coworkers.
"There are people from different districts here, but we feel like we are from the same family," said Hosen Sahadat, 28, who has lived in Singapore for five years.
The youngest of the lot is Abul Hosen, 26. He came to Singapore three years ago and is currently a general worker. Junior workers like him typically take home about S$800 a month; Abul says he sends home about S$600. His dream is to send his parents on the pilgrimage to Mecca.
"Many times when I lie in bed at night, I remember my parents back home," he said. "I feel really bad especially when I think of my mother, but there is nothing I can do."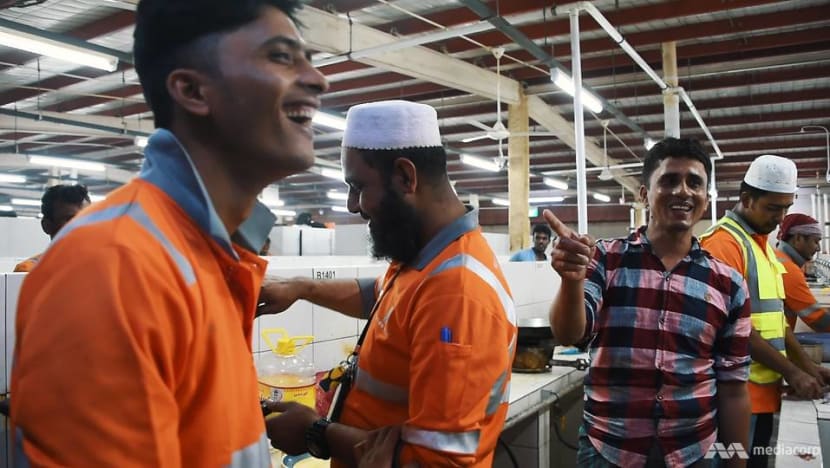 As someone who has gone through it all, Kadir often uses himself as an example to spur his younger friends on.
"I show them that I work hard, and that's why I now have my position. If you follow me, you can also have your dream position. Everybody can do it," he stressed.

At Chian Teck, Kadir works as a safety coordinator. He was asked to join the company last year by Xu Tian Cheng, one of its project managers who'd met Kadir two years ago on another project and thought him a "very responsible guy".
Tian Cheng recalled the incident that made him decide to hire Kadir. "At construction sites, we have waste bins that get counted by the trip, so whether you fill them up 70 or 100 per cent, they charge you one trip," he explained.
"Even though Kadir was in charge of safety, he made sure his colleagues filled up the bins totally. That's what I saw, and that's why I thought he was the right guy for us."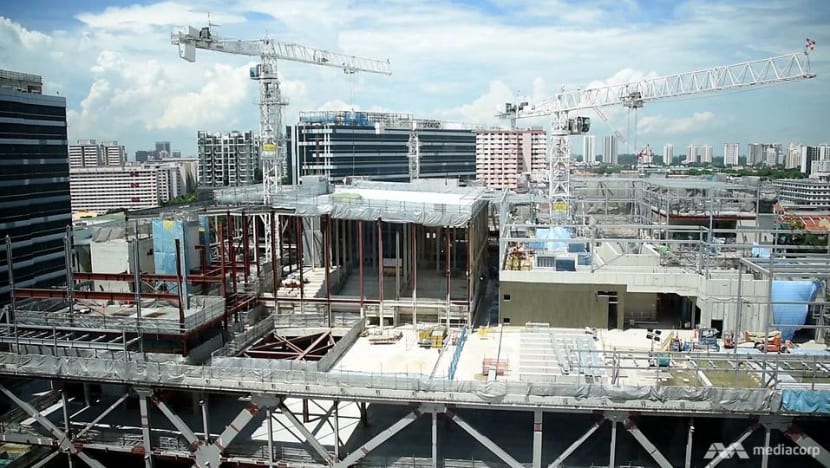 SAFETY FIRST, ESPECIALLY WHILE FASTING

The team is currently working on Paya Lebar Quarter (PLQ), a mixed development by property developer Lendlease that consists of office towers, a shopping mall and a condominium. 
As the safety lead at one of the PLQ plots, Kadir is dead serious when it comes to his duties. "I want everybody to go back the same - meaning two hands, two legs and two eyes.
If anyone does unsafe work, immediately we stop them.  I remind them that their father, mother and children are waiting for them. 
"Or if they are single, I ask them how they are going to get married with only one hand or one eye. Cannot, right?" he laughed.
In the fasting month of Ramadan, extra precautions are put in place by Lendlease to ensure the health and safety of Muslim workers at PLQ. They make up over 70 per cent of the workforce on site.
"There's a heightened awareness for us for this period, when there are risks associated with being in a very hot working environment and not eating or drinking throughout," says Richard Paine, managing director of PLQ.
Workers always work in pairs during this period so that they can keep a look out for each other. 
They also wear helmets with stickers that state "I'm fasting", so that supervisors can easily identify them and assign them less strenuous tasks. Where possible, workers can also request to work night shifts to avoid doing laborious tasks while on fast.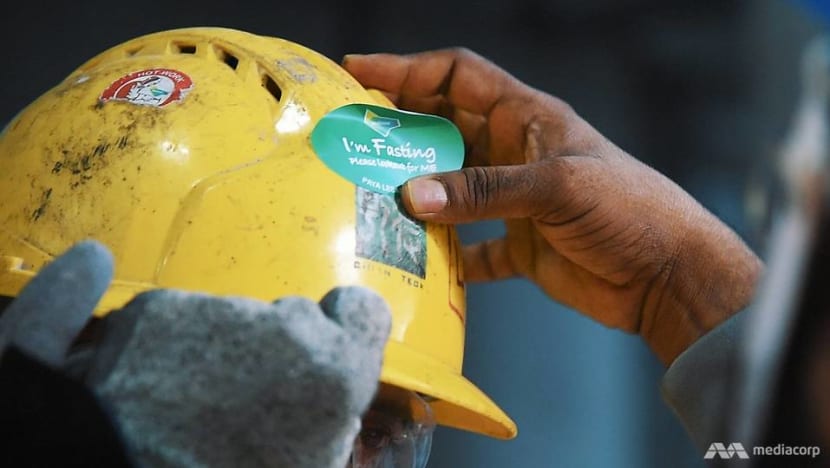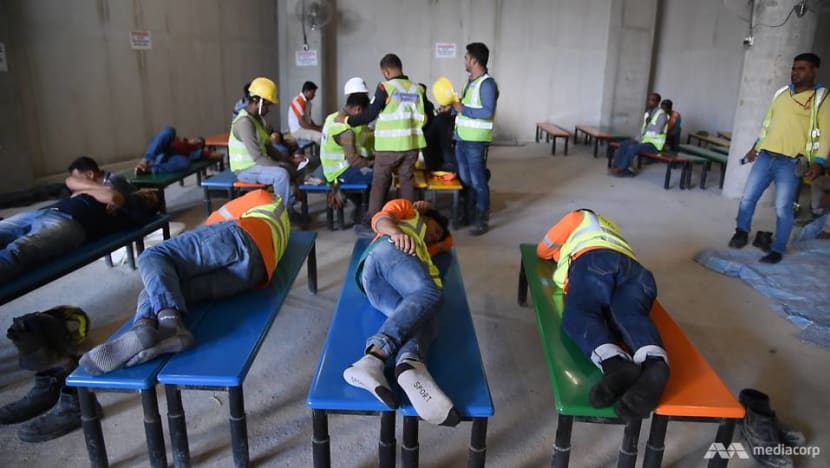 On a personal level, if conditions get tough, some workers do break their fast and make up for it on another day.
"On the second day of Ramadan, I couldn't fast, it was difficult," said Islam Shohidul, who has been in the country for four years. "I work with panels. When I cut them, they release dust that goes into the nose and it makes me feel very thirsty."
But while Ramadan is often associated with the physical discomfort of hunger and thirst, the rewards it brings to those who observe the faith are seen as fulfilling.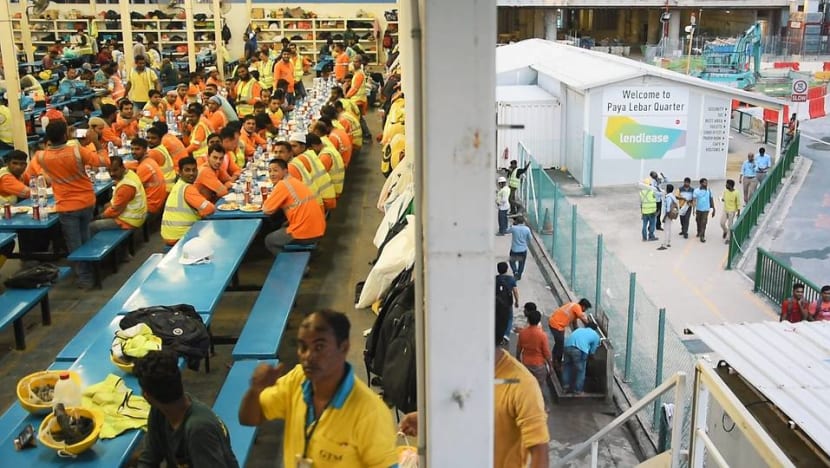 Kadir especially enjoys breaking fast on site at sundown with fellow Muslim workers and non-Muslim colleagues. Iftar meals during this period are provided by Chian Teck.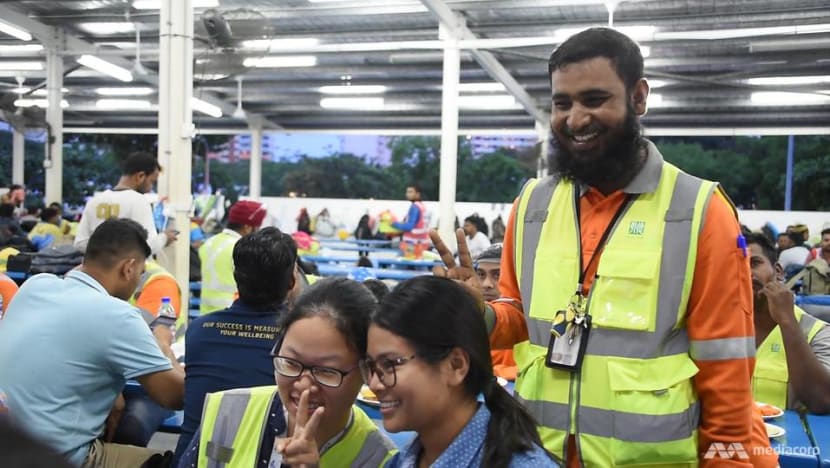 "PAPA, WHEN ARE YOU COMING BACK?"
Indeed, for Kadir and men like him, their Singapore family consists of coworkers with whom they spend almost every waking hour.
Many of them also have blood relatives - brothers, cousins, uncles - who work in other parts of Singapore, and together they form the extended family.
Sunday is when these families gather, usually at Little India where they feel most at ease. During Ramadan, they can seen breaking fast together, picnic style, on pavements around the precinct.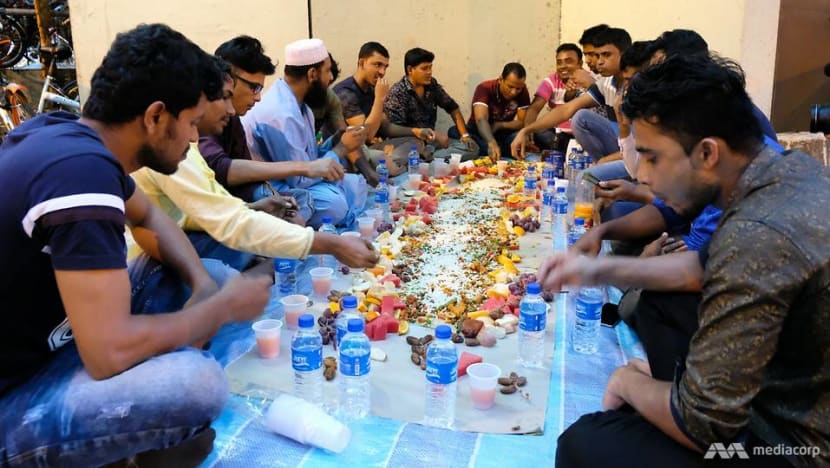 After the meal, they pray before they go shopping at Mustafa. But even when he is surrounded by his Singapore family, his parents, wife and children back in Bangladesh are never far from Kadir's mind.
"Now I have money. But I go shopping by myself," he said.
"In my country, during Ramadan, whole family goes to the shopping mall together. My father, mother, my wife and baby children, my brother and my best friend, everybody in one car. 
When I think of this, my heart cries.
Kadir was planning to go home for Eid this year, but had to reschedule due to unfinished work at PLQ - which is due to be completed in phases from the second half of this year.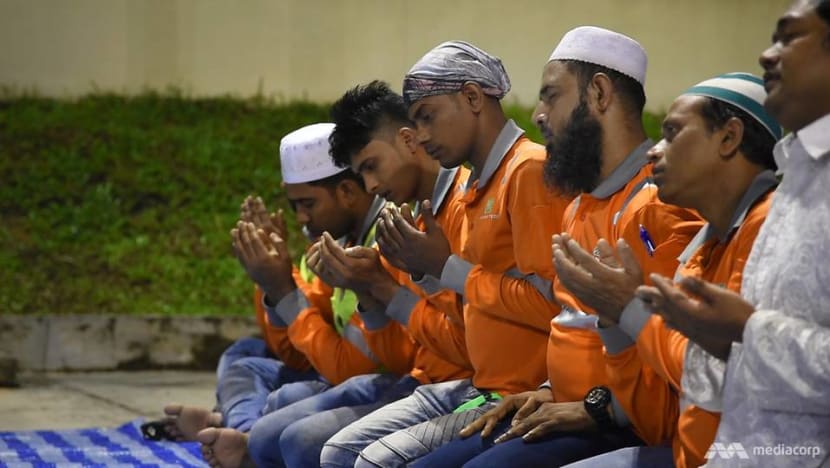 "When I called my small baby, she said, 'Papa, when are you coming back? I'm waiting for you.' And then they sometimes cry.
"They would ask me, 'Another uncle is coming back, why are you not coming home?' I would tell them, 'I already sent you money, you can go shopping with your mother.' They'd say, 'No, I'm not happy with mother, I want you.' 
"When they talk like this, it really pains my heart. I cannot tahan."
Kadir said he plans to head home for good when he hits the 10-year mark in Singapore.
"For me, money is not the most important thing. I've seen other men return to Bangladesh when they are old, and they are too weak to enjoy the time with their family. I don't want to be like that," he said.
Read part 2: A Singapore family shows their appreciation for Kadir and his fellow migrant workers this Ramadan.
Part 3: 'It's a blessing': Why a millennial 'towkay' fasted with his Muslim migrant workers