Commentary: China's not ready to call high-profile sexual assault cases a #MeToo problem
Alibaba fired a manager accused of sexual misconduct. Canadian Chinese music idol Kris Wu has been arrested after sexual assault allegations surfaced. But China's a long way from calling the problem what it is, says Professor Bo Zhiyue.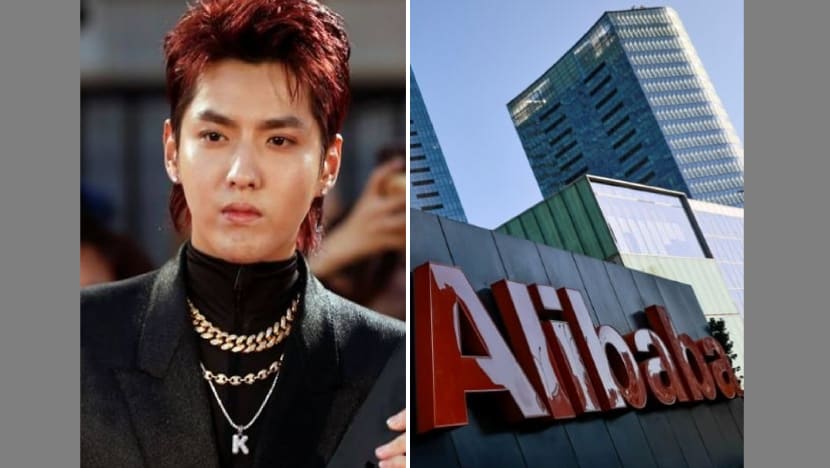 WELLINGTON: Is China having a #MeToo moment? Two events over the past week have revived public debate over the issue after a tide of sexual assault allegations triggered outrage.
The first was a swift take-down of one of China's biggest pop stars Kris Wu, who was arrested on Monday (Aug 2) in Beijing on rape and sexual assault accusations from over 30 victims.
Wu's arrest came after 19-year-old Du Meizhu's Weibo post alleged that the star had plied minors like herself with alcohol years ago and pressured them into sex. Though Wu has denied these allegations, Bvlgari, Louis Vuitton and Porsche have since cut ties and endorsement deals.
A week later, e-commerce giant Alibaba fired a manager and disciplined several others, after a female employee's message on an internal communications board sparked calls for accountability among at least 6,000 Alibaba employees. 
The post, which has been shared widely on social media platform Weibo, accuses her supervisor, Wang Chengwen, of kissing, groping and raping her after forcing her to drink excessively at a client event. The harrowing 11-page account also indicts several Alibaba executives of brushing aside the matter when she reported the incident. 
Calling the episode "shameful" and emphasising the company's zero-tolerance against sexual misconduct on Monday, CEO Daniel Zhang has been quick to introduce plans to roll out a whistle-blower policy and anti-harassment guidelines.
A CHINESE #METOO MOMENT?
On the surface, these two incidents should be seen as a victory for the women's movement suggesting that Chinese women are waking up to their rights and using the power of social media to expose sexual predators and find justice.  
These are welcome developments in a country where sexual misconduct has traditionally been given scant attention and victims stigmatised.
Despite national laws against sexual harassment propagated since 2005, there have only been two legal cases brought against perpetrators of sexual harassment from 2010 to 2017 according to women's rights group, the Beijing Yuanzhong Gender Development Center. Both lost. 
Victims have been deterred from speaking up when they can and have been counter-sued by their powerful harassers for defamation. Worse, many report being dissuaded from doing so by law enforcement authorities who point to the men's contributions to society. 
 
How do you break the news to someone that compromising pictures of them were found online? Nisha Rai, the student who discovered more than 60 new group chats peddling such visuals, shares how she reaches out to victims.
A turning point came in March when a Shanghai court awarded 98,000 yuan (US$15,000) to a woman who sued her colleague for sending her disturbing daily text messages, some referencing rape, for almost six months. The compensation – for medical bills, lost wages, transportation expenses, legal fees, and mental distress – was unprecedented.
China's legal frameworks protecting women from sexual harassment too have been strengthened, with the introduction of a Civil Code in January obligating companies, schools and government agencies to adopt policies to manage, investigate and take disciplinary action when cases of sexual misconduct arise. 
An ongoing hearing against famed CCTV personality Zhu Jun facing sexual harassment charges levelled by an intern could be a first use case to see how the law might be applied to give greater protection for women.
A STORY OF CORPORATE EXCESS
Still, authorities have been careful to frame the latest string of incidents less from the lens of gender equality and more from the perspective of the need for government intervention into problematic areas of corporate life. They know a national reckoning over sexual misconduct could unhinge Chinese society and therefore seek to target the symptoms first.
 
A statement issued on Aug 10 by China's anti-graft agency, the Central Commission for Discipline Inspection, lambasted Alibaba's "disgusting" culture of business drinking and highlighted the issue as one of China's problematic corporate culture of excessive drinking more broadly.
The timing has indeed been most inconvenient for Alibaba. The case has cast aspersions on the firm's reputation at a time when the tech giant is already coming under greater scrutiny from authorities for anti-trust actions and cybersecurity issues. 
Even Wu's case has been framed as an example of the need for curbs on the excesses of celebrity, a theme reinforced in recent years - when the names of starlets like Fan Bingbing have been dragged through the mud for tax evasion and other associated scandals. Such a narrative seeks to cast public personalities as villainous elites who think they can get away with a lot. 
"Perhaps Wu thought that sleeping with women was his advantage, even his privilege … (But) the halo of celebrity cannot protect you," was a line in a recent CCTV commentary on the subject.
Under this line of argument, if anything, Wu's case reinforces the need for the raft of policies released by the Ministry of Culture and Tourism this past February targeting entertainers who harm national interests, endanger social morality or violate ethical codes.
 
NO #METOO SOCIAL MOVEMENT IN CHINA ANYTIME SOON
Perhaps it was too much to ask for two incidents to refocus the conversation on gender equity in China. When the Harvey Weinstein case exploded in 2017, Chinese commentators had smugly declared that China had no such problems because "Chinese men are taught to be protective of their women".
The women's movement has also been seen as a potentially divisive subject hurting national cohesion. Feminist activists have been shut down on grounds of violating the Cybersecurity Act. Women's rights groups continue to be trolled and targeted online, fuelled by conspiracy theories that see them as tools of hateful foreign influence that drive a subversive agenda.
Maybe it's enough that cases of sexual misconduct see the light of day and encourage more Chinese women to stand up against sexual predators, when trending hashtags like "I'm no perfect victim" and "girls help girls" have helped activists organise discussions, increase awareness and inspire more to speak up over the years. 
This sharing of personal experiences can promote collective activism and frank conversations – the kind that's needed in acknowledging that perhaps China does have a #MeToo problem.
Professor Bo Zhiyue is founder and president of the Bo Zhiyue China Institute, a consulting firm providing services to government leaders and CEOs of multinational corporations.