commentary Commentary
Commentary: Full of effusive support for trade and globalisation but will China's actions match up?
Starting at APEC, China must match its pro-trade rhetoric with actions, says Tom McGregor.
BEIJING: The Chinese government deserves high praise for its endorsement of globalisation and espousal of free trade at a time when more nations are becoming protectionist and concerned about the detrimental effects of globalisation.
Among those who spin a narrative of economic nationalism include US President Donald J Trump, Hungary President Viktor Orban, Poland President Andrzej Duda, and Brazil's President-elect Jair Bolsonaro.

SWEET WORDS
In stark contrast, Chinese President Xi Jinping has turned himself into one of the most ardent and visible supporters of globalisation since last year. At the World Economic Forum at Davos in January 2017, Xi highlighted that:
We should recede from our respective national positions and embark on the right pathway towards economic globalisation at the right pace.
We must promote trade and investment, liberalisation and facilitation through opening up – and say no to protectionism.
Against the backdrop of Trump's growing American First platform, Xi's words received praise from world leaders, diplomats and experts and won China some soft power. 
With renewed national confidence, Xi's remarks served to catapult China on the world stage and project it as a as a collaborative, benign superpower that promotes mutual benefit through trade.

Over the past year, Xi has continued to make strong statements that support open markets and a vibrant global trading system that creates shared prosperity and growth for all nations. 
At the 10th BRICS (Brazil, Russia, India, China and South Africa) Business Forum in Johannesburg, South Africa just this July, Xi touted "inclusive growth" as the paradigm to guide the direction of international trade. He said:
We BRICS countries should keep abreast of historical trends, seize development opportunities, jointly meet challenges, and play a constructive role in building a new type of international relations and a community with a shared future for mankind.
DEEDS BEYOND WORDS
Well and good; few would disagree with these lovely phrases and his general viewpoint that economic development requires greater collaboration between countries.

But herein lies the problem. The Chinese are firm believers in the adage, "actions speak louder than words". In China, there is a saying if you want to know if somebody speaks the truth you must watch their deeds, not just listen to their words.

President Xi had made two interesting statements at Davos, saying:
No one will emerge as the winner in a trade war.
China has no intention to boost its trade development by devaluing the renminbi ... less by launching a currency war.
Yet there are glaring contradictions between what Xi had said and China's actions. 
After President Trump announced that the White House plans to raise tariffs on Chinese imports, Beijing immediately responded with announced retaliatory measures, instead of offering concessions to the US and finding ways to resolve the trade dispute.

These "tit-for-tat" actions are not only inconsistent with China's narrative that it values a free and open trading system, but are damaging to China's international image because they suggest China will say one thing but do another.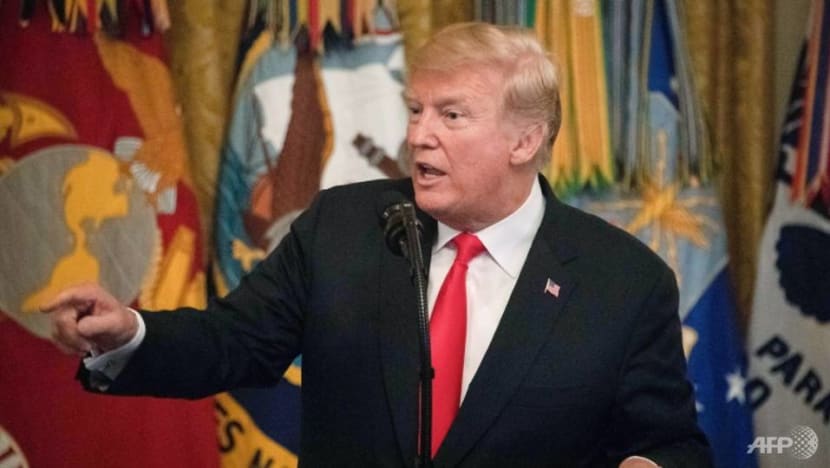 More over, the Chinese Yuan has declined in value over the last six months despite Xi's pledges promising to avoid depreciating the currency – to the chagrin of the US and President Trump who expressed growing frustration over Chinese trade officials playing delay tactics in a statement on Sep 17:
For months, we have urged China to change these unfair practices, and give fair and reciprocal treatment to American companies. We have been very clear about the type of changes that need to be made, and we have given China every opportunity to treat us more fairly. But, so far, China has been unwilling to change its practices.
MOMENT OF TRUTH
A US-China trade agreement will be a hard sell to a Democrat-dominated Congress and a United States government set to enter an era of gridlock and hyper-partisan wrangling – and does not appear likely, at least over the next two years.
But that would be a lousy reason for Chinese inaction. China can explore building new trade partnerships with other nations - by embracing more bilateral and multilateral free trade agreements, and in prodding countries and accelerating the conclusion of negotiations on the Regional Comprehensive Economic Partnership.
It's the moment of truth for China - now or never - and it can all start with Xi's presence at this year's APEC (Asia Pacific Economic Cooperation) Leader's Summit in Port Moseby, Papua New Guinea on Nov 17.

President Xi can be expected to champion gloablisation and free trade, but these latest turn of events should motivate us to watch if the Chinese government will demonstrate seriousness in its rhetoric by following up with actions that matches its words.
Tom McGregor is a commentator on Asia-Pacific affairs based in Beijing.