Commentary: Instead of making it expensive to own a car, why not make it expensive to use instead
Research has shown that high COE prices have the unintended effect of inducing people to drive more. Should Singapore look at curbing vehicle usage rather than ownership? Distinguished Professor Ivan Png from NUS Business School weighs in.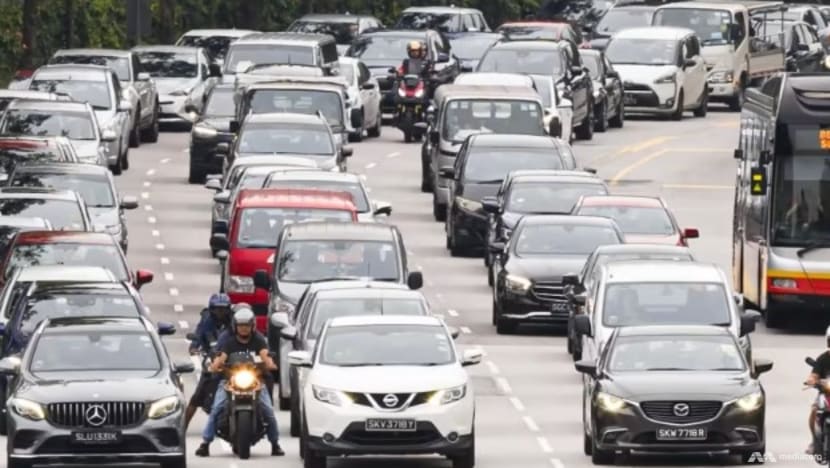 SINGAPORE: Before writing this commentary, I checked trending searches on Google over the last quarter. Among Singapore's favourite three-letter acronyms, the top was HDB, followed by CPF and COE. That is until May 4, when the Certificate of Entitlement (COE) trumped Housing and Development Board (HDB) and Central Provident Fund (CPF). 
It's worth stressing that COEs are not the top concern of all Singaporeans. They are the top concern of a relatively vocal segment - especially recently, with COE prices crossing S$100,000 (US$75,000) and continuing to trend upwards.
As the COE system turns 33 years old this year, a fundamental review of the regulation of motor vehicles is needed.
The key idea is that car ownership as such should not be a matter of public policy. Vehicle usage is the problem: It produces three social externalities (harms to others) - emissions, congestion and accidents. 
Accidents are well-regulated through criminal and civil law, coupled with insurance. The challenge is how to regulate congestion and emissions.
Presently, the government directly regulates congestion and emissions through multiple policies - COE, Additional Registration Fee (ARF), Electric Vehicle Early Adoption Incentive, off-peak car schemes, Electronic Road Pricing (ERP), excise duty on fuels, and road tax.
In addition, the government indirectly regulates congestion and emissions through policies regarding public transport - trains, buses, taxis, as well as on-demand rides. 
If the collection of policies looks like a patchwork, indeed, it is just that.
In research with Ho Teck Hua and Sedat Reza, I found that high COE prices had the unintended effect of inducing people to drive more. Among over 8,000 cars between 2009 and 2013, those bought when COE prices were higher were driven more. Having paid so much to buy their cars, drivers justified the expense by using them more.  
PAY AS YOU USE
Ideally, congestion should be regulated through market pricing of road usage and parking. The government has made some headway in this direction, by relaxing the minimum car park requirement in commercial and residential developments. It is also time to explore whether abolishing free roadside parking would help. After all, society should not subsidise the use of scarce land for parking, whether implicitly or explicitly.
Meanwhile, consider the ERP system. A big step in this area would be the transition to the next-generation satellite-based ERP system, which is set to replace the current 25-year-old gantry system.
The new ERP system, announced in 2016 and contracted for S$556 million to NCS and Mitsubishi Heavy Industries, was originally set to be rolled out in 2020. The transition, however, has been delayed due to a shortage of microchips during the COVID-19 pandemic. The installation of on-board units for the new system is now expected to begin in the second half of this year.
The current ERP system seeks to control congestion by charging motorists for passing through specific gates. Once through, a motorist pays the same regardless of distance. But such pricing is inefficient and can be seen as unfair. A driver who drives through the Ayer Rajah Expressway gantry and exits at Alexandra Road uses more of the expressway than another who drives all the way to Keppel Road. The second driver should pay more.
The new system would be capable of charging by distance travelled, but it doesn't look like this will happen soon.
"The system is capable of doing that, but as a policy we are holding back," said then Transport Minister Ong Ye Kung in 2020. "Distance-based charging is a significant policy change which has many implications and should be studied carefully."
This is disappointing and not the best use of the investment. It would be fairer and more efficient to price road usage by location, distance, and time. ERP2 would make that feasible.
As for emissions, they should ideally be regulated through the market pricing of emissions. Once fuel is correctly taxed to price the social externality of emissions and climate change, there would be no need for special incentives to buy electric vehicles. All that is necessary (and it is quite feasible now) is to levy the appropriate taxes on the use of fossil fuels. The government has made moves in the right direction, in particular, by raising the tax on diesel.
 
With proper pricing of road usage and emissions, there would be no need for the various taxes on car ownership - COE, ARF, and road tax (not to mention the countervailing policies such as the EV Early Adoption Incentive, Preferential ARF (PARF), and off-peak car scheme). 
RELOOKING THE COE SYSTEM
Meanwhile, pending the implementation of ERP2, what can be done? 
A big step forward would be to rationalise all the taxes on car ownership into one single policy. Rescind ARF and road tax, and consolidate the various COE categories into one. And rather than absolute dollar amounts, bids for COEs should be stipulated as percentages of the open market value (OMV, or the wholesale cost) of the vehicle. 
In other words, a low-income person who bids 100 per cent of OMV for a Kia would beat the richer person who bids 90 per cent of OMV for a Jaguar. This percentage COE method could level the playing field between the different income groups.
Another step would be to further enhance public transport. The key challenge in public transport is the last kilometre. Presently, the last-kilometre function is served by regular buses. But, because of their size, they are uneconomic to operate at high frequency.
The government should allow minibuses into the public transport mix, to shuttle people from residential neighbourhoods to MRT stations at a high frequency. Think of a 5-minute interval, which is my experience in Hong Kong.
Going car-lite is a key strategy for Singapore. But as Singaporeans' transport needs continue to evolve, so must its transport policies. 
As mentioned above, in the long term, there would be no need for the COE system at all. We would just pay for road usage, parking, and emissions - at market prices.
Ivan Png is Distinguished Professor in the School of Business and Department of Economics at the National University of Singapore. He is the principal investigator of Behavioral Biases at Work, a research project funded by the Social Sciences Research Council.
LISTEN - Daily Cuts: Industry veteran's perspectives on new COE measures