Commentary: New workplace anti-discrimination law should ensure reasonable accommodations for people with disabilities
Accommodations to help people with disabilities get jobs and perform tasks are needed, if Singapore's upcoming workplace anti-discrimination law is to be effective, says the Disabled People's Association's president Richard Kuppusamy.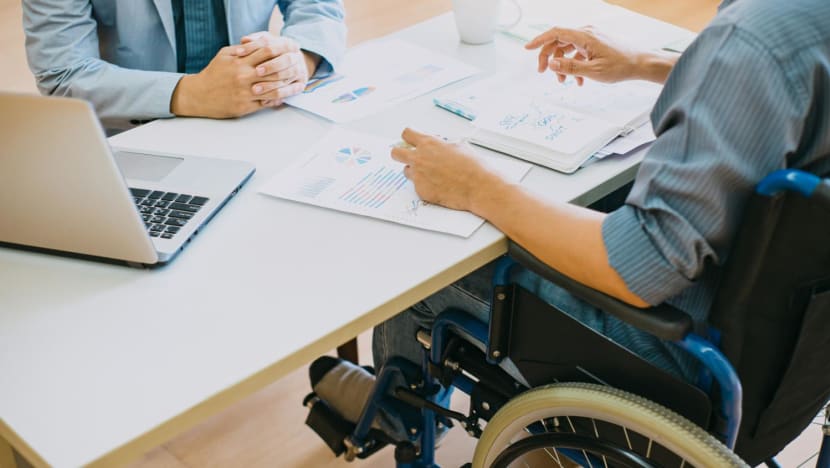 SINGAPORE: Imagine, pre-pandemic, being rejected for a job because the employer would not accommodate a request to work from home, only to find the same job turned into a work-from-home position during the pandemic. That was the frustrating reality for a number of people with disabilities.
People with disabilities have often had to fight hard for such accommodations. They experience discrimination at a significantly higher rate (78 per cent) compared to those without disabilities (50 per cent), according to a survey by the Association of Women for Action and Research (AWARE) and consumer research company Milieu Insight in August.
Singapore's plan to codify workplace anti-discrimination legislation, covering people with disabilities among others, is thus a welcome move and has the potential to improve the employment rate of people with disabilities, which stood at 30.1 per cent for those aged 15 to 64 in 2020 and 2021.
But if the law is to be effective in addressing the barriers disabled people face, there is a need for provisions that ensure reasonable accommodations in accessing employment and in the workplace.
REASONABLE ACCOMMODATIONS TO LEVEL PLAYING FIELD
Reasonable accommodations are in no way special advantages. They are necessary modifications or adjustments that enable persons with disabilities to perform the tasks of a given job.
From screen readers and sign language interpreters to the installation of ramps, flexible work arrangements and online meetings, they are what is required for people with disabilities to perform on a level playing field to their non-disabled peers.
Flexible work arrangements (FWAs), for example, may be required for people with disabilities to attend to medical or physical therapy appointments. But these can benefit all employees, especially parents and caregivers.
Employers and employees have reported better ease in balancing professional and personal commitments, leading to better productivity. Up to 52 per cent of individuals and around 73 per cent of women saying that flexible work arrangements should be the new norm, according to an Institute of Policy Studies (IPS) paper released earlier this year.
The Disabled People's Association (DPA) has heard reports from disabled people who are concerned that such accommodations that have been normalised during the pandemic will fade as Singapore hits its post-pandemic stride. Already, a UOB study in June found that nearly half of Singaporeans have resumed a five-day work week in the office.
WHAT ABOUT MORE COSTLY ACCOMMODATIONS?
How about accommodations, such as installing ramps or investing in assistive technology devices that tend to cost more?
According to the United Nations Committee on the Rights of Persons with Disabilities, accommodations are considered reasonable if they do not pose an undue burden and if support to finance them is available.
To this end, there are government grants such as those under the SG Enable-administered Open Door Programme and Assistive Technology Fund, and the Building and Construction Authority's Accessibility Fund. Employers may not be aware of these grants and support services that can help them with the costs and integration of such accommodations.
In fact, many accommodations can be low-tech or even no-tech – using visual magnifiers, alternative keyboards, colour-coded materials or even replacing door handles and taps, and as noted, accommodations such as FWAs benefit not only disabled persons but other populations as well.
In Singapore, there is thus little to suggest why reasonable accommodations should not be part of the standard operating procedures of employers.
SAFE AND ACCESSIBLE FEEDBACK CHANNELS
Fostering an inclusive workplace for people with disabilities will need a multi-step approach. To be effective in preventing discrimination, employers should also ensure that employees have ways to report incidents and provide feedback on how to improve reasonable accommodation provisions and workplace inclusivity.
The AWARE study also found that about 54 per cent of respondents who had faced discrimination did not report it to any channels – whether it was to Human Resources, a supervisor or the Ministry of Manpower (MOM). When asked why they did not report incidents of discrimination, about a third said they did not trust the parties to act on the report.
This correlates with accounts we have heard of people with disabilities who reported feeling discouraged in asking for reasonable accommodation in the workplace and who felt that feedback channels were not accessible in a way that protected their anonymity and safety.
Workplace anti-discrimination legislation will thus not only need to ensure reasonable accommodations but also ensure that the channels in attaining such accommodations are accessible, safe and inclusive.
TREATING PEOPLE EQUALLY AND EQUITABLY
As we marked the annual International Day of Persons with Disabilities on Dec 3 and look ahead to 2023, it is worth noting that 2023 will also mark 10 years since Singapore ratified the Convention on the Rights of Persons with Disabilities (CRPD) – a UN convention outlining internationally-agreed standards to protect and promote the rights of persons with disabilities.
In Article 27 of the CRPD, it notes that ensuring reasonable accommodations to people with disabilities in the workplace is part of what it means to have a labour market and work environment that is "open, inclusive and accessible to persons with disabilities" and that "appropriate steps" to do so should include "legislation".
Non-discrimination involves both treating people equally and equitably. Provisions in the law for reasonable accommodations will thus be important in promoting non-discriminatory actions.
Richard Kuppusamy is the President of the Disabled People's Association (DPA) Singapore.