Commentary: Why is South Korea easing restrictions when COVID-19 cases are at an all-time high?
Relaxing measures may have more to do with politics than public health, but South Korea might be a model for learning to live with COVID-19, says Steven Borowiec.
SEOUL: South Korea is experiencing record numbers of new COVID-19 infections, yet the country is relaxing COVID-19 rules.
Sure, there have been new restrictions, such as a 9pm curfew for restaurants imposed in December 2021 with other social distancing rules, to slow the Omicron wave when it first hit. And quite logically, this curfew was extended in early February, on a day South Korea saw a record number of new COVID-19 cases.
Two weeks later, new infections have nearly quadrupled to more than 100,000 cases. Despite this spike, the curfew was relaxed from 9pm to 10pm.
The government has announced more rules to be relaxed, creating public confusion after South Korea hit a new high this week with 219,241 cases and authorities expect a peak as high as 330,000 to come.
SHIFT TOWARD ENDEMIC LIVING IN SOUTH KOREA
The reality is that this pandemic has taken a toll on the country. The South Korean government had vowed to shift towards endemic living and treating COVID-19 like seasonal influenza. Now seemed as good a time as any other.
After all, Omicron leads to milder disease and accounts for the vast majority of cases. And with 86 per cent fully vaccinated and 60 per cent having taken their booster, daily numbers may have shot up - but the number of deaths and critical cases has stayed low.
Officials seem confident the healthcare system can continue to cope.
As of last week, less than 40 per cent of the national supply of beds for critical cases were occupied. More COVID-19 patients are being treated at home. Manpower-intensive, energy-sapping contact tracing has been abandoned.
The public has mostly accepted restrictions to their daily lives with aplomb, partly because they have helped South Koreans contain the outbreak while avoiding drastic measures like lockdowns seen elsewhere in the world.
But this shift comes at an unsettling time when Omicron is burning through the community faster than ever.
So, part of the authorities' headache now lies in convincing South Koreans that it is safe to ease remaining restrictions.
AN UPCOMING PRESIDENTIAL ELECTION
To be sure, this freeing up of public healthcare services with a milder Omicron variant has been a key enabler but the lifting of rules may be more political in nature.
South Korea is gearing up for a presidential election next week. While current President Moon Jae-in is not eligible to run for a second term, his party is hoping Lee Jae-myung can lead them to victory. 
Freeing people from pesky restrictions makes for good political strategy. It tells South Korean voters that they can feel confident that the country is in a good place, with the incumbents at the helm.
Small business owners too will welcome this. Limits on group sizes and operating hours have hit them hard, and those fearing economic disaster are piling on the pressure to open up.
When the curfew was reimposed last year, some business owners shaved their heads in protest. Easing mandatory closing times from 9pm to 10pm will go some way to help bottom lines.
But some lament that such moves and other government financial aid are insufficient help. A support package announced in December 2021 included 1 million won (US$831) each for small businesses, an amount one owner pointed out is less than one part-time employee's monthly salary.
Street-level businesses, like eateries and retail outlets, have had to continue paying rent even as sales plummeted.
Once-bustling commercial districts throughout the country are now silent, replete with vacant storefronts. Government data shows that 29,000 small businesses closed last year, and a recent trade association survey found 58 per cent were considering shutting down.
CAREFUL CALIBRATED RE-OPENING?
But is the public buying it? The picture is complicated.
Lee, the ruling party's presidential candidate, has said in a campaign speech that he will ease the curfew to midnight if he were to be elected. Lee is still trailing slightly in most polls, and the claim has had no demonstrable effect on his prospects, though he has won support from associations of small merchants.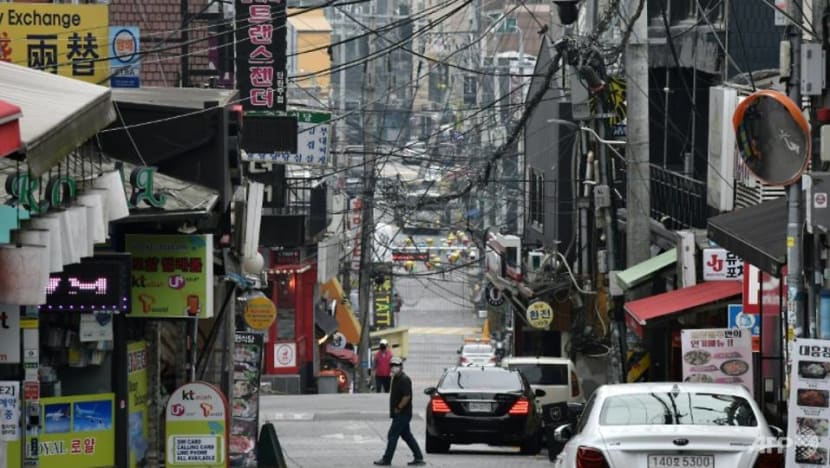 That said, South Korea is not questioning whether to re-open, but how to calibrate the speed of re-opening to minimise public health risks and maximise public goodwill.
In a mid-February poll, respondents were split on whether limits on business operating hours were still needed, with 48 per cent saying no but 41 per cent preferring to keep them in place.
In a sign that South Koreans are not ready to go completely back to normal, 84 per cent of respondents said masks should remain mandatory in indoor spaces, such as public transportation. 
This might be an indication of how living with COVID-19 can be like for countries still hesitating to go down the path of European countries like Denmark to lift all restrictions – by hanging on to inexpensive, easy-to-implement measures like mask wearing and taking special care of the elderly and immunocompromised, but shedding restrictions that disrupt core parts of daily life and the economy.
When there's little consensus over whether bigger rules should be relaxed, perhaps there is no straight line in this journey towards endemic living.
It remains to see what restrictions will remain after the presidential election, but South Korea may be right: The time has come to be more confident and less afraid of living with COVID-19.
Steven Borowiec is a journalist based in Seoul.