Commentary: Why aren't we using sunscreen in sunny Singapore?
A study showed that less than a quarter of people in Singapore use sunscreen. The problem is that sunscreen is still seen as a beauty product, rather than a health one, says beauty publisher Kristen Juliet Soh.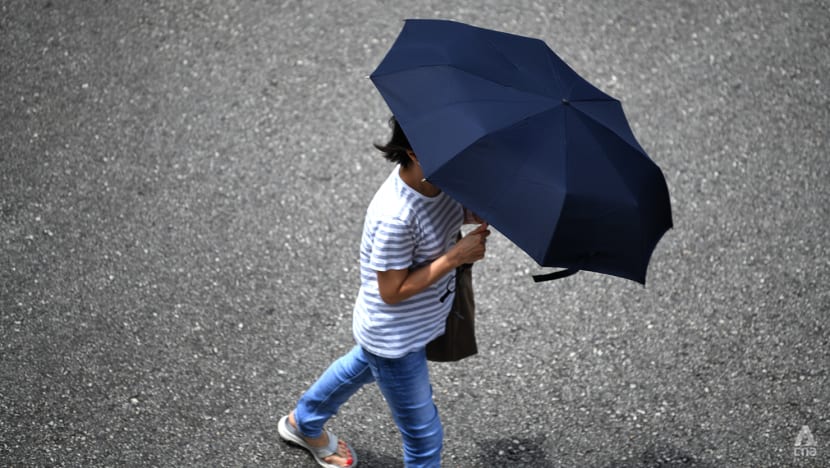 SINGAPORE: Singapore may be known for its tropical, sunny climate, but it appears that we don't take enough precautions against damaging UV rays.
According to a study by researchers at the NUS Saw Swee Hock School of Public Health and National Skin Centre, more than half of Singapore residents do not take any measures to protect themselves from the sun. Only 23.9 per cent say they use sunscreen.
This is not ideal because extended exposure to sunlight increases our risk of skin cancer. While the incidence of skin cancer in Singapore is lower compared to breast cancer in women and colon and rectum cancer in men, it is still among the top 10 most common cancers in both genders.
The study found that men and dark-skinned individuals are among those more vulnerable to poor sun safety habits and prolonged sun exposure.
SUNSCREEN STILL SEEN AS A BEAUTY PRODUCT
This profile fits someone I know who has never applied any sunscreen in his life: My dad. As a blue-collar worker, he sees his tanned, rugged skin as part of his identity.
"This is the look of a hard worker who labours under the sun," he would adamantly respond whenever anyone comments about how tan he looks.
I have encouraged him to use sunscreen but to no avail. He has never felt a need to take care of his skin.
On the flipside, the most conscientious sunscreen-users I know are facial care enthusiasts who use retinol, acid peels or laser treatments for acne control, wrinkle prevention or skin brightening. As these treatments make skin more sensitive to sunburn, they apply sunscreen as an everyday routine.
This shows that sunscreen is still seen as a beauty product, rather than a health one. After all, the most popular sunscreens in Asian markets are promoted as whitening" or "brightening" products for the face. These are carried by beauty brands that also sell anti-acne cleansers and anti-ageing serums.
RESISTANCE TO USING SUNSCREEN
I can understand why most outside those products' target audience would forgo sunscreen. Many of us spend most of our time indoors, which gives us the impression that we don't need it.
This isn't true because UV rays can penetrate through clouds and windows, which means we're not safe on overcast days or when working in an air-conditioned office.
Even those who are aware of the effects of UV rays may choose to skip sunscreen. Unlike serums and moisturisers that feel soothing on the skin, sunscreens with high SPF (sun protection factor) may feel sticky or greasy. That sensation certainly doesn't agree with our humid weather, especially with face masks on.
Those who use makeup might also believe the SPF their foundation contains is enough to give them the protection they need. Spoiler alert: It's not.
Indeed, those who use sunscreen regularly tend to be motivated by vanity-related reasons, such as preventing dark spots and a dull complexion. A beauty brand marketer told me the way to encourage more customers to use sunscreen was not to say that it prevents skin cancer, but that it keeps signs of ageing at bay.
"This is a sexier story to market with and will sell more sunscreens," she said.
This is probably why marketing collaterals usually emphasise sunscreens' ability to block out UV-A rays – the wavelength of UV rays that contributes to skin-ageing – and less aboutdefending against UV-B, the wavelength that causes a greater risk of skin cancer.
ADOPTING A GOOD SUNSCREEN ROUTINE
If you're interested in adopting a healthy sunscreen routine, it may be hard to be consistent about it. Here are some suggestions to help you along:
First, pick a sunscreen that you actually enjoy using. It should come with a comfortable texture, soothing sensation and a nice scent to make you look forward to applying it daily.
Second, go for a sunscreen with SPF 30 or higher. SPF refers to the time it takes for your skin to burn if you weren't wearing sunscreen. So, an SPF 30 sunscreen will allow your skin to take 30 times longer to burn than if it were to be left unprotected.
Third, apply enough sunscreen. You should be using at least one quarter of a teaspoon of product on your face alone, and if you're applying it to your entire body, the recommended amount to prevent skin cancer is about a shot glass worth.
Fourth, reapply your sunscreen throughout the day. You should reapply sunscreen every two to three hours, especially if you are swimming or have perspired. Set a phone alert for reapplication to help remind yourself.
Fifth, make it stylish. Support your sun protection effort by wearing fashionable hats and shades when you're out.
ESTABLISHING GOOD SUN PROTECTION HABITS FROM YOUNG
Parents and teachers can also help establish good sun protection habits from young. I have two boys and we use sunscreen whenever we spend time outdoors.
For the older child, I make it fun by letting him "draw" with his fingers using the sunscreen on his own skin. For the younger one, I sing a cute song with dramatic actions while applying it. My favourite is "One, two, three, four, five, once I caught a fish alive" and when I count, I dot some sunscreen on him.
Hopefully, these childhood routines can help them be less resistant towards sun protection when they grow up.
In a way, the beauty industry has played an important role in healthcare by promoting sunscreen as a cosmetic product. After all, some sunscreen is better than no sunscreen.
While flaunting our spot-free, radiant complexion, we could be preventing skin cancer along the way – not that it's intentional, but it's certainly a positive side effect.
Kristen Juliet Soh is the editorial director and co-founder of Daily Vanity.