Commentary: Companies are stockpiling inventory to withstand shocks. This comes at a cost
In light of supply chain disruptions and economic uncertainty, companies are stockpiling inventory closer to customers. This takes a toll on bottom lines and the environment, says logistics adviser Tim Foster.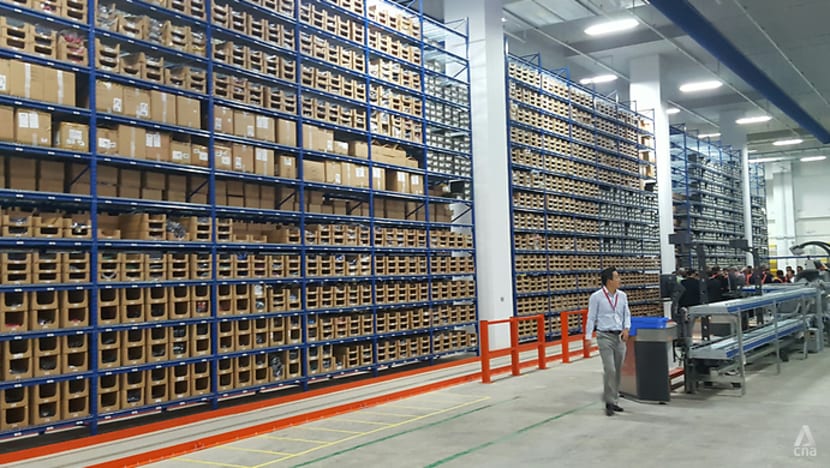 SINGAPORE: A successful supply chain does not make the news. By nature, supply chains should be invisible to the consumer, except perhaps briefly in supermarkets as stock is unloaded from crates onto near-empty shelves.
Near-empty, rather than empty, is important to note because efficient supply chains are designed for goods to arrive just in time. This "just-in-time" system of inventory management is characteristic of what is known as a lean supply chain.
Lean supply chains are efficient, cost-effective and have traditionally worked well when circumstances were predictable and reliable.
The last two years have not been predictable or reliable. Instead, "supply chain disruption" is a now-familiar phrase. The COVID-19 pandemic upset supply as manufacturers and logistics operators struggled with labour shortages and lockdowns.
That was compounded by the unprecedented surge in demand as consumers, locked in and working from home, transferred their spending from services to goods. This contributed to surging shipping prices, backed-up ports and companies scrambling for warehousing space to store extra inventory.
The impact on businesses was great. When cosmetics giant Revlon filed for bankruptcy, it cited supply chain issues as a contributing factor. US retail giants Target and Walmart's share prices fell sharply because of excess inventory on their balance sheets – the result of changing consumer spending patterns as the pandemic eased.
Other macro trends, like the increase in intra-regional trade with on-shoring and near-shoring, have reconfigured supply chains. The war in Ukraine and ongoing lockdowns in China have prolonged uncertainty in global trade.
THE ENVIRONMENTAL COST OF AGILE SUPPLY CHAINS
But even before COVID-19, supply chains were adjusting to accommodate the changes e-commerce demanded.
In place of lean supply chains, "agile" supply chains with their higher inventory holdings located closer to the customer were increasingly being used to meet the demand for two-day, same-day and two-hour deliveries.
While this agility helps withstand shocks, it also comes at a cost.
The Economist estimates that more than US$9 trillion in inventory is being stockpiled by companies trying to hedge against inventory shortages and rising inflation. In many Asian cities such as Hong Kong, Tokyo and New Delhi, increases in industrial rents are also being partly driven by just-in-case inventory storage.
The financial and environmental price of fulfilment is higher too. Research by the Massachusetts Institute of Technology shows that faster shipping can increase costs by up to 68 per cent and total carbon emissions by up to 15 per cent.
Single-item fulfilment makes economies of scale and consolidation difficult to achieve and results in partially full vehicles often delivering along congested or inefficient routes.
The extra packaging required for single-item versus bulk delivery is also evident to anyone who has ever ordered online. Multiple attempted deliveries and a high level of customer returns compound these challenges.
For operators, more stringent sustainability reporting guidelines and increasing consumer demand for transparency and accountability in environmental, social and governance (ESG) performance presents business risks. Non-compliant companies could lose access to finance and market share if they fail to meet stricter benchmarks.
MOVING TOWARDS MORE SUSTAINABLE, HIGH-TECH SUPPLY CHAINS
But there is good news. The end of movement restrictions in most countries has seen a rebound in consumer demand for retail fulfilment options like click and collect, curbside pick-ups, lockers and in-store shopping.
In markets across North America and Asia Pacific, last-mile fulfilment centres are placing inventory closer to consumers, allowing for more economies of scale through all but the last leg of the supply chain – a move that Accenture estimates could lower last-mile carbon emissions by 26 per cent.
Research by Forbes also shows that globally, a majority of consumers are willing to change their purchasing behaviour to minimise their carbon footprint. Opting for a two-day rather than the two-hour delivery makes a difference. So does going for consistency of delivery rather than speed – think a twice-weekly grocery delivery.
Technology also plays a role: Artificial intelligence and machine learning-powered fulfilment software can consolidate and schedule orders to optimise delivery, reducing the number of vehicles needed, kilometres travelled and fuel consumed.
Investment in technology and automation is one of the key reasons for lower logistics costs as a proportion of sales growth. Online companies such as JD.com in China have achieved fulfilment costs of under 10 per cent of sales growth compared to around 20 to 25 per cent for global peers such as Amazon.
While there is no easy fix for the current volatility in the sector, pursuing supply chain agility is a short-term fix with long-term consequences. Higher inventory levels may help withstand shocks, but abandoning the economies of scale that make lean supply chains inherently more efficient takes a toll on companies' bottom line and the planet.
The supply chain of the future will likely involve a mix of both lean and agile models, assisted with automation and last-mile innovations. It will contribute to a more sustainable logistics sector while still meeting the on-demand expectations of consumers.
Tim Foster is the APAC Head of Supply Chain and Logistics Advisory at Cushman & Wakefield.