Creativity overcomes safety and scientific challenges
Despite COVID-19-related restrictions and stiff competition, NUS High School of Math and Science took the top spot in the National Science Challenge.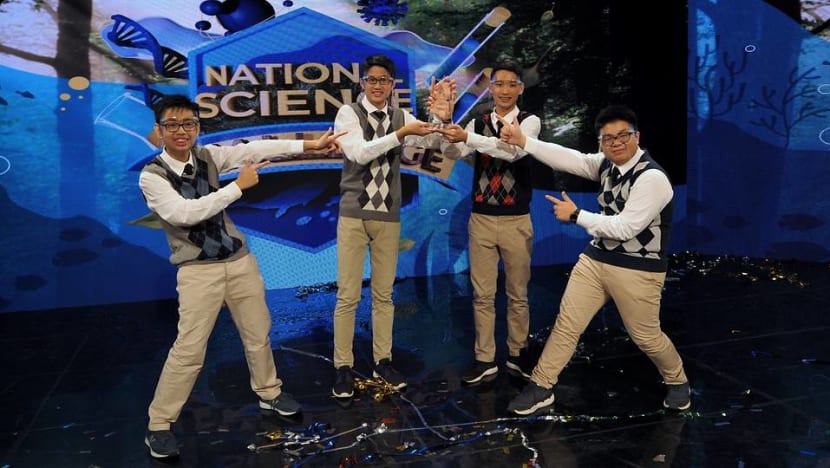 Just as in previous years, the National Science Challenge (NSC) 2020/2021 saw teams competing in a series of gruelling science-based rounds – covering everything from academic knowledge to hands-on experiments – in order to advance to the finals.
However, the 17th iteration of the NSC was made more challenging, given the restrictions on numbers and distancing measures as a result of the COVID-19 pandemic. Still, for the young participants, the pandemic also served as a powerful reminder of the importance of science in our everyday lives.
Said Jordan Yeo Kai-Wei, 15, a member of the winning team from NUS High School of Math and Science (NUS High): "The COVID-19 pandemic has given me much respect for how science can help society. Science has been able to help many countries ease their outbreaks and fight off the virus."
According to chief judge, Dr Lisa Ooi, vice-president at the Economic Development Board, this year's NSC was a close fight between NUS High and second-placed Raffles Institution (RI). River Valley High School (RVHS) took third place.
She said: "This year's winners performed at a high level consistently across the rounds and the different challenges. They were able to communicate their thought processes as well as the underlying assumptions effectively."
The other judges were Dr Janaki Shanmugam, a scientist at the Institute of Materials Research and Engineering of the Agency for Science, Technology and Research (A*STAR), and Dr Huang Shaoying, assistant professor at the Singapore University of Technology and Design's Engineering Product Development department.
ADAPTING TO A UNIQUE SITUATION WITH CREATIVE SOLUTIONS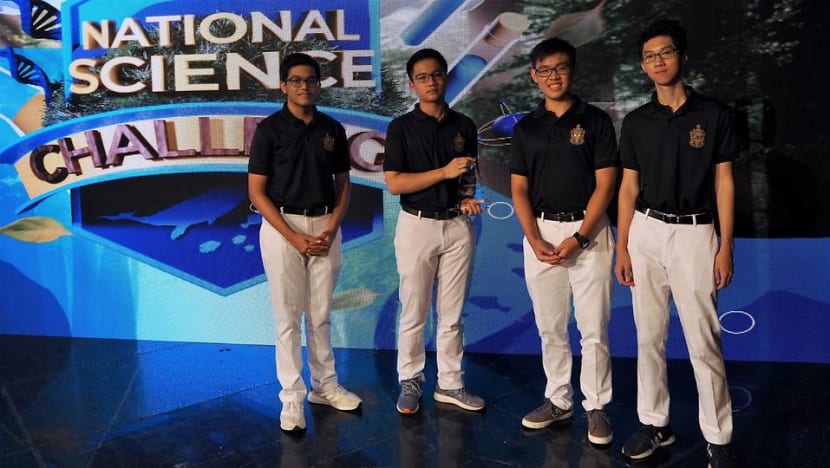 Due to the pandemic, the NSC was spread across 2020 and 2021, which meant participants had to manage end-of-year examinations and other school commitments alongside the NSC's longer preparation period. In addition, preparations had to be done in smaller groups with only teachers-in-charge and without the physical presence of seniors, due to social distancing measures.
To tackle these challenges, teams got creative. RI made video recordings of their preparation sessions for their seniors and teachers to review. Other teams like RVHS and NUS High divided their preparation efforts, with each teammate focusing on a subject.
According to Dr Huang, this diversification of knowledge was key to NUS High's victory: "They could take care of challenges on difficult topics and displayed better teamwork."
RISING TO THE (SCIENTIFIC) CHALLENGE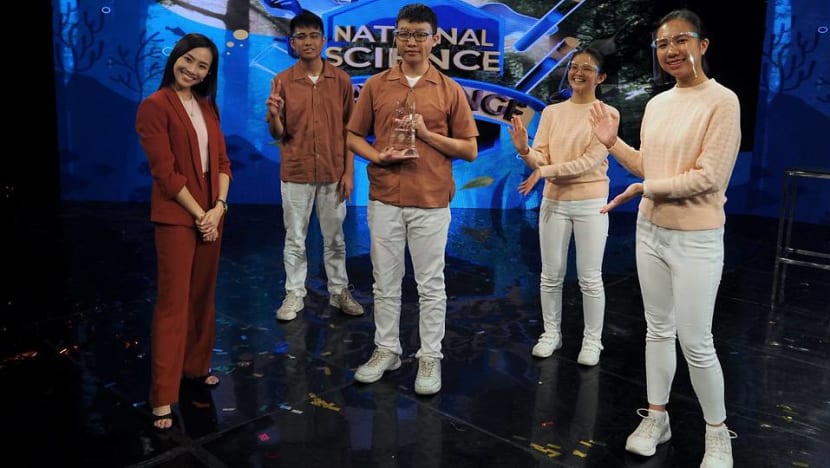 This year's NSC involved visiting varied destinations such as a DIY shop, the GovTech building and the National Marine Laboratory at St John's Island.
Said NUS High's Leemen Chan Chee Yong, 15, of their visit to GovTech: "We were definitely not expecting a computer science-related challenge. We learnt how artificial intelligence is being applied in every corner of our lives, such as healthcare and education, to make predictions and decisions based on massive amounts of data."
The teams also enjoyed the trip to St John's Island for a taxonomy-related task involving crabs, which taught them to appreciate the diversity of the organisms living in Singapore's waters.
The other long-running segments of the NSC – such as the Rapid Response Round and Imagineering Challenge – were highly anticipated by participants and supporters, many of whom had grown up watching the NSC on TV.
Lee I-Shiang, 16, from NUS High, remarked that the biggest obstacle for his team was the Imagineering Challenge, which required teams to buy materials, build a prototype and test the device to see if it met the challenge objectives. "Unlike some of the other groups, we did not buy a pre-made system to store compressed air, so we tried making something out of a pump and a balloon that did not work as well as we expected."
For RI's Jerome Lai Le Hao, 16, it was the Rapid Response Round that proved most nerve-wracking. "At that point, all of the schools were basically neck-and-neck. With each question worth three points, it is not an exaggeration to say every question could make or break a team."
THE EVERYDAY IMPACT OF SCIENCE
The NSC's challenges reinforced how science is far more than an academic subject at school, and how communication has an important role in making science accessible to all.
Said RI's Shrimay Bikash Saikia, 15: "It is important to ensure that ground-breaking scientific ideas are accessible to as many people as possible, so that science may be easily understood and appreciated in society."
Judge Dr Janaki echoed the sentiment, adding: "Developing an enhanced awareness and deeper understanding of STEAM knowledge and innovation in deep technology can help us to make sense of emerging changes around us. This will be pertinent to solving social and environmental problems that can benefit communities."
STEAM stands for Science, Technology, Engineering, Arts and Mathematics, with arts representing problem-based learning and creative inquiry – strengths displayed by this year's NSC finalists, many of whom are planning careers in science.
Summed up Adrina Soh Wei Kean, 16, from RVHS: "Science is a powerful tool that can provide logic and reasoning to phenomena in life. Many questions can eventually be explained with science, and the journey of finding those answers through exploration is a fascinating one."

Do you love all things science? Catch episodes of the National Science Challenge 2020/2021 on meWATCH.