Delicious discussions: How the unique recipes of Michelin Guide Kitchen Takeover came to be
A shared respect and a healthy curiosity for experimentation were key to success for the chefs.
In a first ever initiative by Michelin Food Guide Singapore, with support from GrabFood and Singapore Tourism Board, diners in Singapore can now experience a never-before-seen menu exploding with a medley of creative flavours.
Comprising four chef pairings from both Michelin Plate restaurants and Bib Gourmand street food establishments, the Michelin Guide Kitchen Takeover is a pop-up event via GrabFood that lets diners enjoy a unique menu that draws out each kitchen's signature heritage.
The event is inspired by the successful inscription of Singapore's hawker culture on the UNESCO list of Intangible Cultural Heritage, and represents an opportunity to explore the common language of culinary finesse in hawker food and fine dining cuisine.
Said Mr Nicolas Achard, managing director of Michelin Food & Beverage Asia: "The Michelin Guide has always been focused on driving unforgettable experiences for all. We believe that this collaboration would not only bridge the gap between fine cuisine and hawker food, but also be a vessel in the promotion of creativity and food culture in Singapore."
The first two collaborations between Thevar and KEK, and Yen Yakiniku and Chef Kang's Noodle House, were a smashing success. Boasting innovative dishes like Spiced Curry Leaf and Coconut Chutney Cereal Prawns, and BBQ Dream Duo 'Shuang Ping' of Char Siew and A5 Omi Wagyu with Homemade BBQ Sauce, the limited sets were sold out in a jiffy. Two more unusual menus await, from Cure and Man Man, and Akira Back and Song Fa Bak Kut Teh.
CURE X MAN MAN: FINDING COMMON GROUND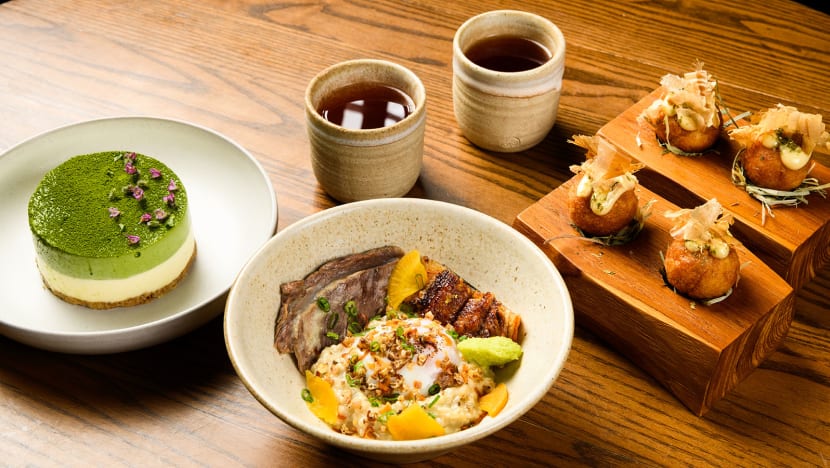 To create a menu that speaks of two separate chefs is never simple, and even more so when the cuisine in question is distinctly different. But in the case of the partnership between Japanese restaurant Man Man and Irish restaurant Cure, it was easier than expected. After all, Cure's Chef Andrew Walsh had long discovered a commonality with Man Man's Chef Teppei Yamashita when he arrived in Singapore in 2011.
"I recall stumbling upon Chef Teppei's eponymous omakase joint at Orchid Hotel and being amazed by the intricate flavours and by his style, which is what I look out for in my own cuisine as well," he said. "From then on, we've always known we have a great deal of culinary similarities despite our cultural differences. We were both excited to collaborate after years of knowing each other."
For the Michelin Guide Kitchen Takeover, the Keong Saik Road neighbours have created an exciting menu that speaks intimately of their native produce, such as the Silverhill Farm Duck Takoyaki that features the rare hybrid duck enriched with unagi glace and katsuobushi. Two other innovative dishes make up the menu: BBQ Unagi and Irish Corned Beef Porridge, and Avonmore Macha Cheesecake.  
You can pre-order the Cure x Man Man set from Feb 17 to 20. Delivery will be from Feb 22 to 23, 11am to 3pm. 70 sets only.
AKIRA BACK X SONG FA BAK KUT TEH: A BALANCED INTERPRETATION
All the chefs went onboard this special mashup with a healthy curiosity for experimentation.
Said Chef Tomo of Akira Back, who was paired with Song Fa Bak Kut Teh: "Akira Back anchors on bold reinventions, flavourful profiles and original experiences, local ones no less. Thus, this was a great opportunity for us to work with an iconic brand like Song Fa, which has been serving up peppery Bak Kut Teh in its most original form."
Both establishments relished the idea of marrying the local hawker scene with fine dining.
Said Chef Tomo: "The art is that the alterations must create new flavours that still retain the cultural significance and authenticity of the original dish."
Second-generation Song Fa owner Yeo Zhi Yong agreed. They found the research phase challenging, as they had to "ensure that the dishes proposed – while reinvented or reconstructed – could bring out their full potential and be served together cohesively".
This led to the conception of wonderfully complex menu items like the Song Fa Bossam, where braised pork belly dances in a brew of apple fennel kimchi, XO sauce, salted vegetables, sweet peanuts and butterhead lettuce. The meal is complemented with Spicy Pork Maki and Bak Kut Teh Hotteok.
Pre-order the Akira Back x Song Fa Bak Kut Teh set from Feb 24 to 26. Delivery will be on Feb 28, noon to 2.30pm, and from Mar 1 to 2, noon to 2.30pm and 6pm to 9.30pm. 60 sets only.
THE MAGIC OF DIALOGUE
The partnerships between the chefs have led to new discoveries and perspectives.
Not only did Chef Andrew from Cure gain new knowledge for the high-quality unagi from Mikawa Isshiki region featured in the menu, he also discovered the Japanese way of utilising an entire eel, using all parts of the eel expertly down to its crispy bones.
Similarly, for Yen Yakiniku's Chef Jones, the collaboration with Chef Kang's Noodle House was eye-opening.
"Besides gaining insights into the ingredients and the dish, a big takeaway for us was that in order to whip up a scrumptious traditional dish like wanton mee, it requires multiple skills and being detail-oriented," said Chef Jones. "From the noodles, wanton, char siew, soup, chilli and even the pork lard, everything needs to taken care of!"
"Some people feel that a bowl of wanton mee priced at S$6 is expensive compared to Japanese ramen and Italian spaghetti that sell at S$18. I feel that this is a matter worthy of discussion," mused Chef Jones.
Find out more about the exciting menus from the Michelin Guide Kitchen Takeover.
The Michelin Guide Kitchen Takeover is ongoing until Feb 26. Limited sets are available for viewing on the Michelin website and you can place your pre-orders on your GrabFood app.

Menu subject to change due to availability of ingredients.