The 10 best ramen restaurants in Singapore: From milky pork broth to a 'hybrid duck' variety
These are CNA Lifestyle's pick of the best ramen restaurants in Singapore to hit up when you need that noodle fix.
The sheer proliferation of ramen restaurants over the last decade can only mean that Singaporeans are kind of obsessed with this Japanese staple dish. Whether it's a thick tonkotsu broth, a collagen-rich chicken soup, or curly or straight noodles, these ramen-ya have something that just about everyone will love.
Here is our pick of ramen establishments that hit the spot when we need that noodle fix, in no particular order.
MENYA SANJI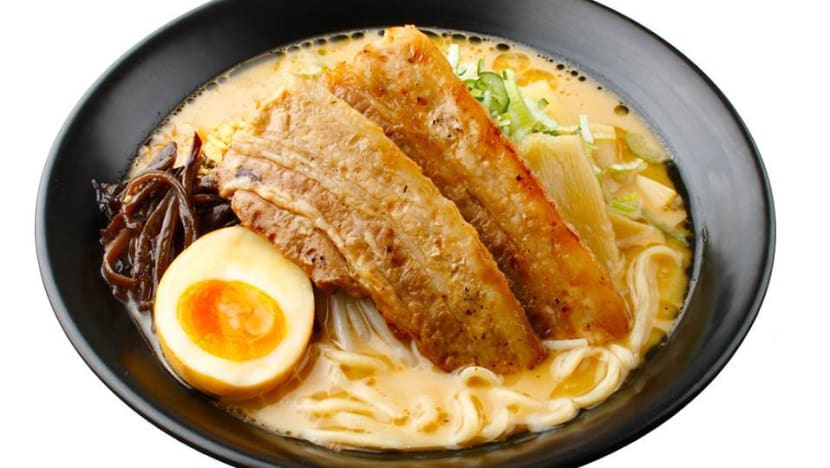 The Kagoshima-style ramen at this 18-seater establishment is defined by its milkier, orange-tinged broth and thickish, wavy noodles that have a lovely, distinct chewiness. The soup, made by stewing pork bones over many hours, is full-flavoured and almost creamy, yet light at the same time.
Try the Sanji Ramen, with fresh bean sprouts, Japanese chashu, black fungus mushrooms and a seasoned boiled egg. There's also the Tsukemen, where the noodles are served dry with a side of hot tonkotsu soup, dried garlic and chilli sauce.
#01-14 Tras Link, Orchid Hotel. facebook.com/MenyaSanjiSingapore
TAMPOPO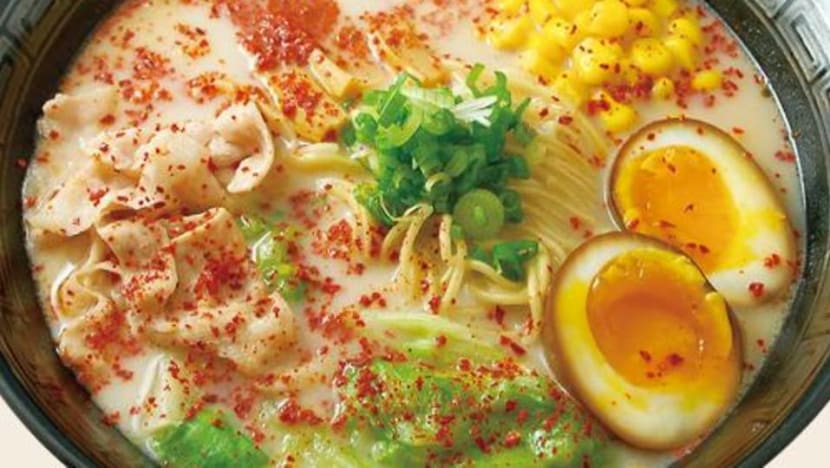 One of the first restaurants to serve ramen in Singapore, Tampopo makes a bowl with an almost too-salty broth by purportedly boiling pork bones for 30 hours. The result is a thick, milky soup swimming with springy noodles imported from Kyushu.
We are partial to the Kurobuta Shabu Ramen, topped with chilli flakes, corn kernels, paper-thin slices of pork and a seasoned egg; and the Hokadate Ramen for its springy Hokkaido-style noodles.
This is a great place to duck into when you want a good-quality bowl of ramen without having to get in line.
#01-23/24 Liang Court Shopping Centre, 177 River Valley Road. tampopo.com.sg
MARUTAMA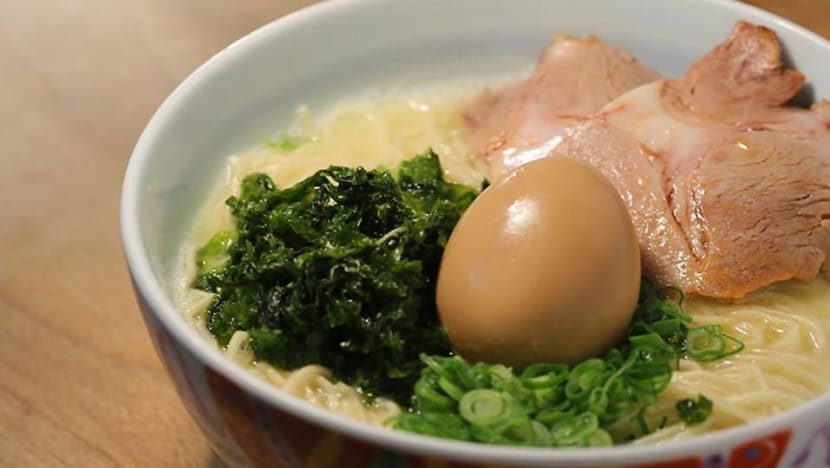 Founder Tetsuya Kudo created chicken ramen so that those who don't eat pork could also indulge in the popular Japanese staple. Regulars love the milky chicken soup, which purportedly came about when Kudo fell asleep while trying to brew a clear soup. When he woke hours later, the soup had reduced to a tasty, collagen-rich brew.
The thin noodles in the soup are served with a generous shower of chopped spring onions and meltingly tender cha siu. Ask for the Zenbu Nose Ramen, which comes with cha siu, braised pork belly and a soft-centred egg.
#03-90/91 The Central, 6 Eu Tong Sen Street. marutama.com.sg
NANTSUTTEI
The defining ingredient in Nantsuttei's signature ramen is the thick slick of black garlic oil that floats atop each bowl. Produced by slow-frying garlic seven times, the oil imparts a deep, heady fragrance to the creamy tonkotsu (pork) broth. The firm noodles are served with marinated beansprouts, an egg and slices of smoky chashu.
The oft-told story is that Nantsuttei founder Ichiro Furuya had floated through his young life with no inkling of what he wanted to do for work until he saw an image on television of people queuing outside a ramen shop. It sparked a yearlong quest to learn about ramen before he opened Nantsuttei in his hometown of Hadano in 1997. Nantsuttei ramen is now available in Japan, Thailand and Singapore.
#07-12/13 Orchard Central, 181 Orchard Road. nantsu.com
GINZA KAMO SOBA KYUDAIME KEISUKE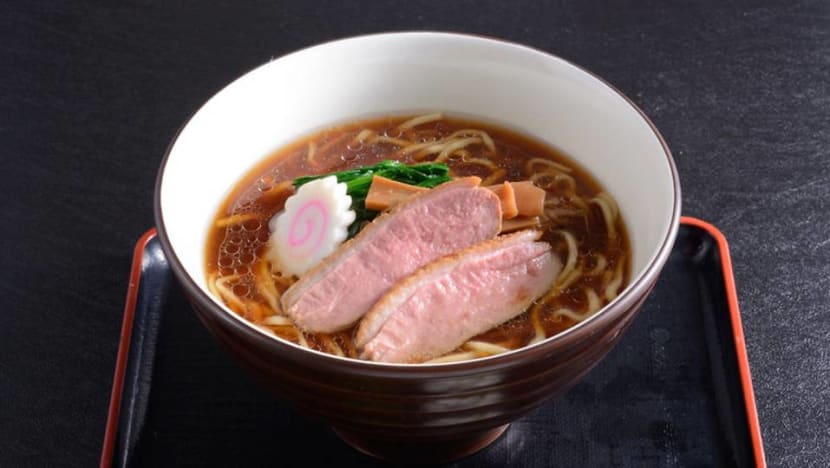 Over the years, Keisuke Takeda has created myriad well-loved renditions of ramen, including crab, lobster and chicken, but his duck ramen ranks among our favourites.
At Kamo Soba Keisuke, the Hybrid Duck Broth Ramen comes with a choice of clear or rich soup, both of which are robustly flavoured. To make the clear soup, the kitchen simmers a whole duck in stock for about five hours, while the rich soup is made by simmering the clear soup for another eight hours to really eke out the flavours from every last duck bone and cartilage.
There is impressive balance in each bowl – the rich soup is extremely tasty without being cloying, while the clear broth defies all expectations with its clean yet punchy flavour. The skinny noodles are equally elegant and pair well with the delightfully tender slices of Irish hybrid duck (you were wondering about the name, weren't you?).
16A Lorong Mambong. www.keisuke.sg/kamo-soba-holland-village
KONJIKI HOTOTOGISU
While the mothership in Japan seats just eight, Konjiki Hototogisu's Singapore outlet is more generously spaced, with seats surrounding its pale wood counter and a couple of larger tables.
A recipient of Tokyo's Michelin Bib Gourmand award since 2015, Konjiki Hototogisu is famous for its pork-and-clam-infused broth, while the Shio Hamaraguri Soup Signature is a crowd favourite thanks to its perfume of white truffle oil, porcini mushroom duxelle and bits of bacon – talk about depth of flavour!
The smooth noodles come with two slices of chashu – one marinated and cooked sous-vide (in a low temperature water bath); the other a traditional thick belly chashu. It all comes together to deliver a soul-soothing, flavour-packed bowl that deserves its accolades.
#01-17/K5A/K5B CHIMJES, 30 Victoria Street. facebook.com/KonjikiHototogisuSGP
RAMEN KEISUKE TORI KING
Lines formed outside Ramen Keisuke Tori King almost as soon as it opened in 2012. If anyone thought Singaporeans wouldn't be keen on chicken ramen, Tori King proved them indisputably wrong. In fact, this veritable hole-in-the-wall still sports a queue outside its doors at lunchtime.
While it doesn't hurt that patrons get unlimited servings of wobbly-yolk eggs and seasoned beansprouts, it is the tasty, collagen-rich broth and beautifully marinated chicken drumsticks that keep the crowds coming back.
For a spicier take on its signature Tori King Ramen, go for the Tan Tan Mien, which also comes in an Ultra Rich option, or the Black Spicy Tori King Ramen hit with hearty lashings of ground black pepper.
#03-15 100AM, 100 Tras Street. keisuke.sg/tori-king-tanjong-pagar
HOKKAIDO RAMEN SANTOUKA
A rich, cloudy broth made by stewing pork bones, kelp, dried fish, vegetables and a host of other ingredients for 17 hours, and spoon-tender slices of grilled pork cheek keep the queues outside this little ramen-ya going at lunchtime.
The noodles are springy, with a lovely chew, and the signature Tokusen Toroniku (ramen with grilled pork cheeks) is limited to just 60 servings a day. Should you find yourself the 61st customer, you could do worse than to order the Shio Ramen with a picked red plum that adds a nice sharpness to the full-bodied broth.
#02-78 The Central, 6 Eu Tong Sen Street. www.santouka.co.jp/en/shop-foreigin/singapore/foreign05-001
RAMEN BAR SUZUKI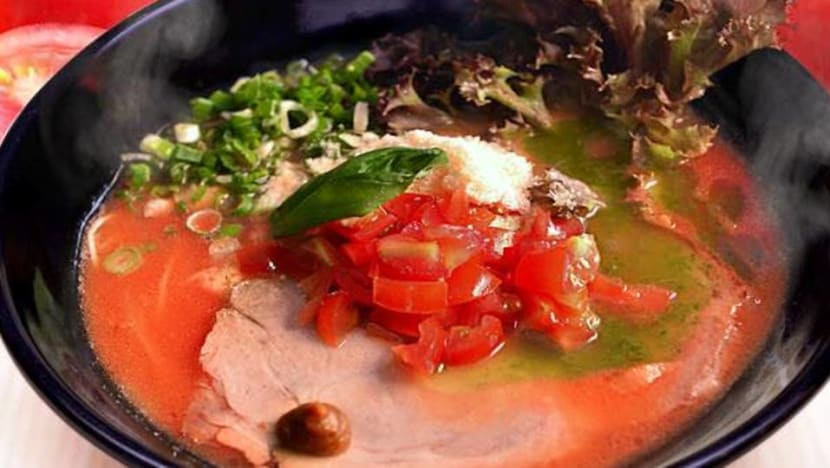 Worker bees around Boat Quay know and love Ramen Bar Suzuki. It's the only way to explain why they swarm this ramen-ya at mealtimes.
Perhaps it helps that the restaurant offers complimentary unlimited servings of steamed rice, spicy bean sprouts, potato salad and hard-boiled eggs at lunch.
The Japanese wheat noodles are served in a clean-tasting tonkotsu broth, which also comes in flavours like a mildly spicy Dan Dan Tonkotsu Ramen and the Scarlet Tonkotsu Ramen where tomato soup and tomato oil are blended with the original pork broth to yield a light, piquant soup.
#01-01 61 Circular Road. suzuki.frp.sg
HAKATA IKKOUSHA RAMEN
The pork broth at this two-time Ramen Champion winner is distinctively thick and rich. Spice lovers should try the God Fire, which blends the original broth with a "secret brand of spicy fire". The result is a surprisingly potent brew that's not for the faint of heart. Those folks should find themselves quite satisfied with the Tonkotsu Shio, a deliciously simple bowl of broth with noodles that have soaked up the flavours nicely, and thinly sliced chashu.
#F1-07 CHIMJES, 30 Victoria Street. ikkousha.sg