Dream homes and design myths: How one portal is helping homeowners make the right renovation moves
Made up of ex-interior designers, its staff help clients make their homes comfortable abodes.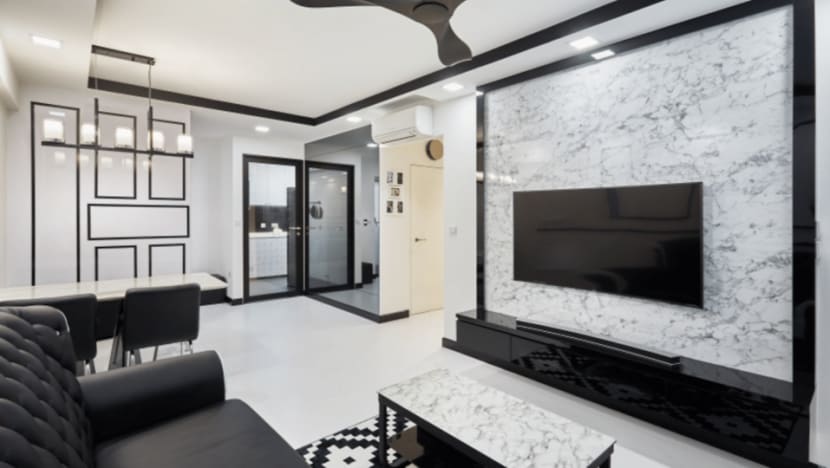 Often pictured as holding up fabric swatches and debating a little too excessively about the merits of "ocean mint" and "cerulean lagoon", interior designers are a misunderstood lot. Their impact is seen as being simply cosmetic, but the truth is, it is hard to achieve your dream home without one.
And yet, if the thought of renovation is daunting, so is the process of hiring a trusted professional. Fortunately, HomeRenoGuru has been helping locals navigate this undertaking for the last six years. According to an independent survey released by global market research firm IPSOS MORI in 2021, HomeRenoGuru is regarded as Singapore's number one renovation portal.
The experts at HomeRenoGuru (who are former interior designers themselves) not only understand the necessity and importance of a well-designed space, but work at solving one of the biggest challenges for a homeowner – finding the right interior designer (ID) at the right price, quelling those headaches and busting some common renovation myths along the way.
I CAN DO THIS MYSELF: FALSE
Does electrical work happen before or after painting? When should the air-conditioning be installed? What are the permits that need to be filed, and when? Many homeowners think renovation is a linear process, but they find out soon enough that there are multiple moving parts.
Without an experienced person helming the project, one might encounter significant delays because of administrative processes, unresponsive vendors or sequencing mistakes. And even if you're a good planner, orchestrating multiple parties will cost you a lot of time.
Rather than going along with that relative's neighbour's ex-colleague's recommendation, HomeRenoGuru's portal matches you with over 300 vetted IDs and suppliers, and even obtains five no-obligation quotes for free.
The website and app include tools like a budget calculator, articles and checklists on the renovation process, as well as supplier recommendations if you're making adjustments during or after your renovation.
The first step is always the hardest, and HomeRenoGuru wants its users to get over that hump by laying out things clearly at the onset.
INTERIOR DESIGNERS ARE EXPENSIVE: TRUE
But hear us out: Not having an ID is usually more costly.
An ID helps you save time, money, and sometimes heartbreak, by providing solutions – not just "a look". According to HomeRenoGuru, a moderate renovation of a four-room Build-To-Order flat with a floor area of 90m2 costs between S$43,000 and S$51,000. IDs can't lower that cost by much, but they can stretch your budget further.
Having a broader understanding of materials and vendors, IDs can draw out more options to fit your budget. You may think you need marble tiles, but maybe a more affordable and durable quartzite might work as well? Or you may want to laminate your kitchen floor but your ID might recommend engineered hardwood flooring as it's more resistant to moisture. This could help save on future repairs.
The flip side of this is that we've all heard horror stories of opportunistic vendors upselling their design services to earn an extra dollar. HomeRenoGuru prevents this by partnering companies that are accredited by Consumers Association of Singapore (CASE) Trust, HDB licenced and ACRA checked, as well as negotiating exclusive renovation deals with over 150 IDs.
HomeRenoGuru's staff are former interior designers themselves, which means they know common industry practices very well. Their mission to solve homeowners' pain points is fuelled by their own experience, and they are able to provide an objective view by remaining independent of their vendors.
MY HOME'S DESIGN WILL NO LONGER BE 'ME': FALSE
Handing over the ownership of the design and renovation can feel like the end product is one that may be void of your personality.
The key here is communication and research. Delegating the rest of the work to your ID frees you up for the fun part – shopping for looks. But on top of handing page upon page of pull-outs from magazines or Pinterest references, remember to explain how the examples speak to you.
Don't just say things like "I love a clean look" – this could refer to Scandinavian minimalism or Japanese Zen! Get into the details, like how you like the play of colours in a white space. A good ID will digest these and conjure a design that closely matches your dream home.  
HomeRenoGuru's YouTube channel, Facebook and Instagram feeds are also a good reference for added interior design inspiration.
I JUST WANT TO KEEP THINGS SIMPLE: TRUE
Before you think an ID will over-decorate your space, know that they are there to help you make better decisions about space-use and functionality, especially as many newer homes tend to be relatively small. So in truth, they simplify your home for improved livability.
And it's not just about the space. HomeRenoGuru understands that your peace of mind is just as valuable. Its recommended IDs prevent you from running afoul of the law over a wrong wall hacked or a pipe accidentally covered, and to not accidentally dispose of that door you changed.
Also, in an industry-first, HomeRenoGuru even offers deposit guarantees, as well as free legal advice should the need arise. Given that the path for home renovations is often a complicated one, it's nice to know there are gurus out there who have your back.
Trust the renovation gurus over at HomeRenoGuru and request for your free quotes.