Embark on a tech career with skills in cloud computing and artificial intelligence
With the use of cloud computing and artificial intelligence growing worldwide, opportunities to move into tech careers are opening up for those willing to learn, even for mid-career switchers.
Casual photography used to mean using a camera to capture moments, before developing the film and keeping these precious memories in photo albums. These days, when you take a photo of your loved ones on your mobile phone, services like Google Photos can immediately sync and store them in your photo album in the cloud.
Today, services have advanced to the point that even facial recognition is possible, allowing for automatic assignment into convenient albums for future viewing. This would not be possible without the advent of cloud computing.
Simply put, cloud computing or cloud technology is the delivery of computing services like storage, databases, networking and software, over the Internet. Artificial intelligence (AI) then processes the information delivered over the Internet from a user and provides useful services or analysis back to a user.
Cloud computing and AI, barely heard of two decades ago except in fiction, are now set to get bigger as they see greater application in more industries. This is a result of the improvements in connectivity over the years through the development of high-quality broadband networks and wireless connections, as well as increased computing speeds.
In Singapore, we can expect to see more commercial and industrial cloud technology and AI applications with the continued development and rollout of 5G technologies and infrastructure.
EMERGING OPPORTUNITIES
As a result, cloud technology and AI have been identified by the Singapore Government as enablers in Singapore's journey to becoming a Smart Nation.
To meet the growing demand, Infocomm Media Development Authority (IMDA) is working with organisations like Google and AI Singapore to run initiatives to arm non-tech professionals and mid-career switchers with the skills to enter the cloud technology and AI arenas. These initiatives are under IMDA's Company-Led Training (CLT) and TechSkills Accelerator (TeSA) Mid-Career Advance (TMCA) programmes.
AI Singapore was launched in 2017 to anchor deep national capabilities in AI. It aims to create social and economic impact, grow local talent in AI , build an AI ecosystem, and put Singapore on the world map. A national AI strategy was also announced in November 2019, with Singapore aiming to be a leader in developing and deploying AI solutions by 2030. AI Singapore also introduced 100 Experiments (100E) – its flagship programme to solve industry problem statements using AI solutions.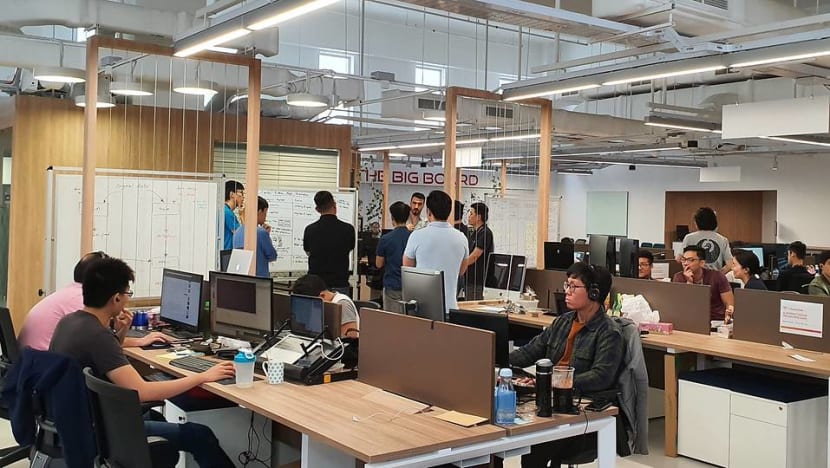 Because there were so few Singaporean AI engineers for 100E, AI Singapore had to set up the AI Apprenticeship Programme (AIAP) to build its own AI Engineering team. The 9-month full-time AIAP is fully sponsored for Singaporeans under the IMDA's CLT programme. Apprentices who get accepted into the AIAP also get a monthly stipend.
The CLT programme helps fresh to mid-level professionals accelerate professional development in a tech role through structured training at a list of partner companies. Other fields under the CLT programme include 5G, Internet of Things, cloud computing and enterprise software as a service (SaaS), and core information and communications technology capabilities including software engineering, cybersecurity and data analytics.
Companies such as Google and Y3 Technologies also offer cloud-related roles under the CLT programme.
Shared Mr Laurence Liew, director of AI Innovation at AI Singapore: "It was not easy finding Singaporean engineers and developers trained in AI in the open market, so we decided to identify suitably qualified Singaporeans who have been learning on their own for some time, and bring them in to deep-skill on real-world AI projects such as the 100E." Testament to demand, over 80 per cent of the AIAP apprentices receive full-time job offers after they graduate.
As for cloud technology, Ms Ruma Balasubramanian, managing director at Google Cloud, Southeast Asia, said that while it was only start-ups and visionary enterprise users that were interested in it before, it has become mainstream "across every industry, for organisations of any type and size".
"We believe cloud technology is no longer just an IT infrastructure decision. It should be infused into a company's culture and drive new operating models," she said, stressing that cloud technology encourages innovation and can transform a company's culture.
Ms Balasubramanian shared that in 2020, Google partnered government agencies such as IMDA to offer vocational training in digital skills like cloud technology and digital marketing to 3,000 fresh graduates and mid-career professionals under their Skills Ignition SG initiative.
COVID-19 has further driven the shift to the cloud as the ability to connect to businesses and services digitally is compelling businesses to rethink their customer experience and how they can use data and analytics to understand their customers better. The future of work has also moved to a hybrid work environment, where companies and employees can collaborate on cloud platforms to generate ideas and connect.
CURIOSITY AND PASSION
Similar to the CLT programme, IMDA's TMCA programme helps professionals looking to move into tech. Where it differs however, is that it caters to Singaporeans aged 40 and above. Interested parties can apply to a list of partner companies, get employed, and receive training while holding a tech-related job in areas such as cloud computing, AI, data analytics and software engineering.
Companies such as Singtel and Y3 Technologies offer cloud-related roles under the TMCA programme. The good news is that it is not just trained engineers who can join these emerging fields. AI Singapore shares that apprentices in their 9-month full-time AI deep-skilling programme included former teachers, lawyers, human resource practitioners and financial analysts, who already had some knowledge in areas like coding languages such as Python as well as basic to intermediate proficiency in Mathematics, statistics and machine learning.
Since AIAP was started in 2018, 137 of its graduates have gone on to work as AI engineers or data scientists in AI Singapore and various organisations. By the end of this year, another 39 will join their ranks.
Said Mr Liew: "You need to have the mindset that you are in this field not because of the AI hype but you really want to pursue a career in AI or data science after the programme. In addition, you need to have the passion to practise AI and a genuine desire to learn and break into this field. It isn't the aim of AIAP to train your basics – what we provide is the opportunity to work on real-world AI or machine learning problems with real-world customers."
Added Ms Balasubramanian: "Someone looking to be successful in the field should have a strong curiosity to learn how cloud technology can help organisations of all sizes and apply these technologies to help these organisations solve their complex business and technology challenges."
Learn how you can embrace cloud technology and AI for the future with IMDA's TechSkills Accelerator initiative.