They're back! Catch Friends: The Reunion on the same day as the US
In the one-off special, the cast visit the location of their original set and relive moments from the hit show.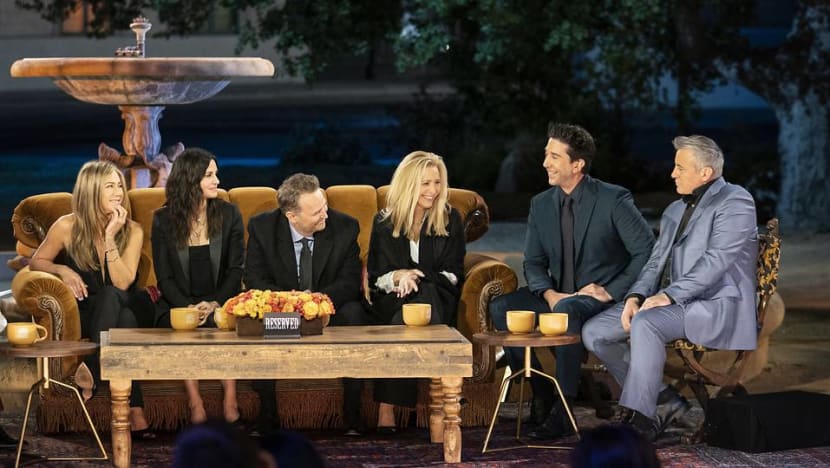 It's the one that everybody's been waiting for: For the first time in 17 years, Rachel, Ross, Joey, Chandler, Phoebe and Monica are all back together again.
The original cast of the game-changing, still-popular sitcom Friends have gathered for the highly-anticipated Friends: The Reunion special, and we get to watch it right when it comes out.
Fans can catch it at the same time as the US on May 27 at 3.01pm on HBO GO, or watch the same-day broadcast on HBO at 9pm.
In this rare event, stars Jennifer Aniston, Courteney Cox, Lisa Kudrow, Matt LeBlanc, Matthew Perry and David Schwimmer return to the original studio where the show was filmed – Stage 24, on the Warner Bros. Studio lot in Burbank, California – for an unscripted nostalgia session, reliving their fondest memories of their time on set as well as the best of fan-favourite moments.
They are joined by moderator James Cordon and a lineup of A-list celebrity guests including David Beckham, Justin Bieber, BTS, Cindy Crawford, Cara Delevingne, Lady Gaga, Kit Harington, Mindy Kaling, Tom Selleck and Reese Witherspoon.
The special is also executive produced by Aniston, Cox, Kudrow, LeBlanc, Perry, and Schwimmer, and directed and produced by Ben Winston along with Friends' original executive producers Kevin Bright, Marta Kauffman, and David Crane.
One of the highest-rated shows on television in its original 10-series network run, Friends, which followed a group of twenty-somethings navigating life in New York City, not only won the Emmy award for Outstanding Comedy Series but also clinched Emmy awards for Aniston and Kudrow.
27 years after the first episode aired, the series still earns Warner Bros. a whopping US$1 billion (S$1.3 billion) annually through syndication, according to USA Today. And each of the cast members still earns 2 per cent of that, translating into a US$20 million pay cheque each year for, well, just being everyone's favourite friends, really. Bet no one told them life was gonna be this way.
Catch Friends: The Reunion on May 27 at 3.01pm on HBO GO and at 9pm on HBO.