Priscelia Chan's secret to a strong, happy marriage – even during the 'circuit breaker'
If not for the support of her husband and family, she wouldn't have been able to emerge stronger from the health crisis she suffered for two years, the actress says.
Priscelia Chan and her husband, former actor Alan Tern, are one of the sweetest couples in showbiz, so you definitely could do a lot worse than to take marriage advice from her.
In fact, Priscelia, who recently celebrated her 13th wedding anniversary, shared that she and Alan had even grown closer as a couple thanks to the "circuit breaker".
After a harrowing two-year health ordeal, Priscelia Chan found courage and clarity
With Alan, who runs a business, at home with her, they were able to spend time cooking, working out and even painting together, she told us in a conversation recorded for CNA Lifestyle's podcast series House Party For 2.
In fact, through their shared painting activities, she discovered that "actually, he can be even more artistic than I am," she quipped, with a laugh. 
"He left the media scene about 10 years ago, so his mindset is not so artist-like anymore. He has been in the business world (so) I think he's gotten even more logical."
In spite of that, she found that he could produce "really edgy stuff". "For me, it's all romantic and flowery and pastel colours; rainbow colours." His paintings are "very manly," she divulged.
The circuit breaker gave them time to "reconnect" and "really talk", Priscelia told us. "And he said, 'Oh, I finally know what you're doing at home.'"
Of course, it's not all bliss – they do have their disagreements, she hastened to add. But she's learnt to handle them with grace and even a little bit of humour.
When they first moved in together, for example, they had "issues of cleanliness", she giggled, saying that even though Alan is generally particular about hygiene, he once left his unwashed socks in the bathroom for so long that she got antsy.
For four days she said nothing, she recalled, until she finally figured out an oblique way of dealing with the problem.
"I said, 'Oh, baby, something's happening in the kitchen.' He was like, 'What's so serious?' I said, 'We're growing mushrooms in our little toilet and kitchen because of your socks.'"
He laughed, and the issue was swiftly resolved.
"Sometimes, even if there's a disagreement, you try to make light of it," she advised.  
Additionally, "I think one of the other biggest challenge facing couples in a marriage for a long period of time is that you've known each other for so long – you may forget that, oh, you're tired, so you may not sound so sweet all the time, or so caring all the time." So, there ought to be "awareness and a reminder to ourselves" of that.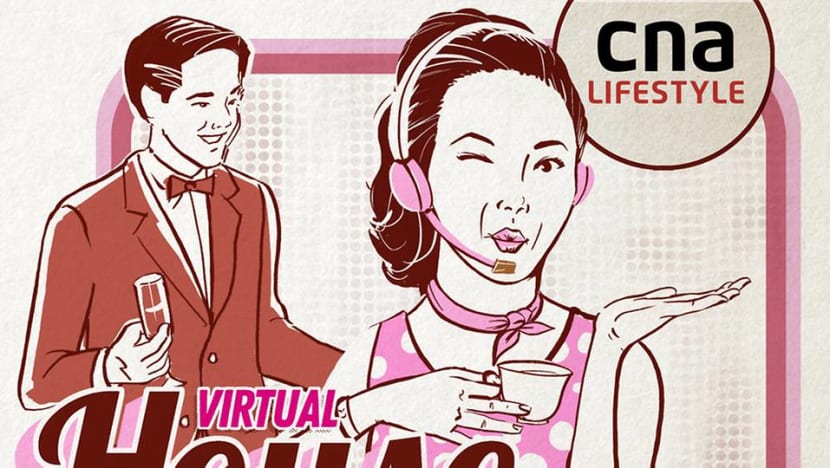 Priscelia and Alan met as colleagues when they were both young actors, and they started out as such good friends that she was hesitant when he expressed feelings for her – she had just gotten out of a difficult relationship and didn't want to ruin their friendship. Eventually, though, she was moved by his sincerity, and they tied the knot in 2007.
Their marriage has withstood the test of Priscelia's harrowing two-year health ordeal, from which she recovered last year, that saw her skin turning red and raw.
Through it all, "My source of strength was really my husband and my family," she said. "The state I was in was really scary, and no doctors could give any answers." 
So, "my family, my best friends, my husband especially, and my religion… gave me faith that everything would be okay," she said. 
"I told myself I had to do my best to stay strong and get well for my family."
She added: "That was what got me through every single day… I told myself, 'I don't know when I will heal, but I'm healing day by day.'"
In fact, the healing came fastest "when I decided, 'I'm just going to live my life.' I don't know what's going to happen but I'm just going to do what I can within my control and not think about it, but just focus on my love and my family members… I just kind of surrendered to the flow of life."
She's received many messages from fans and followers facing similar issues since she opened up about her struggle with her health in a CNA Lifestyle interview last year, she said, and shares that piece of advice with them, too.
"I think many people have struggles, but they do not seek help. They do not share, and they burden themselves thinking, 'I'll be fine'," she said.
"It's the subconscious stress that we place on ourselves. That was my story, and I shared it with so many people. I think in some cases, it did help them too. They didn't realise that learning to let go and have faith that everything would be okay is the hardest (thing to do)."
Now that she's officially back at work and starting to take on more filming projects, she's able to look back and say she's a different person after the ordeal.
"I think I'm even happier, even more confident and, I think, healthier. And, most importantly, I know what my priorities are… I became a better person."
Listen to the full House Party For 2 podcast to find out what it's been like for Priscelia to finally be able to go back to work, how she manages to keep stress at bay and what she thinks is the secret to a happy marriage.
New episodes of House Party For 2 are published every Sunday at cna.asia/podcasts.