Equipping herself with future-ready finance skills in digitalisation and blockchain technology
When her company was badly hit by COVID-19, finance professional Catherine Chong wasted no time in going straight back to school under the SGUnited Skills Programme.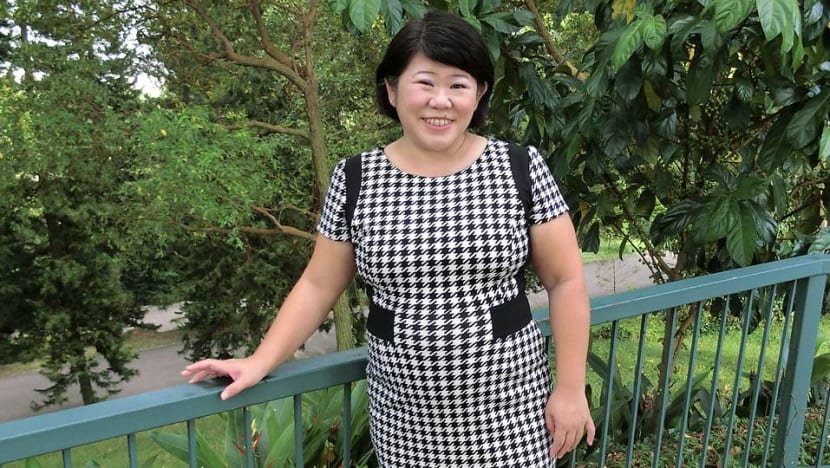 In the past year, one of Ms Catherine Chong's most fulfilling moments was when she built a chatbot from scratch and deployed it on Facebook and other websites. For the uninitiated, a chatbot is a computer program that simulates and processes human conversations.
This was just one instance of the veteran financial professional venturing beyond her comfort zone, as she had gone back to school to learn new skills.
"I picked up coding and learnt to apply the knowledge gleaned from lectures and tutorials to real-life situations. The ability to see through the entire process and bring forth a solution was very satisfying," said Ms Chong, 44.
Upskilling for Ms Chong comes in the form of SGUnited Skills (SGUS) Blockchain Talent. Blockchain is a way of managing financial information in the digital realm that makes it difficult or impossible to change, hack or cheat the system.
Through the year-long programme conducted at Singapore Polytechnic, she hopes to equip herself with future-ready finance skills in digitalisation and blockchain technology.
PREPARING FOR THE NEXT PHASE OF HER CAREER IN THE DIGITAL ECONOMY
Upskilling might not have crossed Ms Chong's mind had it not been for the onset of COVID-19. The cluster financial controller in a global education organisation found herself in choppy waters a few months into her role.
"The organisation and industry had been adversely impacted by COVID-19. It was very unfortunate, but I had to leave. There was a sense of loss and uncertainty amid the backdrop of high unemployment," she recounted.
With more than two decades of experience, Ms Chong could have tried searching for another job, but she was well aware that the finance industry was changing. Even from years back, she had witnessed the implementation of new technologies and cashless payments in the course of her work.
"I saw that the adoption of fintech solutions does improve the way we do business and that it should be the way moving forward," she said.
In a moment of serendipity, she came across a Facebook advertisement for a programme that appealed to her because it went beyond theory to teach practical skills, with insights from industry leaders and practitioners.
"SGUS Blockchain Talent gives me the opportunity to upskill myself with know-how on the latest financial technology, blockchain design thinking and architecture, and software disciplines from industry experts. All this will better prepare me for the next phase of my career in the digital economy," she said.
LEARNING THE ROPES AND PLANNING AHEAD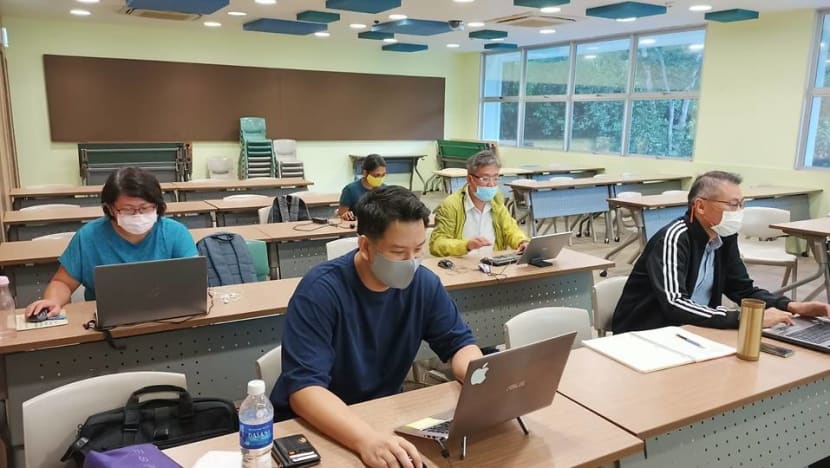 It has been a busy time for Ms Chong. Since starting in August 2020, she attends a mix of online and face-to-face classes between 9am and 5pm, two to three times a week. One module on blockchain could take up to 60 hours.
The course has been an eye-opening experience because she can now see how blockchain revolutionises the way people do business in a number of different ways – from procurement and supply chain management to cross-border payments and decentralised banking systems.
It's not just blockchain technology Ms Chong has picked up new knowledge on. She has also been exposed to topics such as machine learning, artificial intelligence, robotics and cybersecurity.
The intrepid learner loves how she gets to take in information based on real-life examples and latest industry trends, as well as connect with industry partners. For instance, one of her lecturers is the co-chairman of the Blockchain Association of Singapore, Mr Chia Hock Lai.
Ms Chong also gets the chance to work on projects with her course mates – fellow professionals who hail from different fields and industries – a process she thoroughly enjoys.  
"In my project group, one of the teammates is an expert programmer and he takes charge of the coding and the technical aspects, while another classmate and I are more inclined towards business development and thus work on marketing the solution," she shared.  
"As a team, we work on brainstorming, building the architecture solution, and coming up with a prototype. It is a great opportunity to learn from one another, and to see a project from different perspectives," she continued.
In the spirit of her cohort's tagline – 'We leave no man or woman behind' – the tight-knit bunch played an integral role in supporting Ms Chong when she first started on her journey not knowing much about programming.
Even though Ms Chong only graduates in August this year, she already knows her next steps moving forward.
"Coupled with my past experience, I hope to come up with fintech solutions that leverage blockchain technology and smart contract solutions to streamline and digitalise processes at small and medium enterprises," said Ms Chong, who has a conceptual idea for a financing solution centred around micro loans. "My hope is to bring this solution to completion and launch it in the market in the near future."
Find out more and sign up for the courses under the SGUnited Skills Programme.