Exclusive homes perched atop five-star hotels
Residences and hotel pairings have set new milestones in the luxury living experience.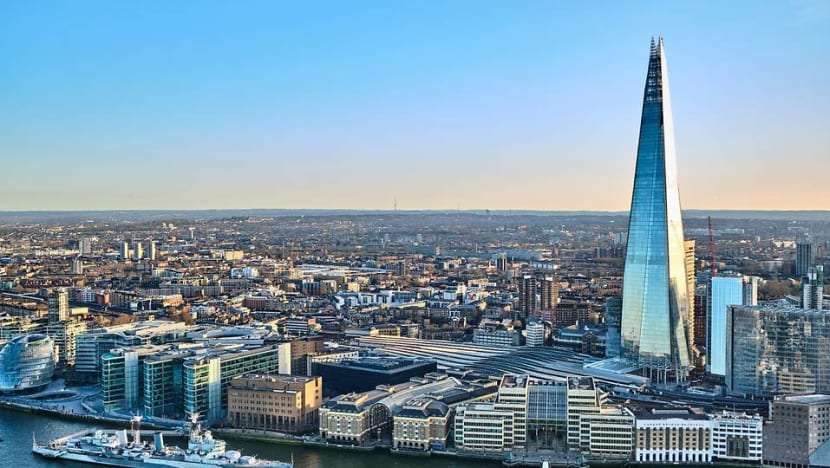 New York's 30 Park Place and London's The Shard are some of the most iconic examples of exquisite private homes located above fine hotels. The former sits atop the Four Seasons Hotel while Shangri-La Hotel occupies the 19 floors below the residential apartments at The Shard.
The symbiosis of distinguished hotels and private residences in prime locations will appeal to affluent buyers who value a high level of quality and service. More often than not, such homeowners have reached certain stations in life, and are on the lookout for abodes with offerings that go beyond mass market provisions.
A NEW BAR IN CITY LIVING
Access to exclusive lifestyle benefits and privileges, coupled with concierge service, are defining hallmarks of five-star living at residences and hotel pairings. On-site concierges can free up resources for busy high-fliers by seeing to day-to-day needs such as arranging for housekeeping and laundry service.
Some go the extra mile by sussing out dependable pet sitters and scouring the city for florists that put together inspirational blooms.  Under the discrete watch of these trained specialists, residents' needs are impeccably met, leaving them precious time and bandwidth to attend to the bigger decisions in life.
Residences perched atop hotels are usually located in the heart of cities, in close proximity to central business hubs, civic districts and transport nodes.
The Shard, for example, is next to the London Bridge train station that connects commuters to Gatwick Airport, as well as cities like Cambridge and Brighton. Hong Kong's Union Square, on the other hand, houses Kowloon Station – it is one of the six subway stations of the Tung Chung Line and Airport Express Line.
Time is a valuable commodity. Living in close proximity to major transportation hubs like these offers a convenient, time-saving option for residents who choose to use public transport every now and then.
ARCHITECTURAL FEATS THAT DOUBLE AS HOMES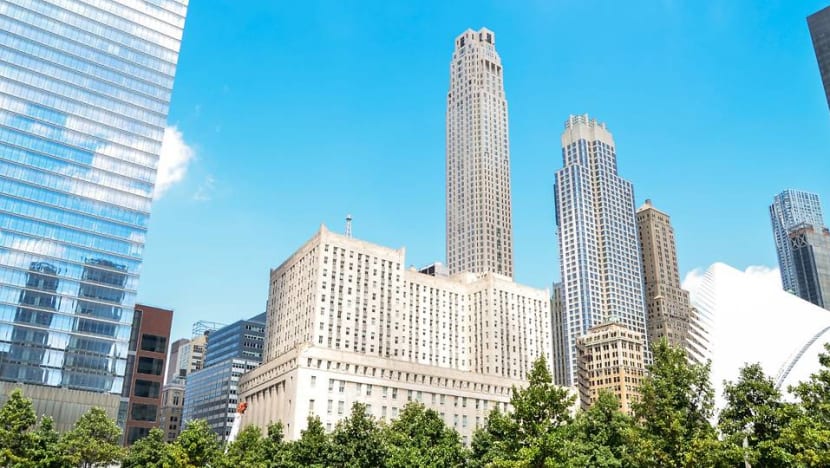 More often than not, owning a home in such residences is akin to living in a landmark that is a highly recognisable part of the cityscape.
For instance, 30 Park Place is one of the tallest residential buildings in downtown Manhattan. The brainchild of acclaimed architect Robert A M Stern, the hotel and residential skyscraper's design is a nod to the towers of the 1920s and 1930s in New York, with special attention paid to the intricacy of shape, boasting a strong skyline silhouette.
On the other side of the Atlantic Ocean, The Shard in London is an icy blue, 306m glass obelisk that towers over its low-rise neighbours. Italian architect Renzo Piano envisioned a "vertical city" and incorporated – alongside the hotel and apartments – a public piazza, public viewing gallery and restaurants in its space.
This technological and artistic endeavour also features a sustainable touch – the glass façade that reflects the ever-changing weather in London is made up of clear, low-iron glass with a solar control coating.
Clearly, the hotel and residences partnership goes beyond a simple brand association. Be they New York's 30 Park Place, London's The Shard or Hong Kong's Union Square, these properties have become their respective city's focal point over time.
MAKING ITS MARK IN SINGAPORE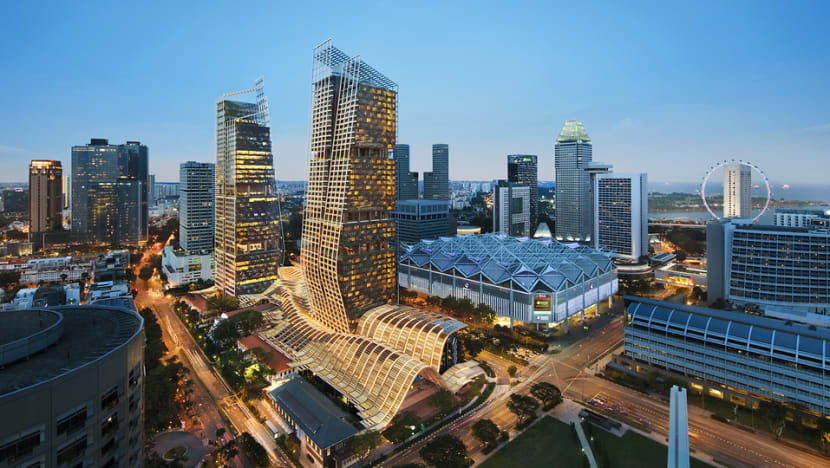 Joining the ranks of these world-renowned mixed-use properties is South Beach – a visually-stunning glass and steel skyscraper conceived by Foster + Partners, a firm headed by acclaimed architect Sir Norman Foster. South Beach Residences occupies the 22nd to 45th floors, while JW Marriott Singapore South Beach runs the five-star hotel on the first to 21st floors.
South Beach's locale at the crossroads of the downtown financial core, historical civic district and the Kampong Glam conservation area ensures that the property remains in pole position through the years.
Additionally, South Beach has direct access to four MRT lines: Esplanade station (Circle Line) as well as City Hall interchange (East-West and North-South Lines) being the nearest, while Promenade station (Downtown Line) is a mere 10-minute walk away. For those travelling by car, Orchard Road and the Central Business District can be reached in under seven minutes.
The luxury residences shares the stage with JW Marriott in a sprawling 3.5-hectare plot, which elegantly incorporates the historic site of four heritage buildings from the former Beach Road Camp, including the NCO Club.
One of the key differentiators of having a home at South Beach Residences is exclusive access to the Signature Residential Services programme, which is where JW Marriott's excellence comes to the fore.
Residents get to avail themselves to an extensive list of privileges courtesy of JW Marriott, and residential hosts who provide on-demand concierge service. For an added level of convenience, all services and perks can be enjoyed cashless by way of a resident card.
Be it a Michelin-starred experience at Akira Back or holistic treatments at the much-vaunted Spa by JW, residents can look forward to exclusive privileges that set new standards in sumptuous living.
AN ICON TO MANY, HOME TO A FEW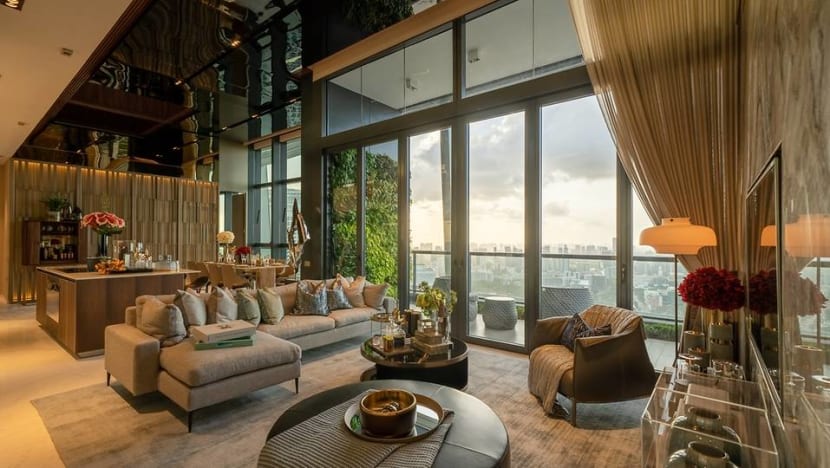 A touch of thoughtfulness can be seen in many aspects of the high-end condominium – from the welcome lounge at the dedicated residents' car park to the configuration of lobbies at each floor for an added level of quietude.
With just 190 units that range from two-bedroom units to a five-bedroom penthouse, South Beach Residences has been designed with exclusivity and privacy in mind.
Discerning buyers can revel in the joy of finding a home that suits their needs to a tee, thanks to an astounding 105 different configurations. One key variation in configurations lies in the inclusion and size of balconies – some units come with large-sized balconies that resemble patios in landed homes, while others dispense of the feature altogether.
If residents so wish, spacious balconies can double as a private mini gym, outdoor hosting area, or a productivity corner for those working from home. In any case, they are privy to the breathtaking Singapore skyline as they go about their endeavours.
Luxury homes also come with all the accoutrements of hotel-calibre opulence, from a suite of Miele fittings in a Bulthaup-fitted kitchen to gold-veined Italian marble vanity countertops.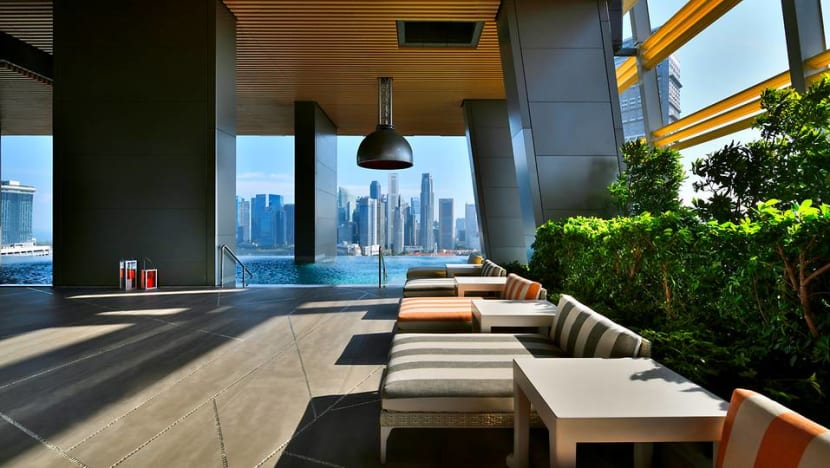 The facilities – including an infinity lap pool, children's pool, jacuzzi, steam rooms and gym – on the 22nd and 32nd floors of the development offer tranquil spots to unwind and socialise amid stunning views of the CBD, the Singapore River and the Padang.
Residents do not merely own a home at South Beach Residences; they own a commanding vantage point with a panorama that extends beyond Singapore, as well as an up-close-and-personal experience of fireworks displays and the Singapore Grand Prix.
The tower has been positioned for optimal all-round views from every unit. Floor-to-ceiling windows and a 3m ceiling height across all units convey a feeling of spaciousness, while affording occupants awe-inspiring views.
For property mavens, a home at South Beach Residences is more than just an elevated form of luxury living; it's a once-in-a-lifetime opportunity to add intangible value to an already-prized prime residential asset.
Find out more about South Beach Residences.
This advertorial was produced in partnership with 99.co.