Go green with sustainable printing solutions
Businesses that switch from laser printers to heat-free inkjet printers can save energy, money and time.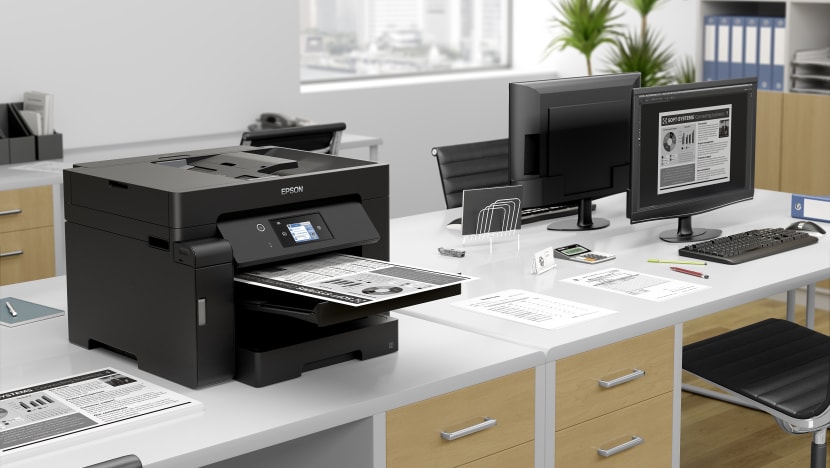 Climate change is a global challenge, and Singapore, like many nations, is taking concrete steps towards building a sustainable future. To this end, the Government has outlined a path towards sustainability with a blueprint that aims to achieve its long-term net-zero-emissions aspiration as soon as viable. The Singapore Green Plan 2030, or the Green Plan, is a whole-of-nation movement to advance Singapore's national agenda on sustainable development.
A key aspect of the plan calls for an "energy reset" that targets to promote the use of cleaner energy and increase energy efficiency to lower Singapore's carbon footprint. Among other initiatives, this will involve the widespread use of solar energy in HDB towns and the eventual phasing out of internal combustion engine vehicles in favour of those that run on cleaner engines.
However, achieving a green future will require more than just government action. The actions of individuals and businesses, no matter how small, will play an important part in helping Singapore become more sustainable. This includes the choice of office equipment that a business uses in its operations.
Said Ms Tan May Lin, regional director for Epson Sales Division, Retail Products and Regional Brand & Communications: "At Epson, we believe that each of us has a role to play in building a better future. For us, being a sustainable company means being mindful of every aspect of our organisation. With this in mind, Epson has established and is working towards its Environmental Vision 2050, a framework put in place to address climate change. We aim to do this by looking at sustainability and the circular economy as a more comprehensive approach – and we encourage other businesses to do the same."
ECO-FRIENDLY PRINTING
Converting laser printers to heat-free inkjet printers is one way businesses can promote sustainability, as it can result in an eco-friendly solution that is fast and energy-efficient. Such printers not only reduce energy use, but also save on time and costs. Indeed, taking small steps such as switching to a heat-free printing option can make a difference in the fight against global warming.
One such heat-free product is Epson's EcoTank monochrome inkjet printers, which have been independently verified to use up to 85 per cent less power1 ; generate up to 85 per cent less carbon dioxide2 ; and have up to 59 per cent less replacement parts when compared to laser printers3.
The printers offer numerous features that benefit the environment without sacrificing print quality. For instance, they use refillable ultra-high-yield supplies that reduce waste products and minimise their environmental impact. Each affordable ink bottle can print up to 7,500 pages while an auto-duplex printing feature reduces paper consumption and costs by up to 50 per cent.
These printers consume significantly less power than their laser counterparts, which must reheat fusing units every time operation is resumed from standby mode. As EcoTank printers do not require preheating, the first-page-out time is shorter compared to laser printers. They also do not emit heat, which means that fewer replacements of parts will be required over their lifetime. The result – faster printing and less downtime for businesses.
"The Epson EcoTank range is designed to fit easily into any office environment with its small footprint," shared Ms Tan. "Offering a sustainable printing solution for the modern workplace, these printers are equipped with Epson's revolutionary Heat-Free Technology, which means that Epson's business inkjet printers use less power and produce less CO₂ emissions, allowing businesses to save on electricity costs and reduce environmental impact as they work towards contributing to the nation's Green Plan."
Epson's Heat-Free Technology is part of the company's broader commitment to sustainability encompassed in its Be Cool campaign. The campaign aims to help people and businesses play their part in protecting the environment by delivering eco-efficient and eco-conscious technology that helps reduce energy consumption, enhance productivity and minimise the overall environmental impact of every Epson product.
UNCOMPROMISING QUALITY
According to Epson, the EcoTank monochrome inkjet printers have a print quality that rivals that of laser printers. They also feature a pigment ink that is lightfast, which means it resists fading when exposed to the ozone – great for archival storage of office documents – and is water- and smudge- resistant.
These versatile machines are able to print across a wide range of media types and applications, including invoices, delivery notes, cheques, envelopes, label printings and barcode printing. They boast a cost per page as low as S$0.002, which means a lower total cost of ownership for businesses. Companies can easily calculate their potential savings compared to other printer brands using the EcoTank TCO Calculator.
Epson's EcoTank printers are designed to support the digital office of the future, thanks to their integrated WiFi capabilities and wireless connectivity options. All EcoTank monochrome printers come with a warranty of up to four years. Reflecting the popularity of the model, some 50 million EcoTank printers have been sold worldwide.
Said Ms Tan: "Consumers are increasingly looking to work and purchase from companies that are innovative when it comes to sustainability and are responsible as good corporate citizens. We believe that digital transformation and sustainability are two integral drivers for the digital offices of the future. Epson is continuously working to ensure a seamless integration of digital transformation and sustainability, whether it involves the use of sustainable materials, reducing energy consumption or embracing a clear vision that champions corporate responsibility beyond profit."
​​​​​​​Find out how you can switch to an eco-friendly printing solution at epson.com.sg/becool.
1 Based on results from internal testing conducted by Epson, using Epson L6550 ISO Color 12ipm vs Laser model ISO Color 22ppm test for power consumed to print 20 pages. Testing single page A4 document of ISO Office Final PDF (ISO/IEC 24734). Each test was conducted twice to ensure consistency of results. Both printers have been tested under the same conditions.
2  Annual CO2 output calculations were based on JEMAI-LCA Pro. Cedar tree CO2 absorption calculations were based on Japan Forestry Agency standards of 8.8kg CO2 per annum per tree.
3 Based on results from internal testing conducted by Epson. Comparison models were selected from among the top-selling 50% of A4 color laser printers (21-30ppm class) listed in IDC Worldwide Quarterly Hardcopy Peripherals Tracker 2019Q3 data CY2018Q4-CY2019Q3 results. The volume of consumables and replacement parts needed to print 200K pages was calculated by Epson based on yields published by the manufacture for each model. Quoted yields are stimulated figures calculated by Epson based on ISO/IEC24712 methodology.