Hasten the coming of the agile workplace with Dynabook Portégé X30W-J
The world's lightest 13.3-inch convertible laptop with 11th generation Intel Core processors offers business mobility with true peace of mind.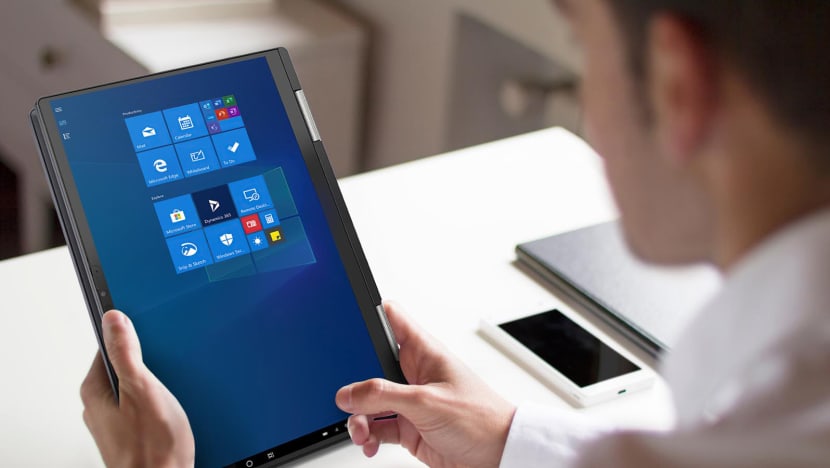 There's a strong call for businesses to be agile. The Harvard Business Review talks about the methodology and mindset spreading across various industries – one that values people, collaboration and effective response to change. The pandemic basically just brought everyone to speed.
It stands to reason that agility is the new stability. Taking steps towards this method can be in the form of streamlining legacy technology that has run its course. As it sweeps across industries, employees are also finding themselves needing a work device that's powerful yet nimble, opening up accessibility and a fast-thinking solution-based system that propels tomorrow's growth.
For the frontline to uphold such transformations, Dynabook has released the new Portégé X30W-J – the world's lightest 13-inch convertible1. Balancing accomplishing tasks with portability, this is a machine that breaks down function silos through its very mobile nature. Combining lightweight build with fierce processing capabilities, it's the laptop that slips you into the future workplace effortlessly.
#GOLIGHTER
The future is light. Windows Central reflects upon the increasing move to cloud, stating that eventually "pushing the OS itself to the cloud for ambient and ubiquitous computing paradigms is also going to happen". This is in part due to better connectivity such as 5G, along with major tech players like Google and Apple focusing on related solutions. As functions are offloaded, one finds the need for a laptop boasting portability without sacrificing performance.
At just 989g2, Dynabook's Portégé X30W-J has the honour of being the world's lightest 2-in-1 Intel Evo convertible. The premium laptop is also a full-performance tablet, and lends itself to multiple business scenarios with ease. When coupled with the new Tigerlake chips and their long-awaited speed boosts from an all-new processor architecture, the Portégé X30W-J packs a punch while staying light on its feet. Boost your memory specs with support up to 32GB LPDDR4x memory running at 4266MHz, outpacing many other convertibles on the market.
Designed for productivity, the 13.3-inch device only has a 12-inch footprint, courtesy of its clever design held in a durable, ultra-thin magnesium alloy case. For the hard-hitting professional shuttling about for work, the reality of the light becoming lighter just came true.
CHAMPION EVERY ROLE
Being agile applies to both method and mentality, and the future workforce is one that can deal with a moving environment. With digital transformation rolling rapidly across industries, a full-featured yet mobile computing device becomes an invaluable asset.
With five modes of use, the Dynabook Portégé X30W-J is a multi-tasking convertible device for professionals in all industries. The stabilising dual-action hinge allows the work tool to go from traditional laptop to other modes seamlessly.
Laid flat in Tabletop Mode, the horizontal display invites collaboration for those working with teams. For executives in sales who find themselves often having to draw interest through content, the tent-shaped Presentation Mode makes for ease of these showcase opportunities.
Creatives and those who engage in heavy research will enjoy the Portégé X30W-J in its Tablet Mode. On the FHD anti-glare IGZO display reinforced by Corning Gorilla Glass NBT, one can create illustrations as easily as notations on the multi-touch surface, using Dynabook's Active Stylus Pen that writes naturally, thanks to Wacom Feel IT Technologies. And when sharing media with colleagues or just for consumption during a break, the Audience Mode tucks the keyboard away for full focus on the screen.
Past its various physical permutations, the Dynabook Portégé X30W-J supports all input processes with a backlit frameless keyboard with precision touchpad. It's equipped for the new norm of multimedia conferencing, with a narrow-design front-facing HD webcam with dual mic, an 8MP rear camera, and Harman Kardon stereo speakers enhanced with Dolby Atmos Technology – bringing audio clarity and realism to every experience, even with earphones on.
ALWAYS-ON COLLABORATIONS
The last pillar for agility is connectivity. With the user freed of multiple devices, it now becomes necessary for the Dynabook Portégé X30W-J convertible to realise full functionality through ready network support.
Wi-Fi 6 Dual Band Wireless LAN on the notebook ensures high-speed connectivity for the modern professional. And even in its slim profile, you'll find full port capabilities to grant fast data transfers and ready integration. These include two USB 4.0 Type-C Thunderbolt 4 ports, a USB 3.1, HDMI 1.4, and MicroSD slot for convenient storage. And with Instant Wake, responsiveness is boosted by up to 40 per cent.
Offering protection amid unpredictable scenarios, the Portégé X30W-J features security enhancements on both hardware and software fronts. Dynabook embeds all its models with a proprietary in-house BIOS to safeguard the system against cyber attacks with enterprise-grade encryption. Double up on validation security with a fingerprint reader and IR webcam with face authentication, in-built with a webcam shutter for full control of your privacy. Encased in a military-grade, MIL-STD 810G-tested frame, along with an enhanced li-ion polymer battery that allows for up to 16 hours of use3, this is business mobility with true peace of mind.
To find out how Portégé X30W-J can bring your business's mobile productivity plans to the next level, email the Dynabook team at DBS-b2b [at] dynabook.com.

1  Based on 13.3-inch convertible laptops with 11th generation Intel Core processors as of Nov 4, 2020; research conducted by Dynabook.
2  Weight may vary depending on product configuration, vendor components, manufacturing variability and options selected.
3  Battery life rating based on MobileMark 2014 running Windows 10. MobileMark is a trademark of Business Applications Performance Corporation.