A heritage of power, in all its forms
The all-electric Porsche Taycan is the latest in a long line of automobiles that have sought to reshape the future of the sports car.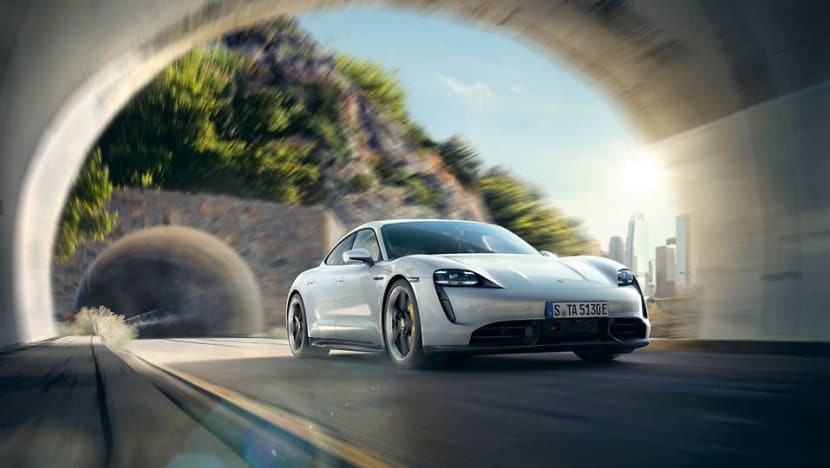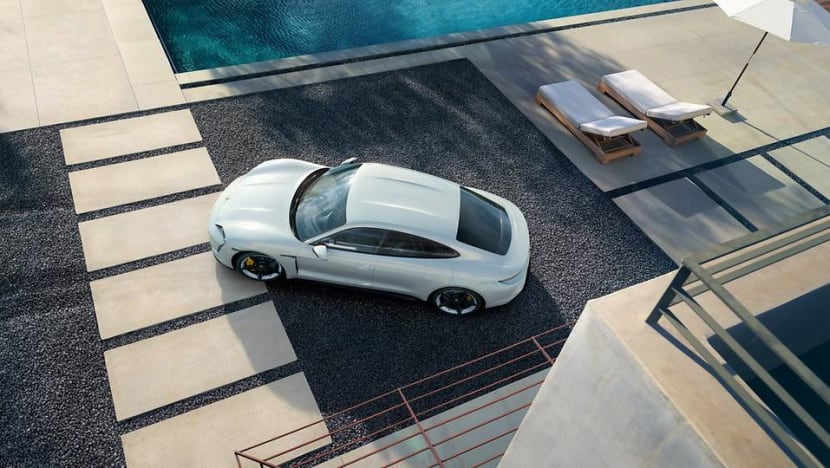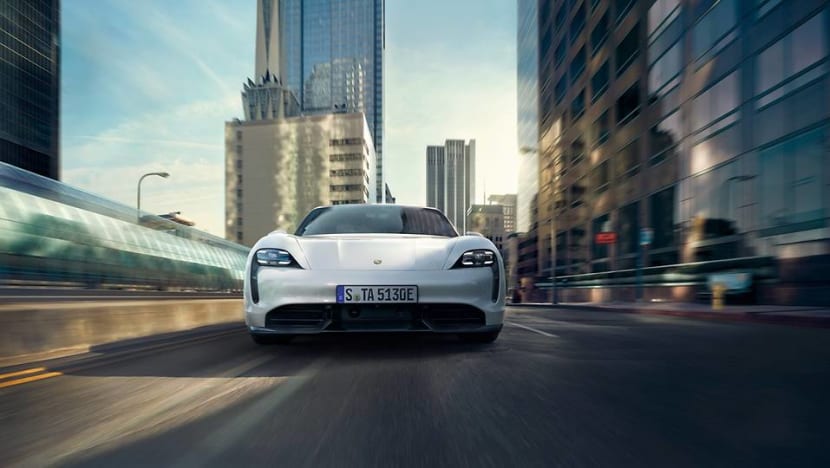 One of the factors behind Porsche's sports car-building success lies in its ability to adapt to the evolving needs of the times.
The Porsche Taycan is the latest example of the German marque's commitment to a world that demands cleaner motoring. While Porsche already has several hybrid models in its range, the all-electric Taycan takes us a step closer to emissions-free driving.
Going electric is by no means a recent development for Porsche, with initiatives in that direction stretching as far back as 1898. Carriage-builder Ludwig Lohner unveiled the Egger-Lohner electric car, which was powered by an electric motor designed by Ferdinand Porsche, who was just 23-years old at the time.
The first car to carry the Porsche brand name, the 356, was first produced in 1948. It was designed by Ferdinand's son, Ferdinand Anton Ernst Porsche, nicknamed Ferry, who carried on his father's propensity for ingenious, innovative design.
With a weight of 585kg and a top speed of 135kmh, the Porsche 356 set new standards for high-quality, low-volume production sports cars that were also reliable enough to be used on the daily commute.
This engineering quality was appreciated by customers who eventually bought the 356 in droves – over 75,000 of all models of the 356 were eventually built. While the first batch of 356s were hand-built in a small garage in Gmund, Austria, demand eventually outgrew this facility and manufacturing was moved to Zuffenhausen, a suburb of Stuttgart, Germany (where today's fully-electric Taycan is now built).
To help increase sales and improve the car, Porsche took the 356 racing. In 1951, the firm made its debut at the 24 Hours of Le Mans, winning the 1.1-litre class with the 356 SL.
Motorsports success – more than 30,000 race wins in various categories over 70 years – has ensured the continuous development of technology under the toughest conditions. For instance, the LMP 1 919 Hybrid won the 24 Hours of Le Mans race from 2015 to 2017, contributing to Porsche's tally of 19 overall wins at this iconic race.
Lessons learnt on the racetrack have been applied to its road cars — and the hybrid technology used in the 919 Hybrid — subsequently inspired cars like the Porsche Taycan.
WITH GREAT POWER …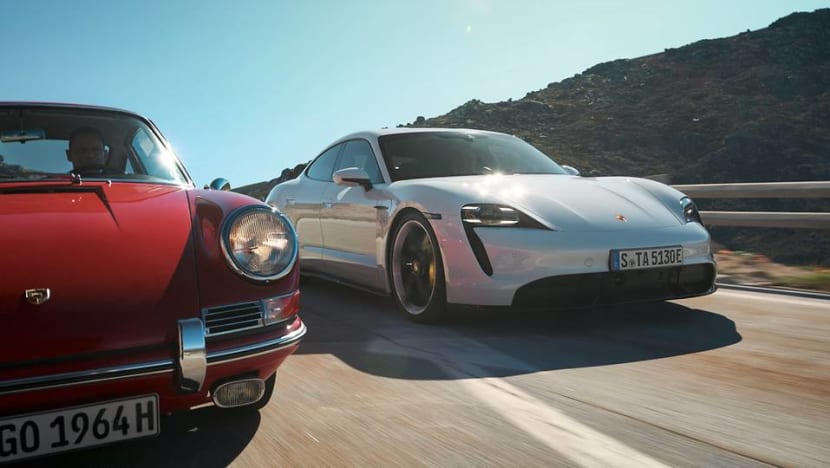 The Porsche Taycan is an all-electric sports sedan that seats four and offers mind-bending performance. The Taycan Turbo S variant for instance, accelerates from a standstill to 100kmh in 2.8 seconds – about the time it took you to read this sentence.
The Porsche Taycan is built on an advanced electric vehicle (EV) architecture and is the only car in production with an 800-volt system. When connected to a suitably-powered high-speed charging point, just five minutes of charging can add 100km of range to its battery.
… COMES GREAT RESPONSIBILITY
The Taycan also has one of the smallest carbon footprints of any car on sale today. Made of materials from sustainable-certified sources, its production in the Zuffenhausen factory powered by renewable energy is carbon-neutral.
Customers have the option to specify interior materials such as sustainably tanned Club Leather OLEA, which uses olive leaves in the tanning process. They can even choose to go leather-free with Race-Tex upholstery. A high-quality microfibre material partially consisting of recycled polyester fibres, its production produces 80 per cent less CO2 than traditional materials.
THE VIEW FROM THE INSIDE
Inside the Taycan lies a driver-focused cockpit where a 16.8-inch curved display takes centre stage. An optional passenger display can also be specified to enable access to navigation and infotainment functions. The rear seat passengers have not been forgotten either, as legroom has been enhanced with special recesses in the underbody battery.
One of the unique experiences of travelling in an EV is the complete absence of engine and exhaust noise. However, those looking for a more emotional drive can choose the optional electric sport sound function, one of numerous customisation options.
SUSTAINED EFFORTS AT SUSTAINABILITY
While building a car that produces zero emissions is a huge undertaking, it is just one small element in the overall scheme of sustainability. Porsche intends for half of its cars sold to have some form of electrification by 2025. Today, its lineup already includes variants like the Cayenne and Panamera E-Hybrid models.
Drivers of non-electrified Porsche models also have the option of making a green difference through the Porsche Impact initiative. This allows customers to offset their CO2 emissions by directly funding certified offsetting projects.
Recently, Porsche announced plans to partner Siemens Energy to develop a plant that will produce carbon-neutral synthetic fuels, also called eFuels. This effort will eventually give owners of classic Porsches the option to continue motoring with a reduced environmental footprint. This is important as, according to the manufacturer's statistics, some 70 per cent of all Porsche vehicles ever built are still on the roads.
A FUTURE UNSEEN
For a company that's always thinking about the future and evolving to meet new opportunities, it's no surprise that the Taycan is not the only iteration of Porsche's vision of the future. This future-first orientation is deeply embedded in Porsche's design process.
A recently published book, Porsche Unseen, showcases previously unrevealed design studies. These include the Porsche 919 Street, a road-legal version of their Le Mans LMP1 race car. Other highlights include the 904 Living Legend, a light, compact two-seat sports car that could have been powered by a 1-litre V-twin motorcycle engine, and the Porsche Vision Renndienst, an electric van concept.
These 'what-if' concepts hint at what could be next from the manufacturer and represent Porsche's 'why-not' approach to engineering and design.
Mr Michael Mauer, head of design, Porsche, reflects on these studies. "When it comes to the visions we develop, it is not about bringing every car onto the road. Instead, it is more a question of establishing creative space and a relationship with the future."
To find out more about how Porsche has long been evolving for the future, visit the Porsche pop-up exhibition at Jewel Changi Airport, Level 2 – Unit 208/209, until Jan 16, or read about the first full-electric Porsche.