Kindling climate change conversations through art and action
ArtScience Museum presents impactful imagery in its new Planet or Plastic? exhibition, alongside a slew of public programmes, to highlight the impact of plastic pollution.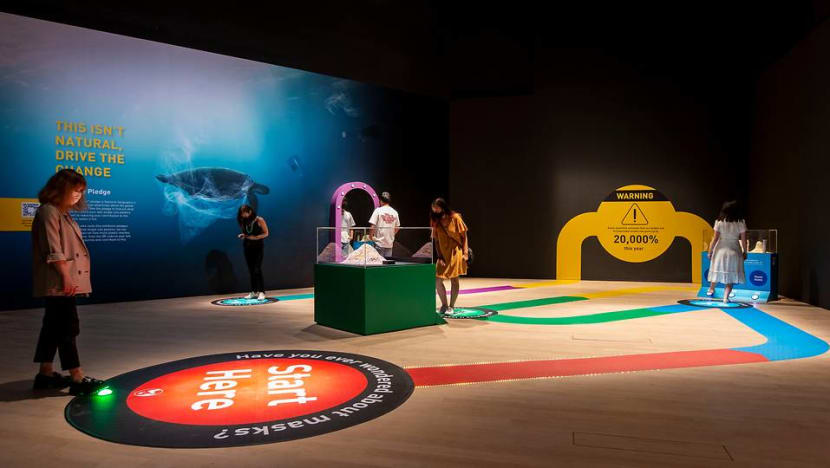 Planet or Plastic?, an exhibition by National Geographic at ArtScience Museum, tells the story of plastic – from its invention just over a century ago to the environmental impact brought about by its mass consumption.
The world currently faces harsh realities amid the COVID-19 pandemic. Among them is the resurgence of single-use plastics all around the world – a marked setback in efforts to ban and reduce its use in recent years.
PLANET OR PLASTIC?
Featuring 70 striking and profound images displayed in six thematic sections, the Planet or Plastic? exhibition puts into perspective the scale of plastic waste pollution across the globe.
The exhibition draws its inspiration and images from the June 2018 issue of National Geographic magazine – the chillingly poignant cover image of a plastic bag partially submerged in water has since gone viral on social media, driving home a sobering message.
Every day in Singapore, more than 2 million plastic bags are taken from local supermarkets, while Thailand, a near neighbour, has entirely banned single-use supermarket plastic bags since the beginning of 2020. 
Amid this contrast, Planet or Plastic? opens at ArtScience Museum at a fitting juncture – the peak of our local single-use plastic consumption in the wake of a global health pandemic.
PICTURING THE SCOPE OF THE PLASTIC CRISIS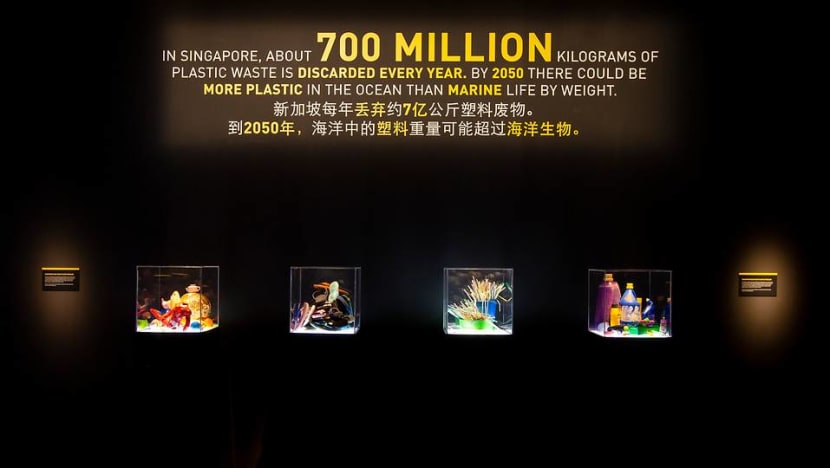 The focus of Planet or Plastic? is to raise awareness of society's dependence on plastic by visually depicting the global plastic waste emergency, and highlighting individuals and organisations working on solutions to this urgent problem.
The exhibition also shines a spotlight on the devastating effect of plastic waste on the world's oceans. The World Economic Forum has predicted that plastic in oceans could outweigh marine life by 2050.
"Plastic pollution is one of the most important global environmental challenges of our generation. But it is an issue that we can all do something about. This exhibition informs us about how we got here, the scope of the problem, and how we can each be a part of the solution," said Ms Kathryn Keane, vice-president of public experiences  at the National Geographic Society.
Within the galleries, ArtScience Museum has created an interactive space encouraging visitors of all ages to reflect on their personal consumption of plastic, including how COVID-19 has created new environmental challenges.
Notably, the interactive space pioneers the museum's new "feet-first" approach to tactile interaction in response to the shift in behaviour brought about by the pandemic. This allows visitors to get "hands-on" with interactive displays – using their feet instead.
PUBLIC PROGRAMMES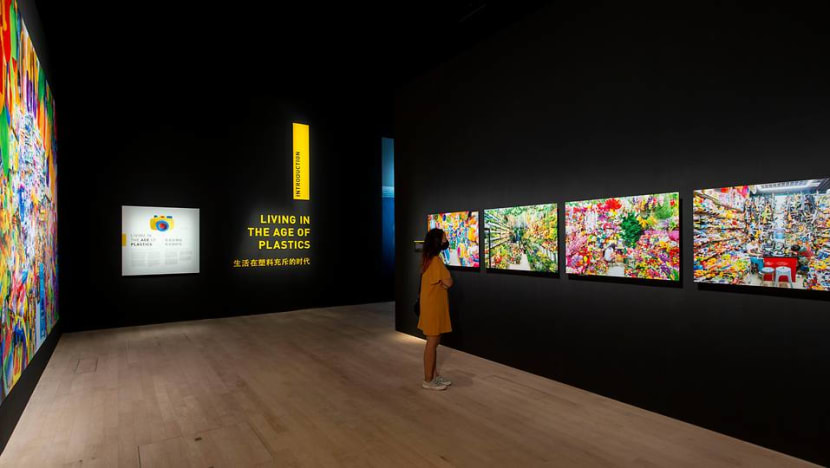 ArtScience Museum has developed a series of programmes – including workshops, online talks and community activities – to complement the powerful messages conveyed by Planet or Plastic?, and to encourage direct engagement with pressing climate issues.
Key highlights include beach clean-up sessions, which will be held in December 2020 and February 2021. The sessions are organised in conjunction with Seven Clean Seas, a local organisation that runs programmes to combat plastic pollution in Southeast Asia. Participants will have the opportunity to band together and help clear Singapore's beautiful beaches of ocean plastic. With limited places available, interested participants are encouraged to pre-book their slots in advance.
Another notable programme is an online talk series, Climate Conversations, which runs in parallel with the exhibition, and brings together climate scientists and ecologists from the region to spotlight some of the most profound stories from the frontlines of conservation and climate innovation.
The opening talk by Ms Cynthia Doumbia, director of international exhibitions at National Geographic Society, shares how this multi-year initiative harnesses storytelling to tackle the global plastic waste crisis and effect meaningful change.
The second talk by Dr Intan Suci Nurhati, senior researcher at the Indonesian Institute of Sciences' Research Center for Oceanography and National Geographic explorer, touches on her recent research on monitoring plastic waste in the environment, and how local actions matter in plastics management.
Upcoming speakers include National Geographic explorer Ms Mandy Barker, Nature Society's president Dr Shawn Lum, and director of NUS' Centre for Nature-based Climate Solutions Professor Lian Pin Koh.
Furthermore, additional family activities and workshops will be announced throughout the run of the exhibition.
TAKE ENVIRONMENTAL ISSUES INTO YOUR OWN HANDS
"Environmental issues such as plastic pollution are important to ArtScience Museum. We believe that if we work together with our visitors, we can take practical actions in our everyday lives that can make a real difference," said Ms Honor Harger, executive director of ArtScience Museum, Marina Bay Sands.
Through the Planet or Plastic? exhibition and public programmes, the stark reality of plastic over-consumption hits home.
However, there is hope yet for a better tomorrow. The exhibition also explores scientific innovation and new technologies that have been employed to combat the global issue.
Individual choices and actions count, too. We are reminded of the power we have to shape our collective future with our own hands (and, sometimes, feet).
Planet or Plastic? at ArtScience Museum runs till March 28, with tickets available for purchase online and at the box office. Until Nov 20, museum goers can opt for a special entry package to Future World and Planet or Plastic? at S$22 (usual price: S$27).