SG COVID Diaries: COVID-19 diaries: A nurse fighting on the frontlines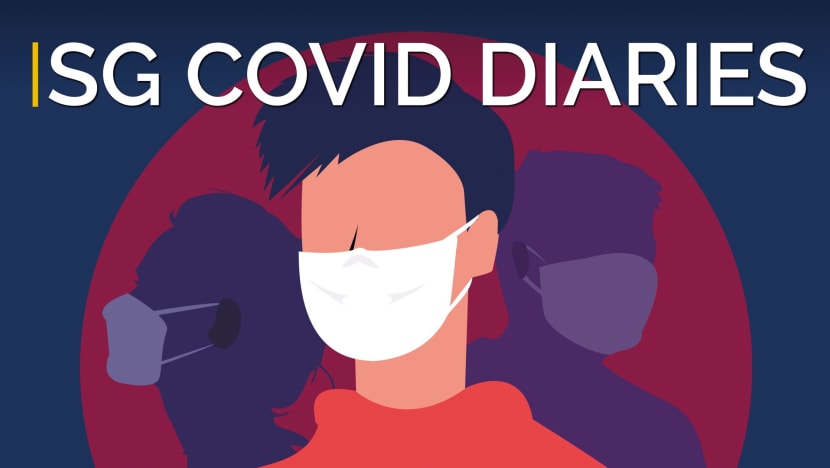 20 May 2020 08:55AM
In this episode: Samuel Soon, a senior staff nurse at Tan Tock Seng Hospital reflects on being a healthcare professional, his fears of infecting his family and what COVID-19 has taught him.
COVID-19 has affected not just the big things like our economy, but also the day-to-day things like where we work, how we learn, and whether we are free to meet and mingle. SG COVID Diaries is a special capsule series that aims to capture a small slice of the lives of people living through these extraordinary times.
Narration: Grace Yeoh
Audio Editing: Yeow Shen Ling
Producer: Crispina Robert
Full Transcript: (Transcript has been edited for clarity)
Samuel Soon, Staff Nurse, Tan Tock Seng Hospital
"Hi, my name is Samuel. I am a senior staff nurse at Tan Tock Seng Hospital. I have worked here for the past five, going on six years. I work in the cardio-respiration ward and I look after people who have heart and lung diseases on a daily basis. So people come in with heart failure, pneumonia, chronic obstructive pulmonary disease, just to name a few.
I graduated from NUS, at the Alice Lee Center for Nursing Studies. Male nurses are getting more common now. I was interested in healthcare and wanted to do something very general. So nursing was one of the options.
I actually feel that there's no typical day for nurses because our working environment is very dynamic and can change in an instant. For example, a patient can be stable in one moment and deteriorate the next, so there's no fixed routine or a regularity to our shifts. Every week is different.
When Dorson Orange happened
When Dorson Orange was announced, it was like whoa, okay. So that was when all the new infection control measures and policies were rolled out, almost on a daily basis in the hospital. All nurses are trained in basic infection control measures, but what COVID-19 brought was new processes that were implemented, like additional measures; how we put on extra protective equipment and how to even take it off properly so that you do not let the potential contaminants touch your supposedly clean clothes.
The situation was also evolving. So the protocols were also changing on quite a frequent basis. And so we had to go for training drills to familiarise ourselves with these new processes.
Personally, I do not wear the PPE (Personal Protective Equipment) for an extended period of time. This is the full protective equipment like the N95 mask with the goggles and the visor, shower cap, gloves and gown. But when I do, even for 15 minutes, I can really feel my face start to feel the pressure and the pain.
But it has to be very tight, the seal has to be tight to be effective. I can't imagine those nurses and doctors or healthcare workers who wear it for extended periods of time. I think they can even wear it for up to two hours straight and that can be pretty uncomfortable. But it does protect us and it gives us a psychological advantage to know that we are protected against the virus with this equipment on.
Worried of bringing the virus home
Prior to COVID-19 I was already really careful with regards to my family, like once I reach home, I will automatically take a shower before touching anything, or hugging my child or my wife. After COVID, I will take a shower before going back home, in the hospital. I will also wipe down all my equipment, personal belongings like pens or handphone, I will use alcohol wipes and clean them.
And then when I get home I will take another shower before touching anything or hugging my family. My child is three years old and my wife is also expecting a second child, she's due in the next few weeks.  So yeah, the thought of bringing home the virus to them was quite a real fear in the beginning stages.
I brought up that fear and my concerns to the management and it escalated all the way to the chief nurse. So he was very helpful and kind enough to come down to have a personal chat with us to allay our concerns and to explain why things are done in such a way, what's the protocol in place to protect the staff.  And yeah, that reassured me that the hospital has safety of their staff as one of their top priorities during this COVID season.
Lessons I learnt
I'm still currently deployed to a high dependency unit. I've been there for about a month now. I definitely felt a bit out of place at first. It was a steep learning curve, the things that they did there were different from the general wards.
Patients are more acutely ill and unstable.  So on my part I had to adjust to many different things and different working styles. And so it was stepping out of my comfort zone. But it was definitely a very fruitful experience. I was initially very overwhelmed but also excited to be able to learn more about nursing and different patients, and to skill up to become trained and to be able to work in a high dependency unit.
It was definitely a very eye opening experience in a very unique circumstance, one that I might not have a chance to do during normal peace time. As for my profession, I feel that I'm really proud to be a nurse. I can see that nursing is a truly essential service for society.
As for life and death, I think what I learnt is that we really are not in control of quite a lot of things and COVID is one example of something we are not in control of.  
To my fellow healthcare workers: Keep up the good fight. I mean, we hope to defeat it, I think we will defeat it one day, it is just a matter of time. And we need to continue to press on. I hope the nursing profession can be pushed to greater heights, as people see how important nursing is in society."