Local polytechnic students score in global ICT competition with eldercare, climate change solutions
Teams from Singapore clinch the top two spots at the Huawei ICT Competition 2020.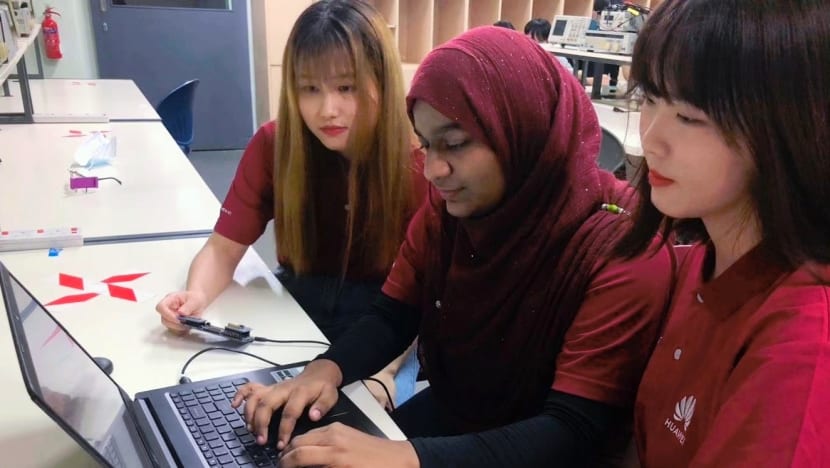 Like many countries, Singapore is experiencing a growth in the number and proportion of older persons in its population. And the needs of this particularly vulnerable demographic are at risk of being neglected, especially in the face of a highly urbanised environment that is relentlessly fast-paced.
An all-female team from Singapore Polytechnic found it crucial to address these needs, and their innovative project aimed at helping the elderly has clinched the grand prize at the Huawei ICT Competition 2020. The team also made history by marking the first time Singapore has claimed top spot in the competition, among 109 finalist teams from 39 countries.
Through the competition, the girls and two other winning groups from their school and Temasek Polytechnic answered the call to leverage Huawei Cloud's technologies to solve pressing global and social needs.
BORN FROM A CAFE
The idea for the winning team's project – Forever-Smart Glasses – came from a surprising source: A Chinese reality series, Forget Me Not Cafe, that depicts the experiences of five elderly folks with dementia who work at a cafe. The show illustrates the challenges of people with cognitive disorders, and aims to break the stigma associated with the condition. Moved by the premise, the girls were inspired to investigate further.  
"During our research, we discovered that there are many wonderful AIoT (Artificial Intelligence of Things) products designed to improve people's quality of life," said team leader Fang Qian, 20. "However, these products are not targeted at the elderly."
Together with team mates Nashita Fatima and Chen Zihan, the trio also discovered that existing products in the market are aimed at easing life's difficulties, but not at improving relationships for people with dementia and their loved ones.
The girls tapped into Huawei Cloud's AI solutions and integrated it with Raspberry Pi computers to design smart glasses that help dementia users to recognise family members. The team also created a complementary app powered by Huawei Cloud. With an integrated GPS tracking system, the app – called Your Helper – can enable family members to locate their elderly member and receive alerts when he or she is lost.
For their thoughtful project, the group won not only the grand prize at the global competition, but also walked away with a TECH4ALL Social Contribution Award.
A SPEEDY RESPONSE TO FALLS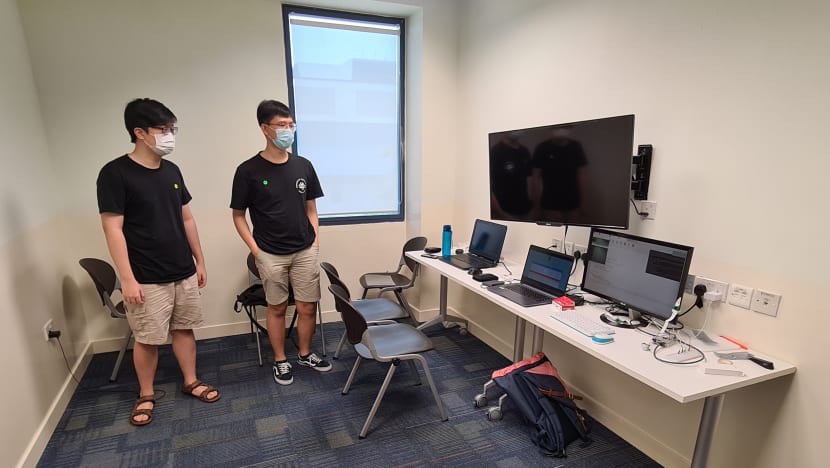 Also with an eye out for the elderly, Temasek Polytechnic's team of Mr Andrew Tan Yong Jun, Mr Wong Yao Hui and Mr Caleb Lee won second prize with their fall-alert system.
Listing falls as the second leading cause for unintentional deaths in this vulnerable group, the boys tapped into Huawei Cloud's functions, including its object storage service, data ingestion service and AI development platform ModelArts, to create a monitoring system that can notify care workers or family members when their elderly falls.
"Shortening response times to falls is critical as it can save lives and minimise serious injury to the elderly," said Mr Wong, 19. "The essence of our system is the predictive model powered by Huawei."
This system can also be integrated into existing CCTVs, which saves resources.
MITIGATING CLIMATE CHANGE DISASTERS
A team from Singapore Polytechnic also came in second in the competition. They chose to target another problem – disasters borne from the effects of climate change.
With their Intelligent Wildfire Mitigation System, Mr Cheong Wai Khin, Mr Khor Kah Seng and Mr Tan Xin Ying introduced a nimble and scalable solution to detect forest fires and provide fire spread rate estimations in order to limit impact. 
Citing environmental damage, human health risks and economic loss as some of the reasons why wildfires need to be curbed, the team designed a server-less system architecture on Huawei Cloud, along with its AI and IoT solutions to create a wireless data network. 
INSTILLING A MINDSET FOR TECH SOLUTIONS
Now in its fifth edition, the Huawei ICT Competition 2020 is an international competition designed for tertiary students to inspire innovation by challenging their knowledge of ICT. The event attracted nearly 150,000 students from more than 2,000 colleges and universities in over 82 countries.
"We are thrilled with the creativity and the inclusive heart of young Singapore talents, and proud to help these seeds of future ascend to the top of the world," said Mr Nicholas Ma, chief executive officer of Huawei International. 
Said Mr Ma: "As we accelerate into a digitalised post-pandemic world, it has never been so important to nurture our young talents who have a sustainable, inclusive mindset. The Huawei ICT Competition showcased our continuous efforts to upskill and groom the local talent ecosystem to become more digitally inclusive."
Huawei's efforts in Singapore have paved the way for another ongoing global project, Seeds for the Future. In collaboration with the Infocomm Media Development Authority in Singapore, it sends young people from around the world for ICT-related training in China – developing talent and bridging communication between countries and cultures. Since its inception in 2008, the training programme has seen participation from 5,770 selected people from 126 countries and regions.
Mr Ma added: "We will continue to work with our local partners and institutions of higher learning to create a healthy ICT talent ecosystem by building talent alliances and communicating the value of talent to ensure that we work towards becoming a Smart Nation together."