Make no bones about it: Caregivers play a role in preventing the first fracture
A new Singapore study highlights the need to involve caregivers in preventing falls and maintaining healthy bones in old age.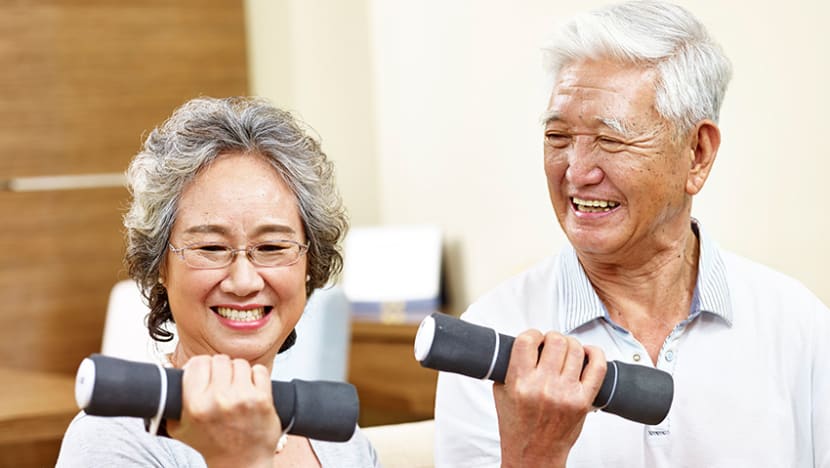 In older adults, a hip fracture is more than just an uncomfortable inconvenience. Fractures induced by osteoporosis can affect independent living and reduce the quality of life. They can cause pain, difficulty walking or breathing, having to eat with a hunched back, and even lead to death.
According to the Health Promotion Board, studies have shown that one in every five people with osteoporotic hip fractures die within a year of sustaining a hip fracture. 
Osteoporosis is a condition in which low bone mass and poor bone quality predispose a person to fragility fractures. These are fractures occurring with minimal trauma, such as falling from a standing height, and would not have happened if the person had fallen in a similar way at a younger age. Osteoporosis can be diagnosed when there is a low bone mineral density using a DXA (dual-energy X-ray absorptiometry) scan of the spine and hip, at or below 2.5 standard deviations that of a young woman.
Most seniors are unaware that they have osteoporosis as it is often diagnosed after one sustains a fracture. Dubbed the silent disease, it has no obvious symptoms in the early stages, causing many to neglect their bone health.
Dr Chionh Siok Bee, who chairs the Falls Prevention Workgroup at National University Health System and is the president of the Osteoporosis Society (Singapore), said: "Bone health is something that is often neglected as many Singaporeans believe fractures are part and parcel of ageing, and do not understand that they can be prevented with a good diet, exercise, fall prevention and medication."
A 'TSUNAMI OF FRACTURES' IN THE NEAR FUTURE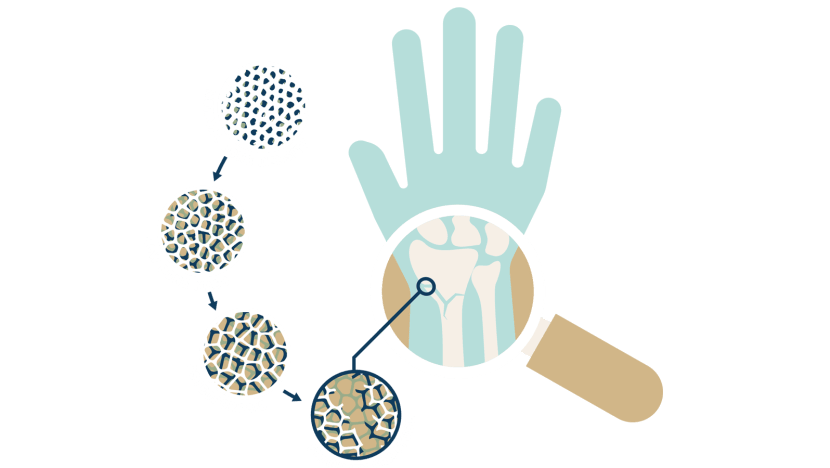 Dr Chionh shared that an average of 2,500 hip fractures occur annually in Singapore.
"A recent NUS study projected that disability rates will increase five times in 40 years and that the number of older adults living alone will increase four times by 2060. Hip fracture admissions have increased to 2,729 fractures per year in 2017 from 1,487 cases in 2000," she said.
Highlighting the fact that baby boomers are now between the ages of 54 and 74, Dr Chionh warned: "There will be a tsunami of fractures in the coming years if nothing is done."
Recognising that more needs to be done to manage bone health in an ageing population, Singapore researchers conducted a new study to gain insights into the issue. 
Titled Sense-making Public Perceptions of Falls, Bone Health, and Caregiving, the study leveraged a 10-billion-word online media dataset analysed using artificial intelligence (AI) and interviews to explore perceptions around bone health, serious falls and caregiving. It also advocates for more societal conversations and stronger support for caregivers. 
The study is a joint partnership by the Lee Kuan Yew School of Public Policy and Amgen Biotechnology Singapore.
GETTING CAREGIVERS INVOLVED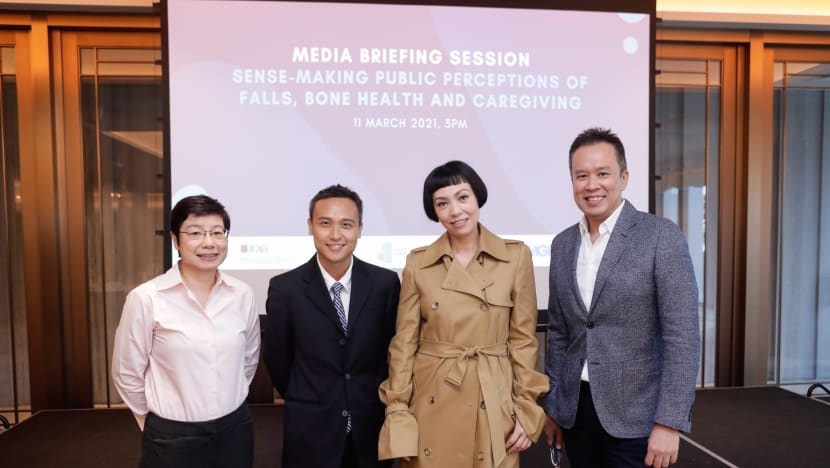 Beyond efforts to reach out to older adults, principal investigator of the study Dr Reuben Ng from the Lee Kuan Yew School of Public Policy said caregivers – including teenage grandchildren, working adults and foreign domestic workers – can encourage older adults to be more proactive about their bone health.
The study found that 61 per cent of older adults are aware of falls prevention activities, yet, less than 1 in 10 actually participate in these programmes.  
On why older adults may be hesitant in taking the first steps towards maintaining bone health, Dr Ng said bone health messaging in Singapore tends to be overly medicalised and take on a negative tone.
Said Dr Ng: "A medicalised narrative of bone health increases ageism by giving the false impression that decline is inevitable. Ageism is deep-seated and paralyses action. Given the alarming increase of ageism during COVID-19, there is an urgent need to delink osteoporosis from bone health and promote the importance of falls prevention education for healthy longevity."  
Other reasons for the awareness-participation gap, Dr Ng added, may be due to an increase in seniors living alone.
"A nudge from family caregivers may provide the much-needed motivation to participate," he said. "Beyond efforts to reach out to older adults, we could reach out to caregivers who are from diverse backgrounds: Teenage grandchildren, working adults and foreign domestic workers. Use a targeted approach across multiple channels: TikTok videos for teenage grandchildren, and multi-lingual campaigns in Bahasa and Tagalog.  A one-size-fits-all approach is ineffective. We need targeted messaging through different channels to reach different audiences."
Dr Chionh agreed that caregivers are well-placed to help bridge the knowledge gap with their loved ones and ensure they take the necessary precautions or actions to prevent fragility fractures.
"Informal caregivers – such as spouses and children – who interact the most with older people on a day-to-day basis play an important role in their physical and mental well-being," she shared.
WHAT KEEPS BONES HEALTHY
It is never too early to start building healthy bones.
Dr Chionh said: "Caregivers who are parents should encourage a bone-healthy lifestyle in their children right from the start. This will give the children a chance to build up a high peak bone mass by their late 20s and early 30s."
Under the auspices of the Women's Health Committee, the Osteoporosis Society (Singapore) is collaborating with the Health Promotion Board to start educating schoolchildren and their parents on the importance of a bone-healthy lifestyle from young.
Dr Chionh added: "Maintaining a bone-healthy lifestyle even in older age will reduce the slope of bone loss that occurs from the late 30s onwards, which accelerates just before to just after menopause, or around age 50, and this helps individuals avoid reaching the fracture threshold as well. In addition, it helps prevent diseases such as diabetes, hypertension, high blood cholesterol and cardiovascular disease."
Emphasising the importance of a good diet high in calcium, Vitamin D and adequate protein, Dr Chionh shared that bones and muscles, which are important in keeping patients from falling, are living tissues, different parts of which get worn out and replaced in a constant renewal process.
Older people need more protein per kilogram of weight than young adults, especially from healthier sources like fish, chicken without skin, egg whites, bean curd, lentils, and other plant-based proteins.
According to Dr Chionh, certain exercises can build and maintain bone mass and muscles and prevent falls.
They include weight-bearing cardio exercises that get the heart pumping (such as walking, dancing or climbing stairs), resistance or strength exercises (squats using free weights or exercise bands) and balance exercises (tai chi, some forms of yoga, Otago exercises and even just standing on one foot).
However, those with fractures who are at high risk of falls or heart disease are advised to speak to their doctor before embarking on any exercise programme.
Dr Ng also stressed the importance of being aware of one's risk factors.
"For example, the transition from short-sightedness to long-sightedness could increase one's risk of falls. Accepting one's ageing transitions and being mindful of one's surroundings go a long way in decreasing risk of serious falls," he said.
There are ways to improve safety at home to reduce the risk of falls. Tips from HealthHub include removing loose floor rugs or using non-slip mats, coiling or taping cords and wires next to the wall and keeping floors free of clutter. Installing grab bars in the bathrooms and ensuring that entrances, stairways and rooms are well-lit are also helpful.
SUPPORTING AND EMPOWERING CAREGIVERS
According to the study by Lee Kuan Yew School of Public Policy and Amgen Biotechnology Singapore, caregivers of osteoporotic elderly may lack adequate support.
AI-powered analysis of the 10-billion-word platform found that caregiving struggles do not receive as much coverage in the media compared to other topics such as technology and cars. Dr Ng pointed out that even bubble tea had two times more coverage than caregivers. Even in stories on caregiving, 90 per cent of the content focused on hard topics like available subsidies and schemes, rather than soft topics such as the silent struggles of caring, including the physical and mental health strain.
To better support caregivers, Dr Ng shared that there are plans to build an online hub for informal and family caregivers to integrate fragmented information across different platforms. A Caregiver Resilience Toolkit is also in the pipeline to help caregivers cope with the physical and psychological demands of caring for older adults.
If you are a caregiver, have a conversation with your loved ones today to take action and prevent fractures with better bone health management. Learn more about osteoporosis and available support at FighttheFracture.sg.  
More information about bone-building exercises can be found in this brochure on the website of the Osteoporosis Society (Singapore).