Masterful coffee at the touch of a button
Nespresso is redefining the coffee experience with a revolutionary brewing system that encompasses quality and versatility. Meet the new Vertuo.
Many of life's moments are often accompanied by one's favourite cup of joe. From enjoying a leisurely brunch with a loved one to working remotely at the neighbourhood cafe, coffee is always a great companion for such occasions in life. Perhaps the nuances of everyday living are best mirrored in the complex notes in every cup of coffee.
Now, imagine being able to re-create and experience these delicate and flavourful aromas from the convenience of your own home.
You can do that, and more, with the new Nespresso Vertuo range of coffee machines and capsules. Vertuo is a revolutionary system that leverages innovative technology to make freshly brewed coffee in large sizes to an authentic espresso with a rich, generous crema.
Vertuo has its origin in the word "virtuoso", which means mastering an expertise. In this case, it underpins Nespresso's mastery of offering high-quality coffee to java lovers at any time, allowing you to prep that perfect brew like a skilled barista.
CUTTING-EDGE BREWS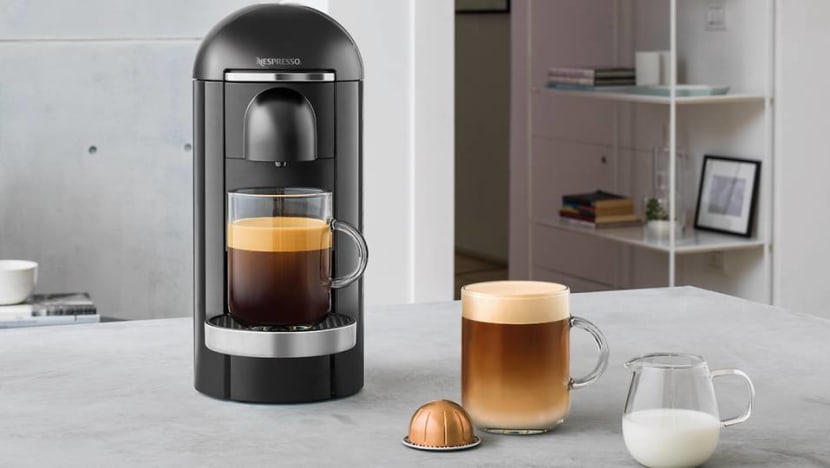 Vertuo is designed to take every cup of coffee to the next level, and this is clearly demonstrated in the cutting-edge brewing process.
The key to unlocking a great brew lies in its innovative extraction system that uses Centrifusion technology. By spinning the capsules up to 7,000 rotations per minute, the system rotates the coffee grounds with water at high speed – a first-of-its-kind method of extracting coffee from fresh coffee grounds.
The result? A full-bodied coffee with silky and luscious crema, even in larger cup sizes.
Make no mistake – the advanced technology does not result in an appliance that's difficult to use. On the contrary, Vertuo is intuitive and simple to navigate.
ONE-TOUCH SMART COFFEE
A unique feature of the Vertuo system is that it uses the barcodes located on each Vertuo coffee capsule to identify the type of coffee being prepared.
At a touch of a button, the machine scans and recognises each coffee blend – automatically adjusting brewing parameters such as the amount of water, length of infusion, the temperature, the speed of the rotation and the flow rate – to prepare each blend and cup size in the most optimal way.
This convenient one-touch intelligent system is in a league of its own – seamlessly recognising how to extract every last drop of flavour from your favourite blend. By automating this end-to-end process, Vertuo makes it effortless for users to brew a perfect cup any time of day.
A BLEND FOR EVERY MOOD
With variety being the spice of life, Nespresso Vertuo's coffee range boasts an impressive array of flavours. The expansive range of capsules includes 27 unique blends, each selected to suit coffee preferences at different times of the day.
The capsules also come in a range of sizes to suit varying preferences. Of the 27 new capsules, the largest size Alto (414ml) offers a delicate, aromatic taste that is best enjoyed in a longer cup – ideal for those who appreciate having an upsized coffee companion throughout the day. Meanwhile, the Mug size (230ml) lends a well-balanced body and bouquet of gentle aromas, and is a constant staple at breakfast tables.
Moving down the scale, the Gran Lungo (150ml) yields the prolonged pleasure of an espresso with a more subtle aftertaste, while the Double Espresso (80ml) and Espresso blends (40ml) bring with them an intense flavour profile.
As with all Nespresso coffees, quality is never a question. Hand-picked coffee cherries mark the beginning of the journey from farm to cup. Thereafter, master craftsmen blend, roast and grind the carefully sourced green coffee beans to unveil the full spectrum of taste and aromas. The quality of both the coffee beans and the finished product are ensured by coffee experts who conduct more than 70 quality checks.
MAKING YOUR CUPPA THAT MUCH GREENER
With coffee being one of the gifts of earth, it's only natural that Nespresso has kept in mind how to create great, sustainable coffee while minimising waste.
Vertuo's precision-consumption system uses only the exact amount of coffee grounds, water and energy needed to brew a single cup. In addition, all Vertuo coffee capsules can be recycled in Singapore through Nespresso's local recycling programme.
You'd be surprised how far these recycled capsules can go – used coffee grounds find a second lease of life as compost at local organic farms such as Sky Greens, while aluminium casings are melted down and used to make various new objects such as bicycle frames and coasters.
From each thoughtfully crafted capsule to the impeccable brewing process, coffee connoisseurs can count on Vertuo as one journeys through life, one cup of coffee at a time.
The latest range of Nespresso Vertuo coffee machines and capsules are available for sale online and at all Nespresso boutiques (ION Orchard, Vivocity, Raffles City, Takashimaya and pop-up shops at Tampines Mall, Compass One and Plaza Singapura).