Reigniting his graphic design career with UX
Graphic designer Dominic Neo completed an immersive course in user experience (UX) design to take his skills to the next level.
A full-screen video that features the company's smart locks and lock boxes plays in the background while a prominent button in the foreground reads: Buy now. The website is not just aesthetically pleasing; it is functional, easy to navigate and appealing – critical factors for business success in a world where people are going online shopping in droves.
It's partly the result of Mr Dominic Neo's work. The 28-year-old is a web developer at igloocompany – a Singapore-based company that makes smart locks and lock boxes – and he had a hand in creating the website using the user experience or UX principles he learnt during a 10-week immersive training course in mid-2019.
As a UX-trained professional, Mr Neo provides relevant feedback on technicality and aesthetics to the creative team that helps design the company's web pages. "Occasionally I design things myself if needed, such as when something needs to be built quickly," he shared.
UX is arguably one of the most important themes in the design world today. It is about providing meaningful and relevant experiences to users and today, it often relates to online design, such as learning about new software to design websites and mobile apps.
Mr Neo's path to UX design, however, was not the one he first ventured on.
JOURNEY TO THE WEB
While Mr Neo graduated with a degree in psychology and communication from SIM-University at Buffalo in 2017, he had always been interested in graphic design. He first picked up graphic design skills from his father in secondary school, and continued working in graphic design as a sideline even when he was studying.
Along the way, from posters to publications and infographics, he started getting requests to design websites. That was when he realised he needed to boost his hard skills.
Why UX? Mr Neo explained: "My interest in UX grew when I was asking myself how my designs could be better, or how I could design with more than just aesthetics in mind.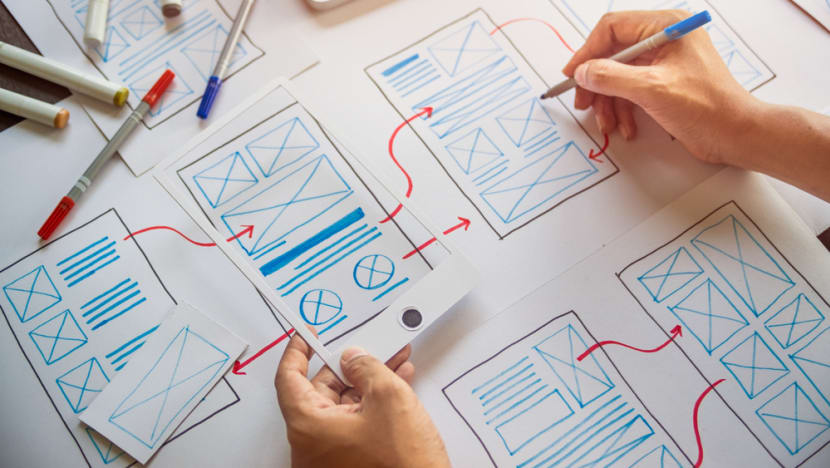 "In graphic design, we often debate seemingly trivial things like whether the button should be placed on the left or right, but UX design eventually taught me that while there are guidelines to how things should be designed, it is generally your users' behaviour that dictates how you should do it."
He also felt that elements of the psychology and communication course he studied resonated in UX: "Psychology and Communication is more theoretical, while UX Design is more practical. Think of it like applied psychology and communication in the field of design."
Mr Neo decided to go for the User Experience Design Immersive course offered by General Assembly, under the Infocomm Media Development Authority's (IMDA) Tech Immersion and Placement Programme (TIPP). The programme falls under the TechSkills Accelerator (TeSA) initiative that helps companies tap into a pool of job-ready individuals who have undergone immersive training courses, mentorship and coaching programmes.
Said Mr Neo: "I felt that I could reinforce what I learned from the course with my Bachelor's in Psychology and Communication, and this would give me an added edge when looking for a job as well."
THE TIPP EXPERIENCE
During the course, Mr Neo had to attend classes from 9am to 5pm at the General Assembly campus. The intensive hands-on experience meant he had to work on five projects, including a final project where he worked in a group to deliver a finished product to an actual client. The challenges included tight timelines, a high bar to pass the modules, and instructors who hold students to high standards.
"The instructor had to ensure that we had the skills to beat when we applied for jobs after the course," he said. 
Mr Neo is still in touch with many of his course mates. Besides meeting up for food and rock climbing, they still attend online talks on UX together.
These days, Mr Neo works with another colleague at igloocompany to ensure that the web designs are properly coded. He shared: "I'm now able to develop solutions for myself. In the past, I'd have to search online for existing ones that may or may not fit my needs well.
"The pandemic has emphasised the fact that being good with technology benefits individuals and businesses alike. To survive, many businesses had to seek out online solutions to convert themselves from an almost zero reliance on technology to have it become an integral part of their operations. That's why I think it's ever-important to embrace technology and grow with it."
The Tech Immersion and Placement Programme under IMDA's TechSkills Accelerator initiative is for non-tech professionals looking to switch to a new career in tech. Trainees go through intensive tech training courses and are required to find placements in tech job roles, or join or build a tech startup.
Find out more and sign up for the courses supported under the Tech Immersion and Placement Programme.