Sibling sleuthing: New Singapore short film hams up supermarket espionage
Three daughters seek the secret to mum's cooking in this comedic short from the Ministry of Sustainability and the Environment.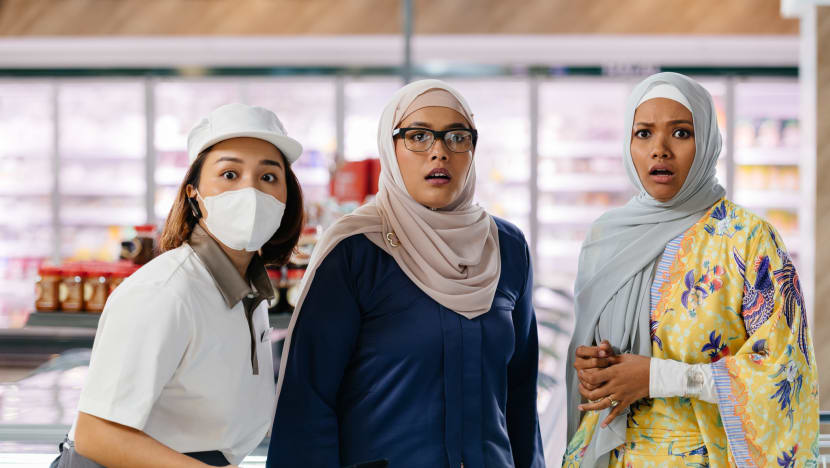 Climate change and recent supply disruptions during the pandemic have shown that Singapore's reliance on food imports bears relooking into, and a new focus on local producers requires the entire country's support.
Giving this initiative a cheeky spin is the new video from the Ministry of Sustainability and the Environment (MSE). Featuring three sisters who stake out their local supermarket to spy on their mother's shopping, the short film – titled Trace Mak Together – is a romp filled with good intentions and humorous results.
More importantly, it reveals that the secret to mum's delicious cooking lies in its very local core.
Safe management measures were observed in the filming of this video. Video: MSE
A SURPRISE FOR MOTHER
Trace Mak Together is a collaboration between the MSE's digital and visual communications team and OHBOY! Pictures, and follows siblings Jamaliah, Sabrina and Hafizah as they go undercover to identify the ingredients in their mum's shopping to recreate her recipes as a surprise.
The bumbling trio picks up a variety of vegetables, eggs and fish, but they soon realise their gadgets and disguises are no match for their mum's fleet-footed shopping.
Even as the mission teeters, viewers won't miss dear makcik's secret in the short film. Her selections are all marked by the bright red SG Fresh Produce logo – an indicator that the items are grown in Singapore.
Mdm Zaliha Abdul Hamid, who plays the savvy shopper in the film, finds herself agreeing wholeheartedly with her character's logic. "I want the best produce so that a healthy, comfortable and fresh world can be given to our grandchildren and great-grandchildren," the veteran actress shared, expressing how buying local means fresher ingredients, too.
FOR ALL THE RIGHT REASONS
Good intentions go a long way, and even in the face of hiccups, the sisters show us that it is worth going the extra mile for the things that matter.
The COVID-19 pandemic has demonstrated just how precarious Singapore's situation is when it comes to food security. With more than 90 per cent of Singapore's current food sourced from overseas, MSE is targeting the broad issue of food security with three approaches.
On top of diversifying import sources and supporting Singapore-owned growers overseas, the agency is hoping Singaporeans can support local farmers by choosing their produce.
The Singapore Food Agency (SFA) has marked these items with a red SG Fresh Produce logo sticker on their packaging. The items are available at all major supermarkets and some online retailers.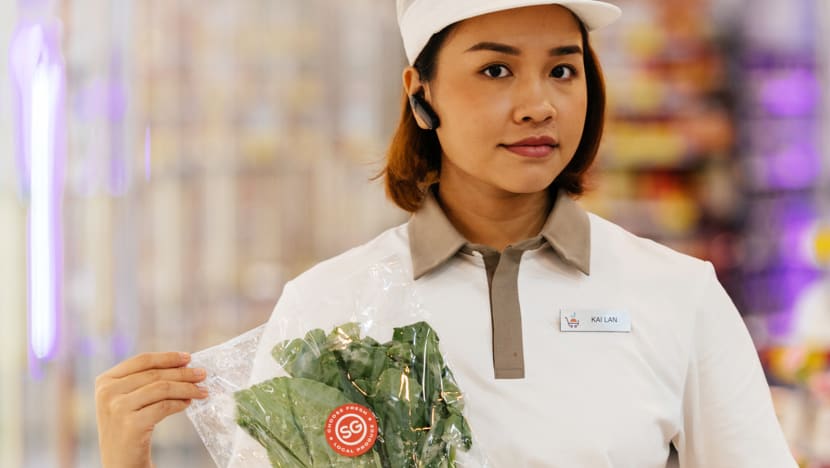 By selecting produce from local farmers, one can expect fresher and safer products harvested and packed to the best industry standards. It also signals to producers and authorities that a sustainable local agri-food ecosystem is welcome.
The initiative is in line with the Resilient Future pillar under the Singapore Green Plan, where the goal is "30 by 30" – to meet 30 per cent of Singapore's nutritional needs with locally produced food by 2030.
"In time to come, we will not need to worry about food items being out of stock as we don't need to depend on overseas imports as much," explained Ms Nadiah Mohammad, who plays Sabrina. "Having locally grown food also helps us develop a sense of belonging!"
A SUSTAINABLE FUTURE FOR ALL
While buying locally grown produce with the SG Fresh Produce logo is a personal choice, the impact can be felt on a national level.
Singapore's existing land farms only occupy 2 sq km, or about 1 per cent of its land. For fish farming, only 1 sq km of sea space has been allotted. However, producers like Singapore Aquaculture Technologies (SAT) and Seng Choon have reaped astounding results using technology.
Seng Choon produces 625,000 eggs daily but has a lean workforce of only 100 workers while SAT employs cutting-edge technology to nurture its haul of Asian seabass and red snapper. This demonstrates the potential of local farmers to harness innovation to maximise production.
Public agencies like NParks as well as enterprising start-ups like Edible Garden City are also spreading agricultural appreciation through their efforts in residential and urban gardening respectively.
With a better understanding of the cultivation process, the importance of buying local produce is made more obvious. It reduces carbon footprint and results in fresher produce and better control over Singapore's food supply, as well as reduces spoilage and wastage. These all add up significantly to a more sustainable Singapore, as the country moves to achieve the targets set under the Singapore Green Plan.
All you need to do – like the makcik in Trace Mak Together – is to look out for and choose groceries with that bright red sticker.
Learn more about the Singapore Green Plan 2030.