19 new locally transmitted COVID-19 cases in Singapore; KTV lounge cluster grows to 12 infections
SINGAPORE: Singapore reported 19 new locally transmitted COVID-19 infections as of noon on Tuesday (Jul 13), of which eight belong to an emerging KTV lounge cluster.
The KTV lounge cluster now stands at 12 infections, MOH said in its nightly update.
Of the new locally transmitted infections, five were linked to previous cases and were already quarantined, while 10 were linked to previous cases and were detected through surveillance.
Four cases are currently unlinked, the Ministry of Health (MOH) said in its daily update. MOH did not provide further information on the locally transmitted cases. 
This is the highest number of locally transmitted cases since Jun 17, when 20 infections were reported. 
There were also seven new imported cases who had all been placed on stay-home notice or isolated upon arrival.
Among the imported cases, five were detected upon arrival in Singapore, while two developed the illness during their isolation period.
In total, Singapore reported 26 new COVID-19 cases on Tuesday.
LIKELY ONGOING COVID-19 TRANSMISSION AT 3 KTV LOUNGES, CLUBS
A total of 12 cases have been linked to KTV lounges or clubs, forming a cluster. Of these, eight were added to the cluster on Tuesday. 
MOH said epidemiological investigations have found that there is likely ongoing COVID-19 transmission at Club Dolce (Balestier Point), WU Bistro (Golden Mile Complex) and Club De Zara (Textile Centre).  
This discovery was made as part of investigations into cases of COVID-19 infection among Vietnamese social hostesses who frequented KTV lounges or clubs currently operating as food and beverage outlets.
To break any potential chain of transmission and enable deep cleaning, MOH said these premises have been closed to all members of the public starting Jul 13 to Jul 27. 
Special testing operations will also be conducted for all staff members of WU Bistro and Club De Zara. 
Free testing will also be extended to members of the public who visited WU Bistro or Club De Zara between Jun 29 and Jul 13.
Those who visited similar KTV lounges or clubs operating as F&B outlets or interacted with Vietnamese social hostesses in any setting between Jun 29 and Jul 13 also qualify for free COVID-19 testing.
INCREASE IN NEW COMMUNITY CASES
The health ministry said the number of new cases in the community has increased from 24 cases in the week before to 37 cases in the past week. 
The number of unlinked cases in the community has also increased from five cases in the week before to 12 cases in the past week.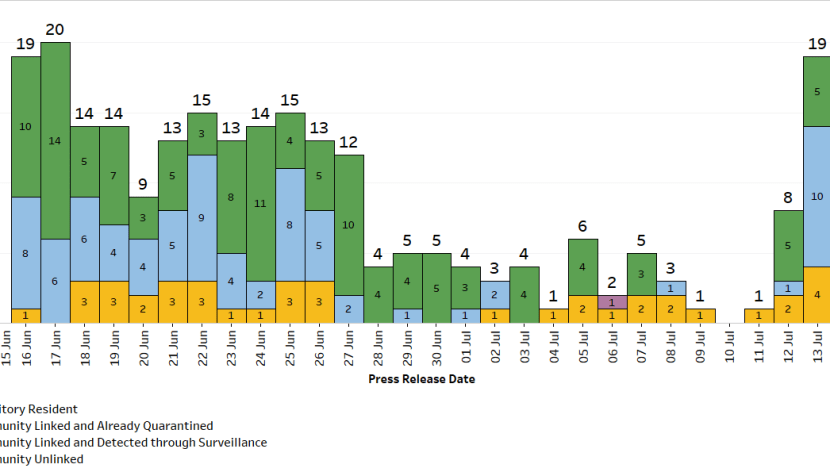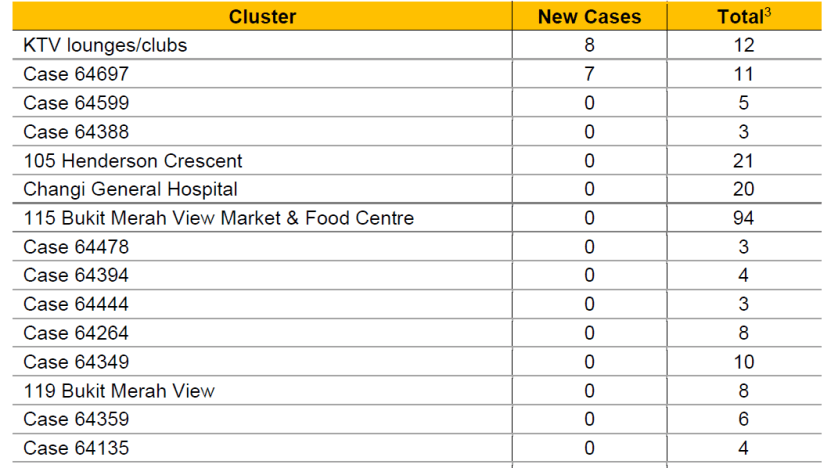 There are currently 22 active clusters, ranging between three and 94 infections. The cluster linked to 115 Bukit Merah View Market & Food Centre remains the largest. 
MOH added that 94 cases are currently warded in hospital, and that most are well and under observation. 
There are currently seven cases of serious illness requiring oxygen supplementation, and two in critical condition in the intensive care unit.
MORE THAN 4 MILLION HAVE RECEIVED FIRST DOSE OF COVID-19 VACCINE
The number of people who have received their first dose of COVID-19 vaccination has crossed the 4 million mark, MOH data showed. 
The Health Ministry said that a total of 6,378,063 doses of COVID-19 vaccine have been administered under the national vaccination programme as of Jul 12.
The total number of doses administered covers 4,022,809 individuals. 
A total of 2,367,424 people have completed the full vaccination regimen, consisting of 12,170 recovered individuals who received at least one dose and 2,355,254 who received their second dose.
Under current COVID-19 guidelines, nightlife businesses are not allowed to open in their "original form" as such settings entail "a large number of people coming into close contact for prolonged periods of time, and often in enclosed spaces".
A small-scale pilot scheme, involving three establishments, for bars and pubs to reopen began in December. The same scheme for nightclubs and karaoke outlets has been deferred since January.
As of Tuesday, Singapore has reported a total of 62,744 COVID-19 cases and 36 fatalities from the disease.
Download our app or subscribe to our Telegram channel for the latest updates on the coronavirus outbreak: https://cna.asia/telegram