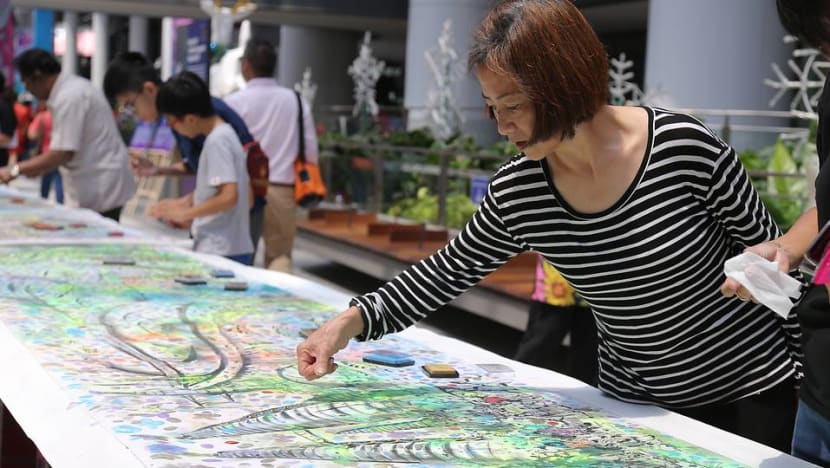 SINGAPORE: It took local artists Ng Yak Whee, Rosihan Dahim and Vijaya Mohan two months, working on a field under a tent, to come up with a collaborative painting that will be the centrepiece of next year's annual street parade Chingay. 

Collaborating on the art piece titled "Past, Present and Future of Singapore" posed significant challenges to all three artists, who had different styles and medium, they said on Friday (Nov 23) at a media conference. 
The painting is a commemorative piece for the 200th anniversary of Sir Stamford Raffles' arrival in Singapore. 

But apart from stylistic differences, there were also technical difficulties.

They had to work in an open field under the sun because of the material used in painting the canvas and it required sunlight to dry the paints. 

Mr Ng, an urban artist known for his abstract art style, was in charge of creating the artwork's backdrop.

"With such a big painting, we had to paint it outdoors. We had to paint it under sunlight and on the ground. In this time of the year, the weather is quite unpredictable. It could be sunny in the morning and rainy in the afternoon," he said. 
Sometimes he would have to re-do parts of the artwork because of the rain washing out the paints. 
"We had to race against time and weather," Mr Ng added. 
Mr Dahim, a pioneer in Singapore's surrealism art, had to take care of making sketches across the canvas. It was split into three themes - past, present and future. 
He had to incorporate images of a future Singapore conjured up by Singaporeans who submitted their illustrations to Chingay. 
"Me being a surrealist artist, I go into imaginative works and into their dreams. Like for housing, now it's all concrete walls. I see glass buildings and you can look out into the greenery," Mr Dahim said. 
He also included "stingray airline", a futuristic aircraft that takes the shape of the marine creature after dwelling on the suggestions from the public. 
After his sketches, Rangoli artist Ms Vijaya was tasked with filling in the Rangoli motifs and designs on the artwork with acrylic paints and markers. 

The artwork will travel through the heartlands where the public's thumbprints will be collected to fill the artwork. The organising committee expects to collect at least 200,000 thumbprints and have since gathered half of it.

All three artists will be among the performers in the Chingay parade, putting their finishing touches on the canvas.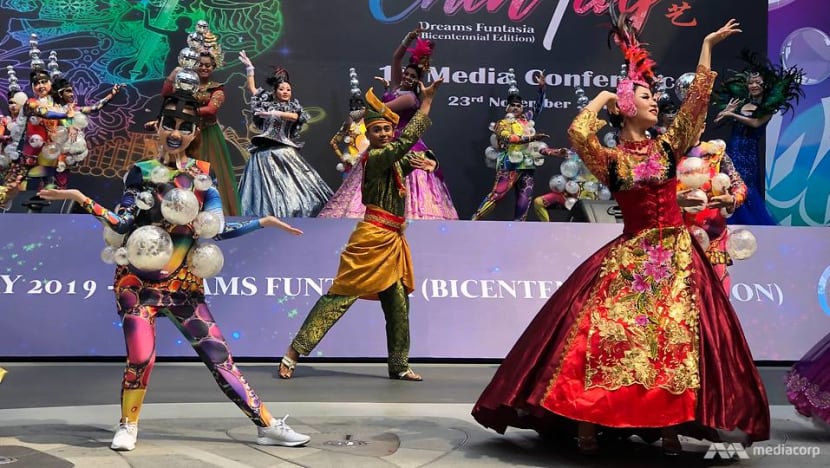 Jeanie Tan, chairman of Chingay 2019, said the committee also reached out to long-standing groups that have witnessed the changes in Singapore over the years for their participation in commemorating the nation's Bicentennial anniversary. 
Among them are the 176-year-old St Margaret's Primary and Secondary schools, the 157-year-old law firm Dentons Rodyk & Davidson as well as the 162-year-old German Association. 
Among 21 volunteer performers from the German Association is Annika Harloff who moved to Singapore in 2011. 
"For me personally, it was a long-term wish to participate in Chingay," she said. 
"I was watching it several times with my friends and then I became an F&B volunteer. So it started with behind-the-scenes voluntary work and I enjoyed the feeling, the atmosphere. We got to mingle with other performers from different cultures, take pictures all the time. It's a very special cultural event," Ms Harloff said. 
Chingay will take place on Feb 15 and 16 next year at the F1 Pit Building. It will run from 8pm to 9.30pm on both days.

Tickets, priced between S$28.50 and S$60, are already on sale.