SINGAPORE: Plans to provide COVID-19 vaccines to 37,000 frontline workers in the aviation and maritime sectors kicked off on Monday (Jan 18), with vaccination centres for the two industries coming into full swing.
During a visit to one of the vaccination centres at Changi Airport Terminal 4, Transport Minister Ong Ye Kung said about 13,000 workers from the two sectors are already scheduled to be vaccinated this week under the Sea-Air Vaccination Exercise.
About 2,000 workers from the aviation sector will receive the vaccine on Monday at T4, while about 1,000 maritime workers will be vaccinated at the Raffles City Convention Centre.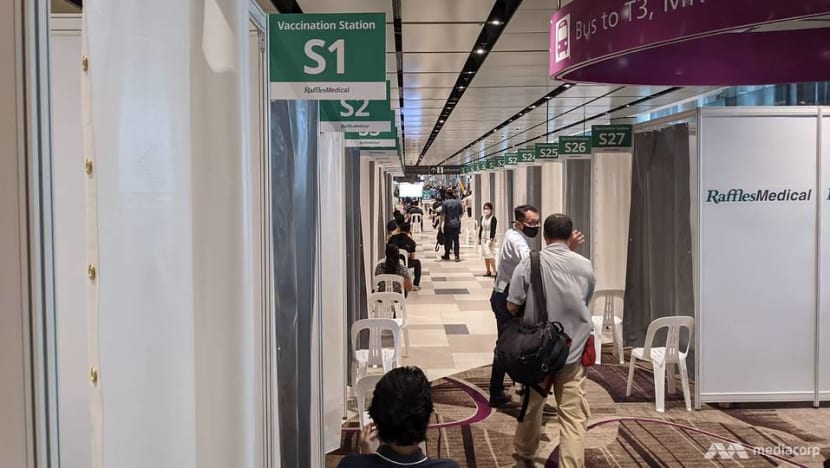 "I am encouraged by the number and I hope in the coming weeks more will come," said Mr Ong, who himself got vaccinated during his visit to T4. 

Also getting their jabs on Monday were Singapore Airlines chief executive Goh Choon Phong and SATS president and chief executive Alex Hungate. 
Around 7,000 aviation workers are scheduled to be vaccinated this week.
Priority will be given to the 20,000 frontline workers who may come into contact with travellers from high-risk countries, said the Civil Aviation Authority of Singapore (CAAS).
"These include pilots, cabin crew, airport and aircraft cleaners, security screeners, passenger service agents, baggage handlers and cargo handlers," said CAAS in a statement to the media. 
The authority noted that those who have completed the full course of vaccination will not have to be tested for COVID-19 as regularly. 
Those on the seven-day rostered routine testing will only need to be tested every 14 days, while those who are now tested every two weeks will only need to be tested on a monthly basis. 
"Air crew who are currently tested on the seventh day after their return to Singapore will be exempted from their test," said CAAS. 

"Those who are tested on arrival in Singapore, and on the third and seventh day, will only need to be tested on arrival, and on the seventh day of their return to Singapore."
The changes will come into effect two weeks after the workers get their second dose of the vaccine. 
At any one time there are about 70 doctors, nurses and healthcare attendants on site at the T4 vaccination centre, said Dr Tan Joo Peng, a senior physician with Raffles Medical Group, which is conducting the vaccinations.
The centre, which was set up in five days, is able to scale up to conduct more vaccinations should the need arise, he said. 
Staff onsite will also screen patients for any risk factors before they receive the vaccine, though so far there have no major side effects, said Dr Tan. 
"There'll be some minor side effects, the most common one is the ache at the deltoid area where they are injected ... On and off there will be patients who complain of a minor headache, which is also a known, fairly common symptom," he said. 
Those who show more severe symptoms will be taken to Changi General Hospital, about 10 to 15 minutes away from the airport, said Dr Tan. 
One of those who received the first dose of the vaccine on Monday was pilot Anwar Salim, a Singapore Airlines captain. 
"For me, I believe being in the front line of the aviation industry we have a duty to protect not just ourselves, but also the people we work with," he said. 
There was no soreness or other side effects after he got the jab, said Mr Anwar.
"I think I can go to the gym later." 
IMPORTANT STEP FOR AVIATION
Mr Ong described the vaccination exercise as an important step towards the revival of Singapore's air sector. 
"You all know that the aviation industry is decimated by COVID-19, but we must have the determination that when the crisis passes, Singapore will be an aviation hub of the region and the world again," he said.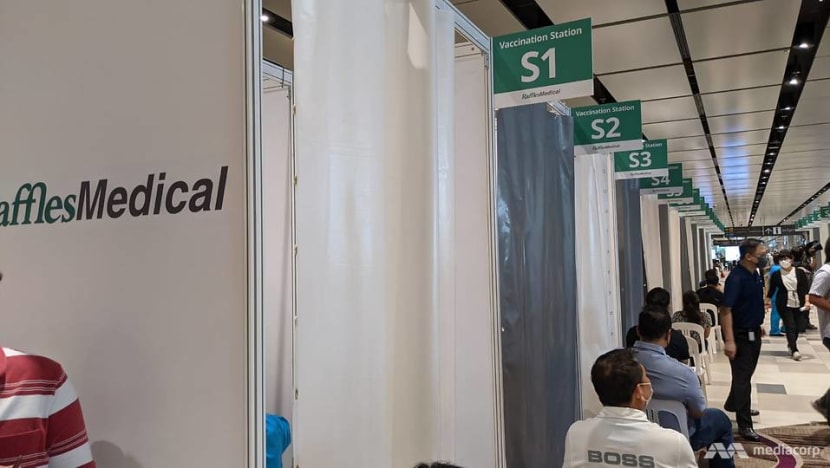 This is why Singapore continues to pursue different safe travel schemes such as green lanes, air travel bubbles and segregated travel, he said, adding this will position the country for aviation's eventual recovery.
Having Singapore's frontliners in aviation and maritime vaccinated will also help in terms of the country's reputation as a safe space amid the global pandemic. 
"Singapore Airlines can be the first vaccinated international airline in the world," he said.
The vaccination exercise would also help further protect Singapore, said Mr Ong, adding that the vaccinated frontline workers could act as defenders of the country's borders against the spread of the COVID-19 pandemic.
Noting that each of the vaccination centres was able to handle up to 4,000 vaccinations a day, with 21 days between the two jabs required for the Pfizer-BioNTech vaccine, Mr Ong said the 37,000 workers could get the vaccine within two months. 
When asked if the rising number of vaccinations in other countries would affect travel entry requirements into Singapore, Mr Ong described it as a "big question" that he hoped to be able to answer during the Committee of Supply debates for his ministry.
On whether the air travel bubble with Hong Kong would be revived by the Chinese New Year holiday, Mr Ong declined to commit to a date, noting that the two cities had an agreement on the table, ready to be activated when the time was right. 
Singapore continues to explore travel arrangements with other regions and countries, he said. 
"As and when they are ready, we will announce them," he said. 
Download our app or subscribe to our Telegram channel for the latest updates on the coronavirus outbreak: https://cna.asia/telegram