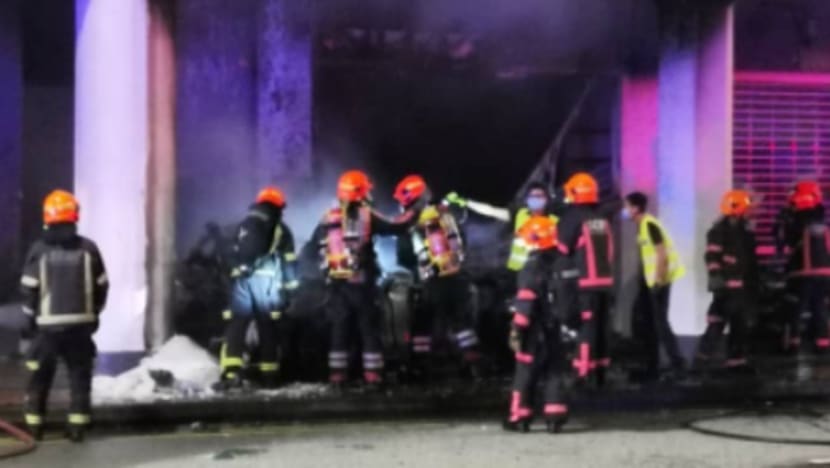 SINGAPORE: Five men, aged 26 to 29, were pronounced dead at the scene of a car accident at 37 Tanjong Pagar Road, early on Saturday (Feb 13) morning. 
Police were alerted to the accident at 5.41am. 
Preliminary investigations revealed that the driver "was believed to have sped along the said location" before crashing into a shophouse and the car caught fire, the police said in a statement. 
A 26-year-old woman, who is believed to have known the driver, tried to help him and his four passengers after the accident.

"She suffered severe burns to her body and was conscious when conveyed to Singapore General Hospital," the police said. 

The Singapore Civil Defence Force said it was alerted to a fire "(involving) a car and a shophouse" and put out the flames using three water jets and a compressed air foam backpack. 
At about 7.30am, the Land Transport Authority announced road closure on Tanjong Pagar Road (towards Murray Street) after Maxwell Road. 
SBS Transit also said that bus services 80 and 145 were being diverted from Tanjong Pagar Road (towards Hoe Chiang Road), with 10 bus stops skipped, "due to an accident".
HEARD A LOUD CRASH: EYEWITNESS

Mr Song Seng Wun, an economist, said he was woken up at around 5.30am by "a lot of noise" on the street. 

Around 10 minutes later, he heard "very loud revving" followed by a loud crash, which woke his wife. When both of them rushed to the window, he said they saw a shophouse on fire.

Firefighters were already at the scene of the accident when Mr Song arrived. He heard "popping" noises, which he said came from the burning car. 
A young man from a nearby restaurant came out to the street and started screaming "my friend is in the car, my friend is in the car", Mr Song said, adding that the man had to be restrained by the police.

He also saw a young woman who looked badly injured as she had burns on her arms and legs. Mr Song said that someone shouted for the paramedics to attend to her.

Mr Song left the scene about 15 minutes later, after the fire had been put out. 
Investigations are ongoing.

In a statement on Saturday afternoon, chairman of the Singapore Road Safety Council (SRSC) Bernard Tay reminded all motorists to "practise responsible driving behaviour". 
"Please keep within the speed limit of the roads at all times and do not drink and drive. 
"We would also like to take the opportunity to remind all road users, including pedestrians and cyclists to be alert on the roads at all times and look out for one another to keep the roads safe."