8 new locally transmitted COVID-19 cases in Singapore; employees at 3 KTV venues to be tested following infections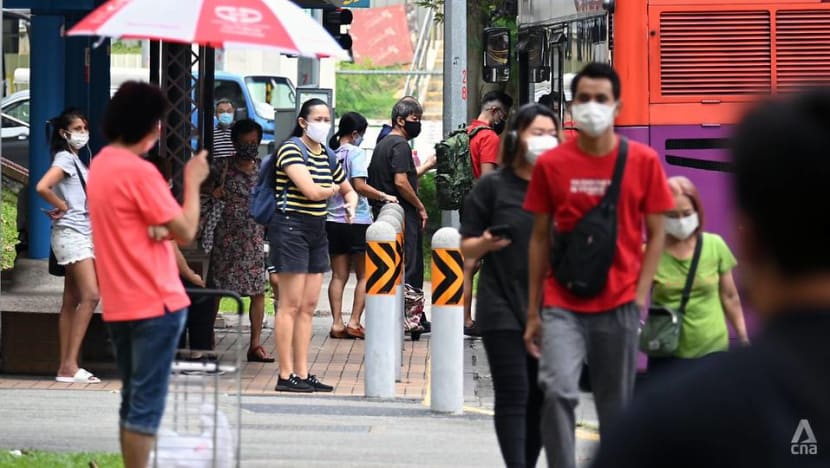 SINGAPORE: Singapore reported eight new locally transmitted COVID-19 infections as of noon on Monday (Jul 12), including three unlinked cases. 
The five infections linked to previous cases have already been placed in quarantine, said the Ministry of Health (MOH). 
This is the highest number of local cases since Jun 27, when 12 infections were reported.
There were also 18 new imported cases who were all placed on stay-home notice or isolated upon arrival. This is the highest number of imported infections since May 14 when there were 28 cases.
Among the new imported cases, 13 were detected upon arrival in Singapore, while five developed the illness during their stay-home notice or isolation period. 
In total, Singapore reported 26 new COVID-19 cases on Monday. 
TESTING OPERATIONS FOR SOME KTV OUTLETS
MOH said that it is investigating cases of COVID-19 infection among Vietnamese social hostesses who had frequented KTV lounges or clubs currently operating as food and beverage outlets, and their close social contacts. 
To quickly uncover any community infection cases, MOH said it will be conducting special testing operations for all staff members of Supreme KTV (Far East Shopping Centre), Empress KTV (Tanglin Shopping Centre) and Club Dolce (Balestier Point).
Free COVID-19 testing will also be extended to members of the public who visited the affected premises or similar KTV lounges or clubs operating as F&B outlets between Jun 29 and Jul 12. 
Those who have interacted with Vietnamese social hostesses in any setting between Jun 29 and Jul 12 also qualify for free testing. 
All visitors to these premises and similar settings and those who had interacted with Vietnamese social hostesses are advised to monitor their health closely, said MOH.
These individuals should also minimise social interactions as far as possible, for 14 days from their date of visit or interaction. They are encouraged to see a doctor immediately if they feel unwell.
2 NEW CLUSTERS
Two new clusters have been identified, linked to Case 64693 and Case 64697. 
Each cluster has a total of three and four cases respectively, said MOH without providing additional information. 
There are currently a total of 22 active clusters, ranging between three and 94 infections.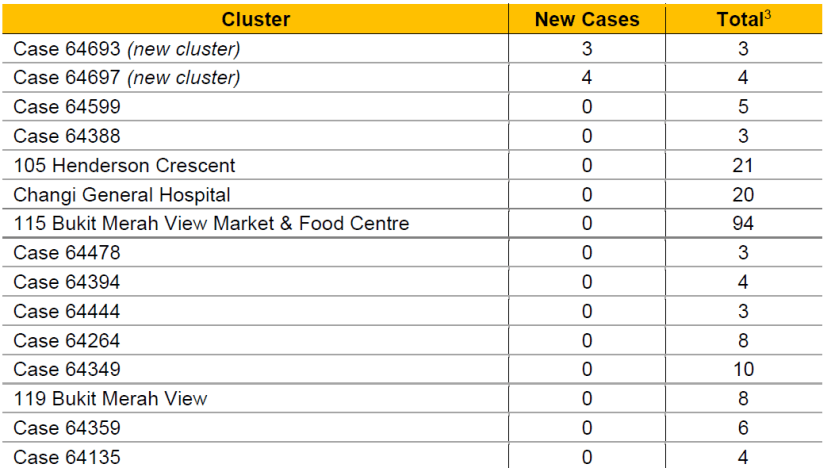 MOH said the overall number of new cases in the community has decreased from 28 cases in the week before to 19 cases in the past week. 
The number of unlinked cases in the community has increased from four cases in the week before to 10 cases in the past week. 
Eighty cases are currently warded in hospital, and most are well and under observation. 
There are currently six cases of serious illness requiring oxygen supplementation, and two in critical condition in the intensive care unit.
Some COVID-19 restrictions in Singapore were eased on Monday amid a decline in community cases. 
From Monday, dining-in at food and beverage outlets will be allowed for groups of up to five, while wedding receptions can be held with no more than 250 people if pre-event testing is in place.
Gyms and fitness studios can conduct indoor high-intensity mask-off sports and exercise activities in groups of up to five from Monday. Social gatherings at the workplace can also resume, although working from home remains the default arrangement, said MOH. 
As of Monday, Singapore has reported a total of 62,718 COVID-19 cases and 36 fatalities from the disease.
Download our app or subscribe to our Telegram channel for the latest updates on the coronavirus outbreak: https://cna.asia/telegram