Sylvia Lim gave FMSS 'insider information' to help company in tender bid: Davinder Singh
The tender process for a managing agent contract was, lawyer for PRPTC Davinder Singh charged, a "charade", where Ms Lim had "colluded" with FMSS by giving it "insider information" prior to a tender interview.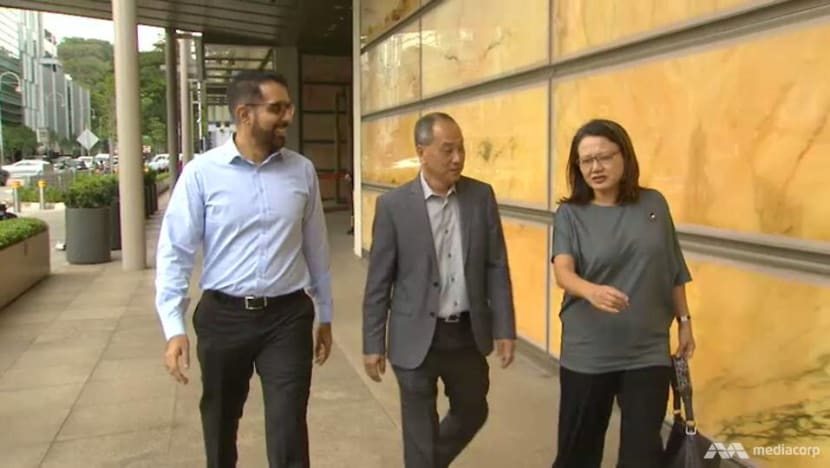 SINGAPORE: The question of whether Workers' Party chairman Sylvia Lim had colluded with former managing agent FM Solutions and Services (FMSS) to ensure that the company won a tender in 2012 was raised on Wednesday (Oct 24), as the Aljunied-Hougang Town Council (AHTC) trial entered its 14th day.
Ms Lim was asked by Pasir Ris-Punggol Town Council (PRPTC) lead counsel Davinder Singh if she thought the tender and award process of the second managing agent contract in 2012, in which FMSS was the sole tenderer, was "objective, fair and transparent", and if she had acted honestly and in the interest of AHTC in the process.

Ms Lim said yes to both questions, stressing that she had acted in the interest of the town council and its residents.

Mr Davinder asked if she had treated FMSS objectively and at arms' length - as she would if there were others who tendered.

"I did my best. In my mind, yes," she replied.

The PRPTC lawyer then sought to show that Ms Lim had acted otherwise, bringing up an email she sent to FMSS owner Danny Loh on Jun 19, 2012. 
The email was related to an upcoming tender interview, in which the WP Member of Parliament (MP) gave Mr Loh a heads-up that the tender committee is likely to ask for an explanation on the prices FMSS quoted.

FMSS had quoted S$7 per equivalent dwelling units (EDU), which is a measurement that considers the number of residential units and carpark lots, in its proposal.

The email also showed Ms Lim had done some preliminary analysis and found out from one of the PAP town council chairmen that the going rate was currently S$6 to S$7.

Mr Singh then referenced another email by tender committee member Anthony Teo who questioned why FMSS' asking price was at the top end of the range and if it was having trouble breaking even or was the decision profit-driven. Ms Lim replied that it was a good question and something that should be asked of FMSS.

"But by that time, you had already sent that email to Danny Loh and Ms How (Weng Fan) to give them a heads-up without copying the rest of the tender committee," Mr Singh said.

The lawyer also asked why RSM Ethos, the third-party auditor engaged to review the tender evaluation and award of the second managing agent contract, was not copied on these emails.

"I did not think it was material because they (FMSS) were the sole tenderer," Ms Lim replied.

"So you appointed RSM … but you didn't show the emails to RSM because they were the sole tenderer. Is this the logic of your answer?" Mr Singh asked.

"I just thought there was nothing wrong. Didn't strike me that I had to show them that," Ms Lim said.

"Did you show it to the other committee members?" Mr Singh asked.

"I may not have," Ms Lim answered, after some prompting.

TENDER PROCESS WAS "TAINTED AND FLAWED"

Mr Singh then accused Ms Lim of setting up a "charade" between her, Mr Loh and Ms How over the tender process. He cited the example of Mr Loh presenting 11 slides to explain FMSS' cost structure when questioned by the committee as FMSS being prepared for the tender interview.

"These people had been given a tip-off, insider information," he said. "So they could come prepared, knowing what the question would be, to overcome the one difficulty you knew the committee had."

"They were the sole tenderer," Ms Lim said.

The WP MP added that she was concerned about the pricing and wanted FMSS to "come prepared so the meeting would be productive".

The lawyer also asked Ms Lim if she would have done the same if there were other parties who tendered, to which she said it was a hypothetical question but she would have "treated all of them on an even keel".

"(The whole tender process) was tainted and flawed; you colluded with FMSS to make sure that FMSS would come prepared with everything that was needed to secure that bid," Mr Singh said.

"I disagree," Ms Lim said.

Ms Lim, along with fellow WP MPs Low Thia Khiang and Pritam Singh, and AHTC councillors Kenneth Foo and Chua Zhi Hon, are being sued by AHTC and PRPTC for alleged breaches of fiduciary duty relating to the appointment of FMSS.

This, along with "flawed governance" of the town council and "improper" payments of more than S$33 million made mostly to FMSS, is the subject of two lawsuits that also are aimed at FMSS employees How and Loh, who also held positions at AHTC.
A "SUPERFICIAL JOB"

During his cross-examination, Mr Singh also argued that external auditor RSM Ethos had done a "superficial job", saying that the firm relied only on what it had been told by the town council to make its observations.

The auditor had given AHTC an "A" in its overall assessment of the process, which saw FMSS, as the sole tenderer for the contract, appointed as the town council's managing agent.

But referring to the report, Mr Singh said RSM Ethos had stated that its approach comprised inquiries and observations, and was "not substantive in nature". He added that the firm had also stated upfront that it "cannot be held responsible for the prevention or detection of frauds or irregularities".

"They are not saying that they have checked themselves … and they put their name behind what is done," he said. "They are saying they asked, you made representations, they observed, and on that basis … this is what you did. And on the basis of what they were told, they said you got an A."

The point was disputed by Ms Lim, who said that the firm's representatives had also sat in on one of the tender interviews and made their own observations.

"So I don't agree they produced a report based on what they are told," she said. "I don't think it's fair to them."

The issue also came up during Ms Lim's re-examination by defence lawyer Chelva Retnam Rajah, who asked her to further clarify the point.

Ms Lim responded that with reference to the procedures that were agreed upon, the firm would review the town council's practices, assess its compliance with applicable procedures and also look into whether the procedures were adequate.
The firm was also meant to assess if the tender exercise was conducted "in accordance with good corporate governance practices".

"There is ... some objectivity to it and it's not just them listening to us and signing off," she said.

The day ended with Ms Lim released from the witness stand after five days of cross-examination. WP secretary-general Pritam Singh is expected to take the stand on Thursday (Oct 25).