AHTC trial: Sylvia Lim concedes fellow Workers' Party MPs 'breached duties'
By not disclosing to other town councillors the rates charged by an incoming managing agent, the elected members had failed to comply with their obligations to residents, charged the plaintiff's lawyer.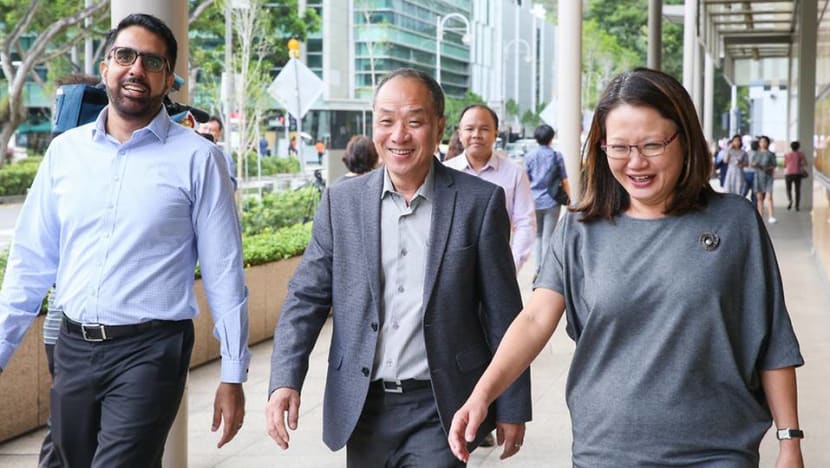 SINGAPORE: Following a half-hour impasse that saw Senior Counsel Davinder Singh ask for "respect" to be shown to the court, Workers' Party chairman Sylvia Lim on Monday (Oct 22) acknowledged that she and fellow elected Members of Parliament (MPs) for Aljunied-Hougang Town Council (AHTC) had breached their duties by not disclosing the cost of a new managing agent to other town councillors.
Ms Lim, Low Thia Khiang, Pritam Singh and other town councillors are embroiled in a civil lawsuit over millions of dollars of "improper" payments that were allegedly made to new managing agent FM Services and Solutions (FMSS).
They are being sued by AHTC as well as Pasir Ris-Punggol Town Council (PRPTC) for alleged breaches of fiduciary duty in the appointment of FMSS.
Mr Singh, the lawyer for PRPTC, had earlier on Monday already subjected Ms Lim to a bruising interrogation.
He resumed his cross-examination in the afternoon by noting that the former AHTC chair had not reproduced for the rest of the town council the rates charged by FMSS, despite it being the same as those of the outgoing managing agent, CPG Facilities Management.
"This is the most important contract of the town council," said Mr Singh. "When you waive a tender, you don't have the advantage of competitive rates - so all the more reason to know what the rates are going to be. So why didn't you tell the rest of the town council what the rates were going to be?"
Ms Lim said there was "nothing sinister" in play and that the "key thing" was FMSS committing to taking over at CPG's prevailing rates. She acknowledged she should have reproduced the rates, but also said it was an inadvertent omission not done with any deliberate intent.
"Do you agree it's the duty of the chairman and others who knew the rates to disclose them to other town councillors, so they would know the rates before deciding?" Mr Singh asked.
Ms Lim agreed.
"Do you agree that duty was breached by you and other elected members?" Mr Singh added.
"In the sense that I should have included rates in my report, I agree," Ms Lim replied. But she refused - initially - to agree the same of the other elected members, reiterating that "they had delegated the responsibility of the presentation" to her.
"Well, that's very big of you, but you agree with me that they too were under a duty," Mr Singh fired back.
"Answer my question … Ms Lim, we are waiting for an answer," he pressed, in a refrain that would be repeated over the next 30 minutes.
"I don't think it's fair for me to answer the question," said Ms Lim.
To which Mr Singh said: "If it wasn't fair, there would be an objection and His Honour would have stopped me. It's not for you to decide whether it's fair."
But Ms Lim would only say: "They didn't disclose the rates."
Said Mr Singh: "You agree they had a duty to disclose rates. You agree they did not disclose the rates. If someone has a duty to do something and he doesn't do it, it follows the duty has not been complied with."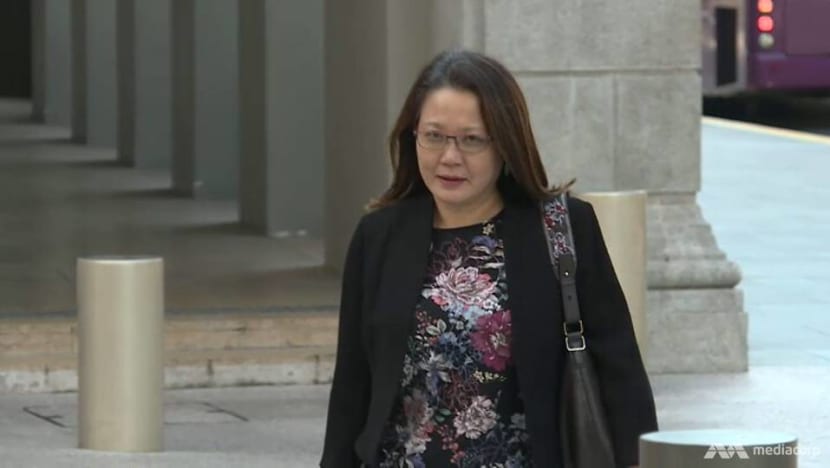 After a long pause, Justice Kannan Ramesh stepped in to ask Ms Lim to respond. "The question has been asked several times over several minutes. Answer it please," he said.
Ms Lim repeated her stance that the rates had not been disclosed, adding that the rest of the town councillors should have been informed.
Mr Singh said: "I can understand if you are fencing with me. But it's not just me asking the question, it's the court. Please show some respect.
"When you say they should have disclosed the rates, in other words - they should have complied with their duties but they didn't," he re-emphasised.
 "Yes, your honour," Ms Lim finally said.
SYLVIA LIM AND OTHER MPS "VERY SELECTIVE" ABOUT INFORMING OTHER TOWN COUNCILLORS: DAVINDER SINGH
During the cross-examination, Mr Singh also accused Ms Lim of breaching her duties in another area - by withholding information from her fellow town councillors with regard to a payment made to FMSS prior to the start of FMSS' managing agent contract on Jul 15, 2011.
He said Ms Lim had an arrangement with the other WP MPs to be "very selective" about what they told the other town councillors - an allegation which Ms Lim denied.
Referring to a report circulated to other town councillors, Mr Singh noted that the report does not show that FMSS would begin charging the town council on Jun 15, a month before its contract officially began. He added that one particular invoice had in fact already been paid by AHTC at the end of June.
Ms Lim maintained that the report shows that FMSS would take over the existing employees of Hougang Town Council from Jun 15, and that it would also engage new employees as necessary in preparation for the takeover. "The implication is clear," she said, adding that "it is understood" from a paragraph in the report that FMSS would have taken over as the managing agent from Jun 15.
She agreed, however, that specific approval for FMSS to begin charging for the period of Jun 15 to Jul 15 had not been given by the town council. She also added that information about the cost of hiring new employees for the month of June should also have been given to the town councillors.
After a further back-and-forth between the two, Mr Singh charged that Ms Lim, as well as the other elected WP MPs, had decided to give "as little information" as possible to the town council about "relevant events". Ms Lim disagreed, saying Mr Singh's allegation was not true.
Mr Singh then put it to Ms Lim that she "could not afford" to have the town council not approve the appointment of FMSS, pointing out that there would be "severe disruption" to residents had the town council rejected it.
While Ms Lim agreed on the point, she said she "did not know" about Mr Singh's characterisation that she could not afford to have FMSS rejected.
"But you wanted the FMSS arrangement approved," countered Mr Singh. "Which is why where it was necessary to withhold information ... you breached your duties, you all prepared to do that to get the approval."
Ms Lim disagreed.
The trial continues on Tuesday, with Mr Singh expected to resume his cross-examination of Ms Lim.